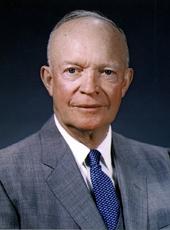 Toast by the President at a Dinner Given in His Honor by President Kubitschek in Rio de Janeiro
Mr. President, Madame Kubitschek, distinguished guests, and friends:
First, Mr. President, may I thank you sincerely for the generosity of your remarks about my country and about me, and for your generous hospitality toward me and to my party. I deeply regret that my wife could not be here to participate in this most gracious ceremony in which you and your lovely wife are the host and hostess. I think the reasons that she could not come are known, but I assure you her regret is very deep.
Mr. President, this afternoon, in meeting with the assembled Congress of the United States of Brazil, I tried to outline the convictions that I hold as to the common role that your country and mine have in the attempt to better the standards of living for all peoples, in order that democracy and the freedom, of which you so eloquently speak, can be thereby strengthened.
On this trip with me, as you know, are Secretary Herter, Assistant Secretary Rubottom, and the citizen members of the new United States Advisory Committee on Inter-American Affairs. The fact that these gentlemen are accompanying me symbolizes the high importance we of my country attach to good relations with all the nations of Latin America. I know that what we are all learning here, and shall observe throughout this trip, will be helpful to us as we seek constantly to work for hemispheric solidarity.
I should say, Mr. President, that the strong feelings I felt about the need for cooperation, which were the feelings that led me to make this trip, have been emphasized and greatly strengthened by the meetings I have held with you and with your associates during the past hours that I have been able to spend in your great nation.
The friendly relations of our two countries--now stronger and more meaningful than ever before--have an inspiring history. The beautiful home of the Brazilian Foreign Ministry reminds one of thrilling diplomatic traditions.
Here I should like to say if I mispronounce names, it's because of my ignorance and not because of any intent. Itamaraty is symbolic of the principles enunciated by Baron do Rio Branco, a great hero to us, as to you. Here worked such dedicated statesmen as Joaquim Nabuco and Afranio de Malo France, who stood resolutely for the abiding friendship of our two countries. And here labored Oswaldo Aranha, a firm friend, whose recent passing is deeply mourned in the United States.
I raise my glass in tribute to all who have in these halls worked so patiently and gloriously for the principles of freedom, independence, and abiding cooperation--and to you, President Kubitschek, both for your deeds of friendship and for your staunch support of inter-American solidarity.
Ladies and gentlemen: the President!
Note: The President proposed the toast at a dinner at the Itamaraty, the Foreign Ministry in Rio de Janeiro.
Dwight D. Eisenhower, Toast by the President at a Dinner Given in His Honor by President Kubitschek in Rio de Janeiro Online by Gerhard Peters and John T. Woolley, The American Presidency Project https://www.presidency.ucsb.edu/node/235030