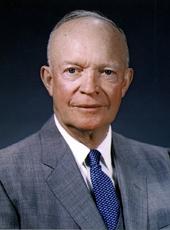 Toast by the President at a Dinner Given in His Honor by President Frondizi in Buenos Aires
Mr. President, ladies and gentlemen:
I have in my hand a few brief notes which I had .expected to use as a basis for the remarks I should make to you this evening.
Inspired by some of the words of your President, I am sure that I will wander somewhat from the notes, so on behalf of my interpreter I apologize for such errors as may be made in their interpretation.
With deep sincerity, I thank you, Mr. President, for your gracious hospitality, for your heartwarming expression of friendship, and for your eloquent statement of Argentina's aspirations and future.
Although I have been here in your beautiful land for only a few hours, I have already learned much and have been deeply impressed by all that I have seen and heard. Especially impressive are your courage to face up to difficult problems, your demonstrated capacity to solve them, and your determination to construct now a dependable economic base on which to build soundly in the future.
Indeed, Mr. President, in making this statement, I do not express only my own personal opinions--your foresight, your integrity, your dedication to the truth are recognized throughout this hemisphere. To this I can testify.
Among the leaders of Argentina, as among your people, there is obviously a sense of purpose and destiny. Your land is vast and endowed with rich resources. Your people have great vigor. Though you are justly proud of your traditions, your eyes are focused on a future in which you envision orderly progress in freedom, not only for yourselves, but for all who have the courage to be self-reliant and to live in harmony with the cardinal concepts of their cherished philosophies.
We of the United States applaud you.
My visit to Argentina, and to several other countries of this great Southland, has two central purposes: I want to reaffirm the high importance we of the United States attach to friendly inter-American relations and to hemispheric solidarity; and, as I have done recently in other areas of the world, I wish to emphasize over and over again our passionate desire for a permanent, guaranteed peace, in freedom--a peace which will permit the creative talents of mankind to concentrate on finding constructive solutions to economic, social, and cultural problems.
Mr. President, this afternoon I spoke of one of the most difficult tasks lying before the men and women of the free world: the cultivation of mutual understanding.
Basic to this, though, is the most difficult problem of all; that is, making use of the intelligence and minds of people that make up a free country-to inform people, so that public opinion rather than being guided by demagogues or by falsehood, or by laziness or ignorance, is based upon the facts of the world, logically interpreted to each.
To my mind, this is not only a problem for the President and his closest associates; every single informed individual in any free democracy has this problem. And unless he performs it, there will be disaster.
We speak of the problem of obtaining outside capital. Indeed, I conceive this to be the easiest of the problems with which democracy is faced.
Capital is a funny thing. Give it the right conditions and the right promises, and you can't keep it away. There's money to invest all over this world.
You have just stated, sir, that here you give it juridical protection, you do not regard it as evil merely because it may come from abroad, you provide the conditions in which it can prosper. And those conditions are, first of all, a people of heart and strength and courage who want to go ahead, who have the natural resources on which to build. And then the capital will come. Of this I am certain.
I know that you and your countrymen are working for dependable, abiding cooperation among the Americas, and for a world freed of threat and fear. We are proud of our partnership with you. And we pray that God will give you and your associates strength, sir, to carry out your great work to its complete success.
So it is with an unusual sense of privilege, and indeed admiration and respect that I lift my glass in friendship to President Frondizi, expressing the confident hope that the partnership of Argentina and the United States will ever grow stronger and more rewarding.
Note: The President proposed the toast at a dinner at the Plaza Hotel in Buenos Aires.
Dwight D. Eisenhower, Toast by the President at a Dinner Given in His Honor by President Frondizi in Buenos Aires Online by Gerhard Peters and John T. Woolley, The American Presidency Project https://www.presidency.ucsb.edu/node/235109