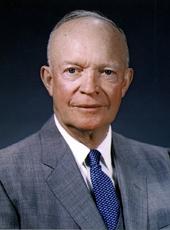 Toast by the President at a Dinner Given in His Honor by President Alessandri
Mr. President:
In view of the shortness of my visit here in Chile, and in view of the importance of the matters we have been discussing, I would like to answer your toast at a little greater length than is my custom.
From my heart, Mr. President, I thank you for the sentiments you have so graciously expressed, and for the warm hospitality you have permitted my colleagues and me to experience here tonight.
My visit to Chile is in partial fulfillment of the keen desire I had when I became President of my country to visit all the nations of Latin America. Unfortunately, the tremendous pressures upon me during the past 7 years have permitted me to go only to Panama and Mexico, and now to four great Republics in this vast Southland, including this delightful and helpful visit with you, Mr. President, and your colleagues.
As you know, shortly after this trip is concluded, I shall go to Paris for a meeting with the leaders of Great Britain, France, and the Soviet Union. While I am too realistic to expect miracles, I do hope that in Paris we may reach some agreements which will lessen the tensions that divide and vex the world.
One of my purposes in coming to South America, even while our Congress is in session, is to consult with chiefs of state here about the many problems which today so perplex mankind. I know that you are as concerned as we are to have guaranteed disarmament replace the mad race for destructive power, to have honest negotiation replace arrogant threat, and to have truth replace blatant propaganda. Since you treasure freedom, independence, and human dignity as much as we, you have a vital stake in all that goes on in global affairs, and therefore most earnestly I have come to seek your views on these matters of transcendent importance. I am sure it is needless for me to assure you that the discussions with you, and with other chiefs of state I am seeing on this trip, are of incalculable importance to me and to all the free world. In short, I wish to go to Paris with a clear understanding of the views of our friends in this region.
Of course my colleagues and I are also seeking ways to strengthen the friendship and the fruitful cooperation of our two countries, and of all the nations of the hemisphere. We especially wish to learn all we can about Chile's economic development and the effectiveness of the substantial assistance extended by our official and private financial institutions.
We have so much to talk about, Mr. President--so many views to exchange--that I wish our stay here could be much longer.
Ladies and gentlemen, I propose a Toast to His Excellency, President Alessandri: may his term in office be notable for the democratic advance of his people, and may he enjoy God's gracious blessing; and to all the people of Chile: may they, in the joyous company of free men, go forward in liberty to a richer, fuller life.
Note: The President proposed the toast at a dinner at La Moneda Palace in Santiago.
Dwight D. Eisenhower, Toast by the President at a Dinner Given in His Honor by President Alessandri Online by Gerhard Peters and John T. Woolley, The American Presidency Project https://www.presidency.ucsb.edu/node/235251