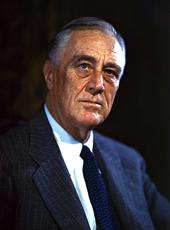 Toast to the King of Arabia at a Dinner for the Minister of Foreign Affairs
Your Royal Highness, I think that all of us here realize that tonight is a very historic occasion. In the long history of our country, and in the much longer history of Arabia, there have been no dinners like this. We have come to know each other, and I think our great hosts in both Nations are agreed that in the future we should seek to know each other better.
There are very few Americans in all Arabia, and there are very few Arabians in all America. And so the more we see of each other in the days to come, the more it will mean not merely a diplomatic friendship, but it will mean a personal friendship.
We have much in common. We both love liberty—both Nations. And there is no reason why both Nations should not maintain liberty.
We have much to learn from each other. And so I hope that in the days to come we will be able to discuss things, as friends.
I was telling His Royal Highness, at supper, that I knew that one of their problems in Arabia was an insufficiency of water in many places, and also of not enough trees. And I was telling him of what we in our younger years used to call the Great American Desert, a strip running from the North in our own country to the South, where there was very little water, and where there were very few trees.
I was telling him that some years ago we had undertaken a certain project known as Shelter Belt. Since the outbreak of the war it has been going only sporadically, yet the people out there have seen what it has already done in many parts of the West. And I might just as well tell the Congress of the United States now that I am going to revive it, if I live long enough. It's a very excellent thing. Something like that should be known and experimented with, and practiced, in many parts of the world.
I use that just as an illustration, because Arabia is a land of great resources- agricultural and surface resources, and subsurface resources. And I want to assure their Royal Highnesses both, that the United States is not a Nation which seeks to exploit any other Nation, no matter what its size.
I wish much that the father of these gentlemen could come himself. I hope some day he will be able to come over here, just as I hope that some day I myself can go and visit him in Arabia.
I think we all know that the King is a very wonderful person. I was reading this afternoon a little magazine, and it was all about the King; and there was one little paragraph at the end that I liked a lot—all of it goes along with my own philosophy.
"Ibn Saud's most engaging quality is a kingly belief in eventual rightness. It did not surprise him greatly when Allah, who sent Arabia its ancient rains, provided also its new oil. Nor will it surprise him greatly if God presently provides also not merely victory but even the bright and honest world that should go with it."
I think with that kind of philosophy, which is an Arabian philosophy and also an American philosophy, that working together we can contribute something toward a brighter world, and a more honest world, in the years to come.
And so I should like to propose the health of the King of Arabia, wishing much that he could be with us tonight.
Franklin D. Roosevelt, Toast to the King of Arabia at a Dinner for the Minister of Foreign Affairs Online by Gerhard Peters and John T. Woolley, The American Presidency Project https://www.presidency.ucsb.edu/node/209559