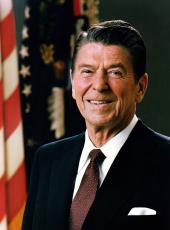 Toast at the Inaugural Luncheon
Senator Mark Hatfield, Speaker O'Neill, the others here who are hosting this very beautiful luncheon:
I'm going to take the liberty of speaking for my partner, George, for Barbara and Nancy, in responding to this toast.
Twice this morning, in the ceremony, was mentioned the fact of the unusualness in this world of what has taken place here today, the orderly transfer, the continuity of government that has gone on, and that, I think, is the envy of the world.
Now, there's even more of unity represented here today. The crystalware Speaker Tip O'Neill graciously provided from the House side. The plates have come from the Senate. The wine is from California, but I didn't have a thing to do with that. [Laughter] It just turned out that way.
But I would like to drink to the idea that this great system that sometimes puts us in adversary relationships—and perhaps sometimes unnecessarily so—but was based on checks and balances to ensure that we do what is right for the people, that that kind of cooperation will continue. I'm delighted to be a guest here in the House of the Congress, and I look forward to coming back. I look forward to you being guests with us. I look forward to working with you on behalf of the people and that this partnership will continue.
And now, to conclude the toast, with thanks to Almighty God, I have been given a tag-line, the get-off line that everyone wants for the end of a toast or a speech or anything else. Some 30 minutes ago, the planes bearing our prisoners left Iranian airspace and are now free of Iran.
So, we can all drink to this one: To all of us, together, doing what we all know we can do to make this country what it should be, what it can be, what it always has been.

Thank you all.
Note: The President spoke at 2:15 p.m. in Statuary Hall at the Capitol.
Ronald Reagan, Toast at the Inaugural Luncheon Online by Gerhard Peters and John T. Woolley, The American Presidency Project https://www.presidency.ucsb.edu/node/247087