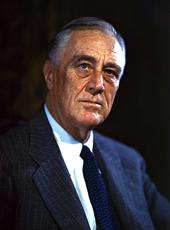 Toast at a State Luncheon for General de Gaulle
I think we will all agree that this is an historic occasion we will remember all the rest of our lives. A great many of us know France personally. A great many of us were there in our childhood, or in our young manhood. There is something about France that doesn't exist anywhere else in the world. I think you know what I mean. It is the spirit of civilization that endears itself not just to us but to all the world, all the people who ever go there, and that includes the people of France.
During these past four years a great many of us—all of us—have been thinking about what France has gone through. And so time has gone on, and we have seen the dawn of the new day for France, the complete liberation of that civilization which will go back not just to what it was before, but to something even more appealing, something even greater than before this war.
We are enlisted in this country in the great task of bringing that great day, the liberation of France, even closer. When that day has come, and the Government of France is restored to its own people, a great many of us will want to be there and see France, see the rejuvenated France, taking its rightful place among all the Nations.
So today- there is going to be another Toast, but this one, first—I want to drink to the speeding up of the complete liberation of France.
(The Toast was drunk). . .
Now I want to say, shall I call it a personal word. A year ago last January, at Casablanca, General de Gaulle and I met for the first time. I am glad this has been the second time, and most assuredly there will be a third time and many other times.
There are a lot of troublemakers in the world. I won't refer just to certain elements of the press in Algiers, and in Washington. That is with us always. But after all, the profession lives by stirring up controversy. That is an inherent part of our public information, which is not always correct.
There are all kinds of problems, most of them what might be called technical, or detailed, or local, which can be resolved by the meeting of the leaders—the old idea that if you get around the table with a man you can solve anything.
There are no great problems between the French and the Americans, or between General de Gaulle and myself. They are all working out awfully well, without exception. They are going to work out all right, if they will just leave a few of us alone to sit around the table.
General de Gaulle and I have been talking this morning about all kinds of things all over the world. We have talked about controversial things—controversial to the press, but really not controversial at all—things that we are in complete agreement on, things for the future of the world, things to prevent war in the future of the world, to disarm Germany, to see that this kind of thing that has been happening for the last five years shall not happen again for the next fifty.
And, therefore, it has been a great privilege to have General de Gaulle come over here to talk about these things, quietly, and to work out plans not just for the future of France but also plans for the future of the world, the cause of our objectives, our common objectives on which we are all agreed.
Therefore, it seems that at this meeting even now- and it isn't over yet—we will do even more.
I call it historic because it is going to have a great influence on all of humanity, on a great many countries and a great many continents. We can work these problems out if we keep on meeting the way we are meeting now.
It is a real pleasure to have him with us, and as I said before, something is being done for the good of the world. And that is why I think we can all tell the General from the bottom of our hearts how very happy we are to have him here in this common effort. The liberation of France is, of course, the most important of all. Every German boot we want out of France, once and for all. And when that day comes, we will all breathe much more happily and much more safely, not only during our lifetime but the lifetimes of our children.
So I propose the health of General de Gaulle, our friend.
Franklin D. Roosevelt, Toast at a State Luncheon for General de Gaulle Online by Gerhard Peters and John T. Woolley, The American Presidency Project https://www.presidency.ucsb.edu/node/210894