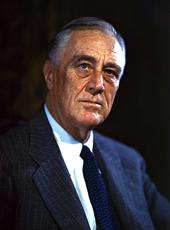 Toast at a State Dinner for the Prime Minister of Poland
I want to say how happy all of us are to welcome again to Washington the Prime Minister of Poland. I think he has arrived here at a very good time, because we have been able to have, even in the one hour this morning, a very frank talk about the future of Poland. Within his lifetime and mine we have seen the rebirth. In my boyhood and his, there was no independent Poland.
After he left me this morning, I had brought to me a series of sixteen maps, showing the map of Poland beginning in 1653. And it is rather an amazing fact that during these intervening years those sixteen maps show, first and last, that practically all of Central Europe was a part of Poland—first and last.
Therefore, it is rather difficult to untangle the map of the Poland which very soon we hope is going to have its own Government back. We hope the events of the past few days will result in the liberation of an independent Poland, with its own Government and its own democracy.
And yet we can't go by history, because if we were to take one Nation that I have in mind, Poland would include most of Russia, and a good part of Germany, and Czechoslovakia. We are not up to that time yet. We can't talk about it even.
We have got to do the practical thing. And that is what the Prime Minister and I have been talking about: the practical restoration of Poland as a country which will be not merely self-governing but self-maintaining, not merely with its own democracy, but also the wherewithal to make both ends meet in food and the cost of living. I think we are as one on it. I think we have a meeting of the minds as to the principles and the desires of the future for the people of Poland.
And I hope some time very soon that steps will be taken by which the people of Poland and the very large Nation that lies to the East will become not merely good neighbors- that is an essential'.—but also two Nations, one very, very large and the other a good deal smaller, that will be able to work out a mutual economic system by which there will be complete independence on the part of Poland.
At Teheran, I was very glad to have Marshal Stalin say, not once but several times, that he did not desire Poland to be an appendage of the Russian Soviet Republics but should, on the other hand, be a completely self-governing, large, and completely independent Nation.
Therefore, with that thought on the part of Marshal Stalin, I formed the conviction that sitting around the table and talking it over would do nobody any harm, that there can be a meeting of the minds, leaving out the smaller details, such as certain portions of what we call boundaries—deferring them until a somewhat later time, when this new disease in Europe will be eradicated by the march of time.
I think of shell shock. Three thousand miles away a good many people in the United States have got shell shock at the present time. If we were close to the actual fighting, or if there were German troops in our midst, I am inclined to think that our shell shock would be a great deal worse. And so some things must await the return of a word which I never liked and which a former President used: "normalcy," when we can think rather more quietly, and think in the longer terms of what is going to happen, not next year or the year after, or even ten years hence, but fifty years and a hundred years hence.
We go back in our relations with Poland to well over 150 years in our struggle for independence. We were very greatly helped by leading Poles—who came over to help us from a sense of justice, from a sense of trying to help people who were trying to get self-expression—the great Polish heroes who helped us in our first Revolution. Through all the years we have watched a changing history, changing boundaries, changing designs.
I was saying to the Prime Minister that I go back to the last century, when I traveled over a large part of Europe on a bicycle, without a passport. I never carried a passport.
And I came to a barrier across the road, and a man came out, yawning, and wanted to know where I came from and where I was going.
I told him I was an American; and he said, after a few minutes of a few, very simple questions, "Have you got enough money to live on?"
I said, "Yes. I have ten pounds on the handlebars of my bicycle."
Thereupon, he waved me through the barrier, and said, "Hope you have a good time."
There was a good deal of intermarriage, interchanging of ideas and friendship between the Nations of Europe then. Yet in the last fifty years that has all gone. It is a very sad thing about Europe, that that spirit has gone. It has become so nationalistic.
And yet we know there is the very great, one of the larger European Nations—Poland. It is right that they should continue to have their complete independence, and integrity, and the right spirit, because the spirit counts more than almost anything else.
And so the Prime Minister and I have been talking today and shall talk again tomorrow- something about the spirit of the future of Europe, getting away from the mere questions of whether this town will be on this side of the line or that side of the line. There is a bigger thing than that—and I am sure the Prime Minister agrees with me—it is not just a question of class or of land ownership, it is a question of the population of Poland.
The Prime Minister has always worked, all his life, for the health of the people at the "bottom of the heap." There is a great deal to do for them, still more in the future than in the past. And yet we in this country recognize the value of the Polish population, the thing that goes back to hundreds of years, the integrity of it, the good citizenship of it, the fact that they are not Poles in this country any more, they are Americans- Americans of Polish descent. That is why they are so very welcome when they come over here—to become Americans.
So I want to say again how very happy we are that the Prime Minister has come over here, and I hope he will come back, or that we will go over there and meet with the other members of his Government in London; and to meet the President of Poland, with whom I have never had the pleasure of close acquaintanceship yet, but who, as head of the Nation, still does represent a link which has been so welcome in America.
We are glad to have the Prime Minister with us, and I want to drink- we are all very happy to drink- to the health of the Prime Minister, and through him the President of Poland.
Franklin D. Roosevelt, Toast at a State Dinner for the Prime Minister of Poland Online by Gerhard Peters and John T. Woolley, The American Presidency Project https://www.presidency.ucsb.edu/node/210821