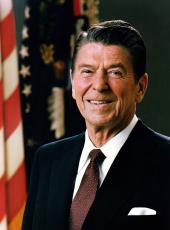 Toast at a State Dinner for Prime Minister Mohammed Khan Junejo of Pakistan
Prime Minister Junejo, distinguished guests, and friends, Nancy and I welcome you to the White House. Mr. Prime Minister, our discussions today were upbeat, cordial, and productive, and will undoubtedly strengthen the bonds of friendship between our two nations. I'm pleased to report that, though today's meeting was our first, we talked with the directness and ease of two long-time colleagues. This tells me, far more than words alone, that the relations between our countries are in good shape and good hands.
Mr. Prime Minister, under your guidance Pakistan is moving toward the realization of its cherished democratic ideals. The democratic path is long and difficult, but free people travel that road together. America is with you, as you proceed toward this noble goal. We want you and the people of Pakistan to know, without doubt, even in the face of increasing Soviet pressures, we stand by you in defense of your sovereignty. Pakistan's determination to see Soviet troops out of Afghanistan strengthens the resolve of free men everywhere. Please take this message back to your people: We salute your courage and are proud of you. With you, we look to the day when a free Afghanistan will again be independent and truly nonaligned, the day when the millions of Afghans who have fled can return to their homes and their land to pursue their own destiny.
It's time to get on with the business of peace. We Americans understand and support the aspirations of the people of Pakistan for greater prosperity and progress in a region free of tension and threats of conflict. And we applaud and strongly support the steady improvement in relations between your country and India, and we're delighted with the commitment Pakistan and its south Asian partners have made to new ventures in regional cooperation.
Mr. Prime Minister, let us build on the solid foundation laid down by American and Pakistani leaders over the years. Our countries continue to share common interests and common goals. By standing together, we can make this a freer and a more peaceful world. Pakistan's national poet-philosopher Mohammad Iqbal once said: "My life, O God, should be like that of a candle, so that through my efforts I may try to dispel the darkness of evil and illumine the whole world." Well, Pakistan and the United States, together, can be a light unto the world.
And so, ladies and gentlemen, let us offer a toast to the distinguished Prime Minister of Pakistan and to a future made bright by the light of friendship between our nations and peoples.
Note: The President spoke at 9:50 p.m. in the State Dining Room at the White House.
Ronald Reagan, Toast at a State Dinner for Prime Minister Mohammed Khan Junejo of Pakistan Online by Gerhard Peters and John T. Woolley, The American Presidency Project https://www.presidency.ucsb.edu/node/258895