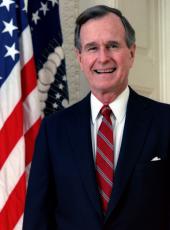 Toast at a State Dinner in Brasilia, Brazil
President Collor and Mr. Vice President, Mr. President of the Senate, Mr. Archbishop, Mr. President of the Chamber of Deputies, and Mr. Acting President of the Supreme Court, Minister of Foreign Relations, and Ministers of State, members of the Cabinet, Ambassador and Mrs. Melton, and all you distinguished guests: I am deeply grateful to all of you here and to the people of Brazil for your gracious hospitality.
I fouled this up at lunch, so I want to be sure if we're going to -- are you going to translate it all, or just one part? Okay.
In fact, it won't be easy to leave here. I'm told that one American Ambassador stayed in your country for 21 years -- obviously, a very smart man. I'm here for 24 hours.
But it was a great honor for me to address your Congress this morning. And it was a memorable moment; but more than that, it was, it seemed to me, an affirmation of the proud heritage we share and a reminder that we have much reason for hope in the future.
And again tonight I want to thank the leaders of Congress. And I also want to ad lib here, because I understand I was invited today to go to the Supreme Court. We have great respect in the United States for an independent judiciary. And I am very grateful to the Justices, some of whom are here tonight, that invited me to the Court. And I am only sorry that I did not have the opportunity to take you up on your invitation. But this occasion tonight gives me a chance to salute you, the members of the Court, for whom we have so much respect.
Our two nations have a great deal in common. We put our faith in similar forms of representative government, and we've had Ambassadors in each other's capitals since the earliest years of this century. Our relations have been long; our devotion to freedom, constant; our commitment to peace, enduring. And now I'm convinced that the time has come to move our relations toward a new and higher plane, to eliminate the false schism between what we once called the First and Third Worlds. As President Collor speaks of a Brazil Novo, we should also speak of a new world, defined by its ideals of freedom, democracy, and prosperity shared by all.
All of us in the Americas share a common economic and political vision: an unshakable belief that extraordinary achievements are possible when the imagination and industry of the individual is unleashed. I believe we've just begun to tap the true potentials of the Americas, and it is within our power to bring a new dawn to the New World.
Our Enterprise for the Americas Initiative is a major step forward, helping us explore the many new areas of our common destiny in a spirit of optimism and hope for all peoples of the hemisphere.
Mr. President, you, sir, have courageously resolved to make profound changes in your economy; and I believe that those changes will reap handsome benefits for the people of Brazil, for all the people of Brazil.
We have a common interest in expanding trade and protecting it from the damage that perceived inequities would inflict on our economic partnership. No country would gain if our common policy of an open and fair international trading system isn't fulfilled.
We share common environmental concerns, knowing that the destruction of irreplaceable resources, wherever they're found, compromises mankind's well-being everywhere. I'm confident that we will continue to find shared solutions to global environmental challenges.
Together, our opportunities are boundless, and so let us forge a closer and more vital partnership to ensure lasting prosperity for all our people.
And now I would like to ask you to join me in raising a glass to the health and happiness of the people of Brazil; to our friend and admired President of Brazil, Fernando Collor; and to the friendship between our two great nations. And thank you for an unforgettable visit. Thank you all.
Note: The President spoke at 9:58 p.m. at the Foreign Ministry Building. In his remarks, he referred to Vice President Itamar Franco; Nelson Carneiro, President of the Senate; Dom Jose Freire Falcao, Archbishop of Brasilia; Antonio Paes de Andrade, President of the Chamber of Deputies; Minister Aldir Guimaraes, Acting President of the Supreme Court; Jose Francisco Rezek, Minister of Foreign Affairs; and U.S. Ambassador Richard Melton and his wife, Peggy. Following the dinner, the President went to the U.S. Ambassador's residence, where he stayed overnight.
George Bush, Toast at a State Dinner in Brasilia, Brazil Online by Gerhard Peters and John T. Woolley, The American Presidency Project https://www.presidency.ucsb.edu/node/265223