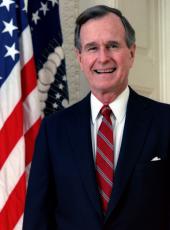 Toast at a State Dinner in Athens, Greece
Well, thank you, Mr. President, not only for that warm welcome today, but for those very kind words. And I simply cannot tell you how happy I am to return to Greece -- "the cradle of democracy" -- at a time in which ancient principles and modern aspirations meet -- come together.
Some 25 centuries ago, the democratic idea was born right here in Athens. And you kept that idea alive and inspired our Founding Fathers to begin the American experiment. And while this year we celebrate the 200th anniversary of our Bill of Rights, you celebrate the 2,500th anniversary of democratic government.
Mr. President, we speak often of democratic principles and individual liberties and the rule of law. And together, we've stood strong so that democracy would survive in Europe. Greece was among the first countries to resist fascism when you fought Mussolini's army in 1940. And you were also the first to stop Soviet expansionism in Europe after World War II.
And now our North Atlantic alliance supports those same guiding principles, principles that inspire nations all around the world. And today, the human spirit vanquishes the evils of totalitarianism, and the spark of freedom glows brightly in virtually every corner of Europe.
Mr. President, you have played a tremendously important role in preserving the flame of democracy for half a century. And many have stood for democracy, but only a gallant few have risen to the call of reversing autocracy and restoring democratic principles to government and society. And you, sir, are one of those few.
As a matter of fact, you're unsurpassed in that small, very distinguished group. You fought the forces of evil in the Second World War. You fought communism afterward. And you restored democracy to Greece in 1974. Your success in this profound endeavor was a victory for Greece and for the world.
Mr. President, these are brilliant accomplishments. And we pay tribute this evening to your magnificent record as one of the West's great statesmen.
Thucydides wrote that "the bravest are surely those who have the clearest vision of what is before them, glory and danger alike, and yet, notwithstanding, go out and meet it." Twice Prime Minister of Greece, and now twice President, you inspire the people of Greece, the people of the United States, and free men and women everywhere.
So, ladies and gentlemen, will you please join me in a toast. To the good fortune of President Karamanlis, to the many times throughout history our two countries have inspired and supported each other, and to the deep friendship -- the real and lasting friendship between our peoples. And may God bless Greeks and the American people as well.
Note: The President spoke at 8:50 p.m. in the dining room at the Presidential Palace.
George Bush, Toast at a State Dinner in Athens, Greece Online by Gerhard Peters and John T. Woolley, The American Presidency Project https://www.presidency.ucsb.edu/node/265273