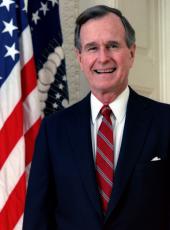 Toast at a State Dinner in Ankara, Turkey
Mr. President and Mrs. Ozal and ladies and gentlemen. Let me begin by thanking President Ozal for inviting us over here to see this wonderful country. We were standing outside of Ataturk's tomb this morning, and I couldn't help but think of the parallels between the founder of the modern Turkish Republic -- whose name means "Father of the Turks" -- and the man we Americans call the Father of our Country, George Washington.
Both were great generals; both were great leaders. And both used their words, their times, and their opportunities to build great nations. Each knew that to win a war one must secure the peace. And each had a vision for his country's future that, through courage, labor, and selfless determination, became the nation's destiny.
And then, as now, we believe in what Ataturk called "peace at home and peace abroad." We know that protecting peace sometimes means being willing to defend it. That's why we've worked together in NATO for close to 40 years. That's why we fought together in the Korean war. And that's why we stood together to reverse the occupation of Kuwait.
There were many people -- many men and women -- responsible for the success of the international coalition and the liberation of Kuwait. But I firmly believe that no one provided greater leadership or clarity of purpose than President Turgut Ozal. I know because we talked together by phone countless times. And he never flinched, and he was always courageous and farsighted.
Let me add, sir, that our respect and gratitude certainly extends also to Turkey's military leaders -- the Turkish General Staff -- who displayed uncommon dedication to the coalition's objectives. It was a comfort for all of us in Washington to know that when the United Nations decided to take that step and impose sanctions against Iraq, Turkey would not hesitate to do what was right. I want you to know -- and on this one I speak confidently on behalf of the American people -- that Turkey's role in the Gulf crisis has not, and will not be, forgotten.
Let me also say that we know the cost of your courage. Your Turkey's incurred enormous damage -- especially in the southeast -- from its compliance with UN sanctions, its decision to deploy troops, and its generous relief assistance to hundreds of thousands of displaced people camped along its borders.
As we look ahead, let's use the last year as a model of cooperation. As allies, Mr. President, we must expand and deepen our relationship -- we must create a new strategic relationship.
It's been said that great tasks and important missions are accomplished only through cooperative efforts. And that's why I talked today with President Ozal and Prime Minister Yilmaz of strengthening the bonds that link our countries.
Turkey's genius can advance not only prosperity at home but also peace abroad. So, let us build a new future together: a future of peace in the Middle East, a future of peace on Cyprus, and peace between two great countries -- Turkey and Greece -- led by wise and responsible men. And let us work together to build a U.S.-Turkish relationship with the knowledge that our paths are common, our interests and values are intertwined, and our fate, as free and democratic peoples, will be always linked.
Mr. President, let our path be straight and true. Let us achieve the real peace that Ataturk and General Washington dreamt of. And let us enrich this generation, and all generations to come.
And may I ask all the guests here to join me now in a toast to the health of the President and Mrs. Ozal, and to the great and strong relationship between the United States and Turkey. And thank you, sir, for your hospitality.
Note: President Bush spoke at 8:35 p.m. in the garden of the Presidential Palace. In his remarks, he referred to President Ozal's wife, Semra. A tape was not available for verification of the content of these remarks.
George Bush, Toast at a State Dinner in Ankara, Turkey Online by Gerhard Peters and John T. Woolley, The American Presidency Project https://www.presidency.ucsb.edu/node/265327