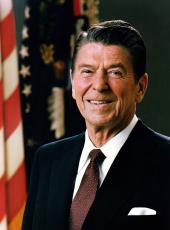 Toast at a St. Patrick's Day Luncheon Hosted by the Irish Ambassador
Well, I came not bearing gifts of such value, but I did bring a Waterford glass filled with completely green jellybeans. [Laughter]
Mr. Minister, Mr. Ambassador, Mrs. Donlon, honored guests:
It goes without saying that I'm delighted to be here on this very special day for the Irish and all who wish they were— [laughter] —and for the lovely music and the young lady who sang so beautifully, your daughter, Mr. Ambassador. You know, it's been said and I've heard it all my life that when the Irish sing an Irish song, all who listen wish they were Irish, too.
I don't know whether what I'm going to say now could be called a gift or not, and he doesn't know that he is going to be the gift, but I think this is the most appropriate occasion I can think of to introduce to you the designate as Ambassador to Ireland for the United States, Bill McCann. Bill, why don't you stand up?
I'm honored to have received your traditional shamrocks, which symbolize this day and the friendship between our two countries, and I'm especially pleased and most grateful for the beautiful scroll of the Reagan family tree. Up on the Hill this morning at a meeting with some of the legislative leadership—Mr. Speaker, on our side of the aisle— [laughter] —Senator Laxalt presented me with a great green button that he thought I should wear, which said, "Honorary Irishman." And I said to that son of the Basques— [laughter] —"I'm not honorary; I am." [Laughter] And I now have the proof of it here.
I have to tell you, though, if you don't mind, a personal note. I am deeply grateful for this, because my father was orphaned at age 6, and I grew up never having heard anything or knowing anything about my family tree. And I would meet other people of the name Reagan or Regan— [laughter] -we're all of the same clan, all cousins. But I tried to say to the Secretary1 one day that his branch of the family just couldn't handle that many letters— [laughter] —and then received a paper from Ireland that told me that in the clan to which we belong, those who said Regan and spelled it that way were the professional people and the educators, and only the common laborers called it Reagan. [Laughter] So, meet a common laborer. [Laughter] But anyway, I am delighted to now finally know what I've never known all my life—the line and the heritage and to where it goes in Ireland.
My father also, at the same time, used to tell me and my brother when we were boys that, very proudly he would say that in this country the Irish built the jails and then filled them. [Laughter] And I was kind of disturbed at the note of pride in his voice, because I pictured this in a little different way until I finally learned what he was implying, and that was the great, high percentage of the police officers in our land who were Irish. [Laughter]
But I wonder how many realize, even here where you are so versed in the background, how many realize how far back in our history of this country the contribution of the Irish to this land really goes.
George Washington, the first President of the United States, said, "When our friendless standard was first unfurled for resistance, who were the strangers who first mustered around our staff?. And when it reeled in the fight, who more bravely sustained it than Erin's generous sons?"
I remember hearing some years ago and the first time that I ever had occasion to visit Ireland was right after World War II, and I was told of how Winston Churchill several times went on British Broadcasting radio to complain of Ireland's official neutrality in that war. And each time, he grew a little more stern and harsh in his words about that until finally Eamon de Valera went on radio and replied and said that if Winston didn't stop that kind of carping, he would withdraw the British Eighth Army from North Africa and bring it back to Ireland. [Laughter]
Mr. Ambassador, I know the courage with which you've worked to help bring peace to your land, and we here, in this land, have no deeper wish than that by the next St. Patrick's Day, if not before, the conflict and violence in North Ireland will have been replaced with reason and good will. And your efforts and those of others in bringing this about will have the full backing of the American people and their President.
Now, in the words of a poet, Dion Boucicault—I have it, I think, right—"When the law can stop the blades of grass from growing as they grow and when the leaves in summertime their colour dare not show, then will I change my colour too, the colour I wear in my caubeen; but till that day, plaze God, I'll stick to wearin' of the green."
Now, Mr. Ambassador, Mrs. Donlon, Mr. Minister, the honored guests here today, I ask you to join me in a toast to the enduring friendship between the Irish and American peoples.
1 Donald T. Regan, Secretary of the Treasury.
Note: The President spoke at 1:03 p.m. at the residence of Irish Ambassador to the United States Scan Donlon in response to toasts by the Ambassador and Minister of Finance Eugene Fitzgerald.
Ronald Reagan, Toast at a St. Patrick's Day Luncheon Hosted by the Irish Ambassador Online by Gerhard Peters and John T. Woolley, The American Presidency Project https://www.presidency.ucsb.edu/node/247319