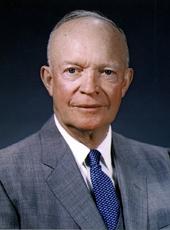 Toast to President Frondizi at a Dinner Given in His Honor by the President in San Carlos de Bariloche
Mr. President, and gentlemen:
Mr. President, it is a high honor to have you as my guest for these few hours this evening. And incidentally, as we sat down, I find that both you and I were honored with the presentation from the National Park Service of fishing licenses. So if I am found fishing tomorrow, I don't want to be arrested for breaking a law.
Had I the words to express my deepest thoughts, you would know the full extent of my respect, admiration, and friendship for you, first felt when you visited my country 13 months ago. At that time you said in an address before a joint session of the United States Congress, "Without national development, no welfare or progress can exist. When there is misery and backwardness in a country, not only freedom and democracy are doomed, but even national sovereignty is in jeopardy."
This is a basic truth. And I would add one thought: when freedom, democracy, and national sovereignty are in jeopardy in any country, they are to some degree in jeopardy in all free countries of the world.
This is one strong reason why the United States is vitally interested in the development, and general well-being of all free nations. It is why the United States--despite unmatched levels of taxation, heavy economic and military burdens, and pressing internal problems--continues to make sacrifices in helping other free nations with their problems of national development.
Next to the attainment of a just and lasting peace, with freedom, no hope consumes my mind and heart so much as this: that the nations of the world arrive at a system of guaranteed disarmament, with a significant portion of the savings, thus achieved, employed in a continuous program of assistance to those who need it, who would welcome it, and who would work hard in using it.
Each hour of the 2 days I have been in your country has added to my deep respect for your efforts to stabilize your economy, your determination to develop your nation soundly in ways that benefit all the people, and the evident progress you are making. What I have seen reflects the virtues of a freely elected government, a dedicated and energetic leader, and the courage of an independent people.
Gentlemen: I invite you to join me in a Toast to President Frondizi, and to the abiding friendship of the peoples of Argentina and the United States.
Note: The President proposed the toast at 10:20 p.m. at the dinner given at the Llao Llao Hotel in San Carlos de Bariloche.
Dwight D. Eisenhower, Toast to President Frondizi at a Dinner Given in His Honor by the President in San Carlos de Bariloche Online by Gerhard Peters and John T. Woolley, The American Presidency Project https://www.presidency.ucsb.edu/node/235157