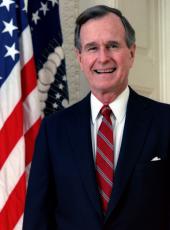 Toast at a Luncheon Hosted by United Nations Secretary-General Javier Perez de Cuellar in New York City
Secretary-General de Cuellar. Excellencies, ladies and gentlemen, it is a great pleasure for me to welcome to the United Nations our guest of honor, President Bush; and also to welcome Their Excellencies, Mr. Fernando Collor, President of the Federal Republic of Brazil; Alfredo Felix Cristiani Buckard, President of the Republic of El Salvador; Mr. Amata Kabua, President of the Republic of the Marshall Islands; Mr. Bailey Olter, President of the Federated States of Micronesia; the Honorable James Brendan Bolger, Prime Minister of New Zealand; Dr. Gro Harlem Brundtland, Prime Minister of Norway; Dr. Carlos Torres y Torres Lara, Prime Minister of Peru. I should also like to extend my warm greetings to the distinguished foreign ministers and permanent representatives accompanying them.
Distinguished guests, the General Assembly convenes this year against the background of a transformed global scene and a rejuvenated United Nations. We are, of course, faced with questions to some of which there are no easy answers. But the very nature of those questions indicates the depth and radical nature of the change that has taken place.
New horizons have been opened before us and our thinking has been unshackled. It has been an immense achievement of the world's leadership. To all who initiated, encouraged, promoted, or facilitated it, humanity pays its tribute as history will no doubt laud their accomplishment.
Among them, a great architect of change is George Bush, the President of our host country. As a former permanent representative to the United Nations, he knows our organization intimately and, therefore, perceives its full potential. As he said when addressing the General Assembly last year, and I quote, "Not since 1945 have we seen the real possibility of using the United Nations as it was designed, as a center for international collective security."
The world expects that this potential will be fully used to seize the unique opportunity which has now been offered. This is the opportunity to usher in a new era in which under the rule of law disputes will not be left to fester, aggression will enjoy no impunity and oppression no license.
It should be an era in which the other dimensions of peace, protecting human rights, reducing poverty, limiting weapons, and saving the environment will be addressed with a sense of urgent concern.
Even though I am daily reminded of the formidable difficulties in the way, I am firmly convinced that these expectations are by no means utopian. We need no magic to meet them. We need fidelity to the principles so articulated in our charter. We need patient efforts undertaken with objectivity and common sense and, I would stress, compassion.
We are looking at a world scarred with suffering but also brightened by hope. We trust that world statesmanship will alleviate the one and answer the other.
Excellencies, ladies and gentlemen, I ask you to join me in a toast to the health of our distinguished guests of honor, to the well-being of their countries, and to peace in the world.
The President. Mr. Secretary-General and distinguished members of the United Nations community, excellencies, ladies and gentlemen, and dear friends. For many years, even though we left after only 2 years, Barbara and I regarded this as kind of a second home.
And I walked into this dining room a minute ago, and I had a lot of thoughts. Some of them were kings and potentates and foreign ministers and prime ministers who were eating here elbow-to-elbow. But I remember a woman named Alice that used to wait on the tables here. And she would take a king or the lowly of us new "perm reps" and put us right in the same basket and make us all feel very much at home. And it was a wonderful experience. I don't know what happened to Alice, but I think that spirit is still prevailing here at the United Nations. And people that haven't served here, I think, sometimes don't realize that it does exist. So this is for me, a wonderful homecoming reunion.
Somebody once observed, "The character of a people is embodied in its leaders." Mr. Secretary-General, once again, as I said to the G.A., the character of the U.N. for the last several years has been embodied in you. You and the other leaders have witnessed this great change in the past several years, changes that brought an end to, again, the superpower rivalry that dominated many of the debates here and, indeed, poisoned the international arena.
But the passing of this rivalry has enabled the U.N. to assume its proper role on the world stage, that was the role that was envisioned some 45 years ago by its founders. And history is going to record that at the onset of this decade, the U.N. regained the faith of its founders by responding with courage and vision to the invasion of Kuwait. And you helped the nations of the world restore peace and stability to the Gulf by reversing the tide of aggression against a member state.
So, a new wave of freedom now sweeps the globe. And in virtually every corner of the world, governments that have been repressive have been swept aside. And in their place have sprung up democracies -- fragile, some -- but democracies which can and must be nurtured to withstand the daunting difficulties that they confront.
And I think a collective task here would be to strengthen this trend towards freedom, these democracies, affirming the rights of the individual while truly responding to the collective will of the people. Mr. Secretary-General, I wrote down a quote of yours, "Resolution of conflicts, observance of human rights, and the promotion of development, together weave the fabric of peace. If one of these strands is removed, the tissue will unravel."
Well, sir, you've played a central role in binding this fabric of peace. You've helped lessen tensions around the world in a time of tremendous change. And by keeping your eye fixed on the horizon, sir, you've helped the U.N. find the road to peace.
I wouldn't dare say that I speak for everybody here on most subjects. It just wouldn't work that way. But on this one, I think, I confidently think that I speak for everybody in this room when I thank you on behalf of freedom-loving peoples everywhere. And I congratulate you, sir, on a job well-done. And so, I propose to all that we raise our glasses to the cause of peace, to the health of our dear friend, Javier Perez de Cuellar, and to the liberty we can and must achieve for the children of this world.
Thank you.
Note: The Secretary-General spoke at 1:45 p.m. at the Intercontinental Hotel in the Delegate Dining Room. A tape was not available for verification of the content of these remarks.
George Bush, Toast at a Luncheon Hosted by United Nations Secretary-General Javier Perez de Cuellar in New York City Online by Gerhard Peters and John T. Woolley, The American Presidency Project https://www.presidency.ucsb.edu/node/266507