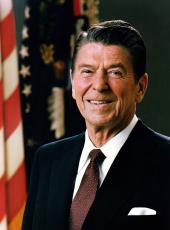 Toast at a Luncheon Hosted by President Miguel De la Madrid Hurtado in Mexicali, Mexico
President De la Madrid, honored members of the delegations, and friends, this visit marks the fourth meeting that I've had with President De la Madrid. And I hope you agree, Mr. President, that each meeting seems more productive than the last. I deeply appreciate the open and candid manner in which we are able to discuss the issues at hand. It speaks well of our personal relationship and that of our countries.
We examined, in our meeting, trade and investment between the United States and Mexico. This is an area in which, I believe, more progress can be made with great benefits to both our peoples. Mexico's debt burden remains a serious challenge. But I am impressed with the commitment that you've made, Mr. President, to meet this challenge and to take the necessary steps to achieve a robust, growing Mexican economy. The United States remains ready and willing to work with you to reach that goal.
We also discussed today the considerable progress made since the signing of the Border Environmental Agreement in 1983. Men may have drawn a line in the ground to determine the boundary between us, but God made the land on both sides of that line. And it's up to us to take care of resources that are placed in our care. With a 2,000-mile border, there is considerable room for expanding our cooperation in this area. I took special note, Mr. President, of the recent agreement to proceed with a major reconstruction of bridges.
We also had an opportunity today to review the ongoing battle with the drug traffickers, as you have just said—a fight in which Attorneys General Garcia Ramirez and Meese are playing a leading role. Cleansing our societies of this evil is not without cost. America joins with you in mourning the death of those valued Mexican officials who have been killed in the struggle against narcotics. There are tears on both sides of the border for the Mexican policeman killed recently in the State of Veracruz. They have shown honor and courage that transcends international boundaries. Our own DEA agent, Enrique Camarena, brutally murdered in the line of duty exemplifies this. He is an American hero, born here in Mexicali.
Our meeting today has afforded us a good opportunity to discuss our differences and to expand our cooperation in many areas of mutual interest. It appears these areas are expanding. And that, I believe, should surprise no one. We share many fundamental values and, in the end, these values will draw us closer. Exemplifying this, Mr. President, was an interview you recently conducted with a Mexican newspaper. And in it you applauded the progress toward democracy being made throughout Latin America and concluded that the tendency of all the world is to seek democracy. Furthermore, you said, and I quote, "Regimes of force or authoritarian regimes are not the solution to overcoming economic and social problems in Latin America. Democracy is more effective in accomplishing these aims in a lasting way than the authoritarian regimes." Well, your words ring true, Mr. President. A commitment to democracy is the only true path to justice and to economic progress. Mexico and the United States can and should stand shoulder to shoulder in support of democracy in this hemisphere.
Outside this building is a bell, symbolic of the bell rung by an historic champion of human freedom, Father Hidalgo. This priest rang the parish bell in 1810 to rally the American [Mexican] people to fight against oppression. Miguel Hidalgo, Jose Maria Morelos, and many other brave Americans [Mexicans] gave their lives for this cause. And on the eve of September 16th, the bells are rung to commemorate your country's independence. We in the United States also have a bell symbolic of our liberty and independence; it's called the Liberty Bell. It's a national treasure, kept in Philadelphia at our Independence Hall. As we leave here today, let us pledge to each other that Mexico and the United States will ring the bells of freedom as Hidalgo, Jefferson, Juarez, and Lincoln did before us. It's a sound sweet to the ear of all who long to be free. Let us ring the bell of freedom so that all citizens of this hemisphere—and we are all Americans, North, Central, and South-will hear.
And so I ask you all to join me in a toast to my friend, the great leader of the Mexican people, President De la Madrid, and to the friendship between our two peoples.
Note: President Reagan spoke at 12:56 p.m. at El Centro del Gobierno del Estado Plaza in response to a toast by President De la Madrid Hurtado. Following the luncheon, President Reagan returned to Washington, DC.
Ronald Reagan, Toast at a Luncheon Hosted by President Miguel De la Madrid Hurtado in Mexicali, Mexico Online by Gerhard Peters and John T. Woolley, The American Presidency Project https://www.presidency.ucsb.edu/node/258904