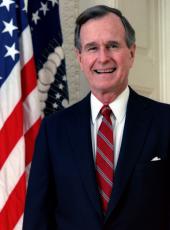 Toast at a Dinner Hosted by Prime Minister Margaret Thatcher in London
Well, Prime Minister and Mr. Thatcher and distinguished ladies and gentlemen, Barbara and I and all of our traveling squad are just delighted to be here. And let me start by thanking you, Madam Prime Minister, for your thoughtful and gracious comments. And I also want to thank you for inviting us here and especially for the marvelous chat that we had today and for the extraordinary hospitality of this evening. And I'll speak for Barbara, which I normally don't do -- [laughter] -- thank you for your kind words about Barbara, and she is doing very well indeed at home, thank you. And I am not in the least bit jealous. I wonder when we finish a press conference and Helen Thomas of the UPI says, to end it, "Thank you, Barbara's husband." [Laughter] But nevertheless, thank you for your warm words about her, and we're very proud of her.
This is a most distinguished gathering, and if I start singling out the excitement that Barbara and I felt about meeting the various individuals around here, I'd get into serious trouble. I love politics, and we've got some good, competitive politics around this table. Neil [Neil Kinnock, British Labor Party leader], nice to see you, sir, and the associates on the other side. I love sports, and I could learn about that stiff left arm and looking at the pin and not getting nervous on putting from one distinguished guest here, or bending my knees and volleying properly from another. And so, you have adequately accommodated my insatiable quest for being the name-dropper of the year by the distinguished guests here. [Laughter]
But I want to single out one. In 1971 or 1972, I was the Ambassador at the United Nations, and a distinguished former Prime Minister was the Foreign Minister of the United Kingdom. And he was in New York for a very high-level meeting. And I was the new boy on the block at that time, just out of Congress, representing our country at the U.N. And Sir Alec had solved some terribly important business at the moment, but it was a Sunday in New York. And Barbara and I were sitting in our luxurious Embassy high atop the Waldorf, and I said to her, "I wonder what Sir Alec Douglas-Home is doing this morning?" She said, "Don't you dare." And I said, "No, I'm going to call him up." And we had only shook hands with him in a long line of other worshipers.
And darned if he didn't say, "Yes, I'd love to go out to Greenwich and see the birds and the sanctuary." And that marvelous gesture on his part of accepting the hospitality of a lowly Ambassador, and certainly a new one in foreign affairs -- we've never forgotten it. And I don't know whether his wife has forgotten my boosting her across the fence into the bird sanctuary. But nevertheless, I saw an intimacy there -- the affection that the people -- I saw why the people of the United Kingdom have this enormous affection for Sir Alec. So, I will single him out and say how pleased we are to see him again. I expect I could still have an awful lot to learn from him.
Margaret, the talks that we held today I found, not in a diplomatic sense but just in a personal sense and an important sense, extraordinarily useful -- not just because we're colleagues but we do represent two great nations. This visit -- if you're interested in trivial pursuits, a little historic trivia -- represents, I think, your and my, at least, 10th meeting -- maybe more -- six in London alone, I'm sure. And every time I meet with you all's distinguished Prime Minister, I'm reminded of something that Disraeli once said: "There is no wisdom like frankness." And your Prime Minister's honesty, her candor, is an enormous resource not just for the United Kingdom but for the West. And I'm sure it's a reason for this success that she's had as Prime Minister.
Mrs. Thatcher is a seasoned leader, with 10 years of demonstrable success in office, and I do value her judgment and her insight. Americans look to you, Madam Prime Minister, with great admiration for all you have done for Britain and all that you have done for the alliance and all you have done for those who value freedom, wherever they may be in the world.
As Sir Antony Acland knows, we lived for 8 years as Vice President right next door to the British Embassy. I say he knows it because he's been extraordinarily tolerant when our helicopter would come in at 12 a.m. or 1 a.m. or 2 a.m. from some campaign trip. He never filed a protest -- [laughter] -- and Jenny, indeed, was very tolerant also. And I'm just delighted that they are in Washington. You're being so ably represented there, and I only regret we don't live next door anymore. But nevertheless, every morning and every night, I'd pass your Embassy grounds with this lifesized, marvelous statue of Winston Churchill, cast of rugged iron to withstand our rains and the cold, and the figure is really beautiful, as stoic as the man was in real life.
And Winston Churchill was America's first such partner in leadership really, when we were challenged together by war. And true, the challenge of today is a different one than Churchill and Roosevelt felt at the time, but it is one that really asks no less of us. I do believe that this profound change that's sweeping the nations of the East offers enormous potential. And we in the West support these forces of change. We want them to succeed; we want these changes to endure. And if progress continues, we will work together to move beyond containment of the Soviet Union, to draw the peoples of the East into the commonwealth of free nations.
It was in this very city that, a little more than a century ago, Karl Marx died, leaving behind ideas that were to bear his name. It was in this city, and indeed in some of these same rooms, that a succession of British Prime Ministers worked with my predecessors to stem Marxism at full-tide. But today we can explore possibilities for peace that would have seemed wildly unrealistic just a handful of years ago. With NATO's new conventional arms control initiative -- and it is NATO's, and there is no quest for credit -- we are an alliance. We are a partnership; we are together. We seek to free Western Europe from the shadow of Soviet military power. And similarly, with our agreement in NATO on short-range nuclear forces, we demonstrated that we can manage change while doing what your Prime Minister has urged on all of us: remaining true to our strategy of deterrence, true to our principles. The recent summit showed NATO at its unified best, a triumph for all who yearned to move beyond a divided Europe -- a Europe of armed camps -- to a Europe that is whole, a Europe that is free.
And in this quest, I will be looking for our part to our friends in London. Ladies and gentlemen, I ask you to rise and raise our glasses to a British Prime Minister who holds the reins of history, to a friend, a dear friend of the United States of America, our respected friend, the Prime Minister, Margaret Thatcher: to your health and our relationship.
Note: The President spoke at 10:13 p.m. at 10 Downing Street, the Prime Minister's residence.
George Bush, Toast at a Dinner Hosted by Prime Minister Margaret Thatcher in London Online by Gerhard Peters and John T. Woolley, The American Presidency Project https://www.presidency.ucsb.edu/node/262881