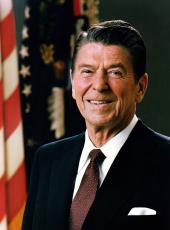 Toast at a Dinner Hosted by President Li Xiannian of China in Beijing
President Li, Premier Zhao, distinguished ladies and gentlemen, it's a pleasure to be here with you tonight. Nancy and I are most grateful for the warmth of the reception that you've given us. I'm certain I speak for everyone in our entourage when I say we are overwhelmed by the loveliness of this hall, the gardens. The setting is certainly a tribute to the richness and depth of your culture. And might I add, this meal appears to be a tribute to your culinary arts, as well.
You've made us feel welcome after a long journey. And this, even more than the grandeur of the surroundings and the grace of the meal, is appreciated.
Premier Zhao's recent trip to the United States and our visit, as well, demonstrate how technological leaps in communications and transportation are changing our perceptions of the world. Yet, even as technology catapults us into the future, making possible in our travel that once took months or even years, ancient truths are reconfirmed. Many centuries ago, Wang Po, a famous Chinese poet-philosopher, wrote, "Although we reside in far corners of the world, having a good friend is akin to having a good neighbor."
The essence of that observation is as true today as it was when it was penned. In that spirit, President Li, I come to China representing the sincere desire of the American people to be good neighbors to the Chinese people.
It was just 200 years ago when the first American merchant ship called on a Chinese port. Two hundred years seems like the blink of an eye to Chinese civilization; yet, for Americans, this spans almost the entire history of our Republic. Looking back, President Li, we can see that at times the relationship between our two nations was not what it should have been. But thanks to the hard work and determination of farsighted leaders of both of our countries during the last 12 years, our future is bright with potential.
There are differences between us, yes, differences that should be neither glossed over nor dented—denied, I should say. Yet we, the people of China and the United States, share a sincere desire for peace and prosperity, and we understand that by working together, emphasizing our areas of agreement, everyone will benefit.
Premier Zhao's visit to the United States was the first visit ever by a Chinese Premier. And now this marks the first visit by an American President since our countries formally established diplomatic relations in 1979.
The travel of government leaders is symbolic of the surge of activity, of the exchange and cooperation going on between our peoples at all levels. Whether in commerce, the arts, science, or industry, our citizens are establishing personal bonds of trust and friendship that mirror the good will found at the highest levels.
This healthy intercourse is encouraged because our countries, our people as a whole, have determined that what we have in common, what we can accomplish working and building together, is vastly more significant than those things that separate us. This, of course, does not mean progress will be easy. Few things worthwhile ever happen without commitment and effort by good people. We can be proud, considering our differences, of how much has already been accomplished.
If you'll permit me, we believe even greater progress can be made if our future efforts are based on hu jing hu hui—mutual respect and mutual benefit. If we have the will to live up to it, hu jing hu hui can make our countries more prosperous and more secure. It can keep us friends, even while recognizing that we do not totally agree on some things which we believe important. There is every reason for optimism about the continuing peaceful evolution of relations between our two countries.
I would hope in the not too distant future that you, President Li, as I have already expressed to you earlier, will come and be our guest in the United States, so that you can meet and talk with the American people.
Nancy and I are now looking forward with great anticipation to the rest of our visit to your country. We're especially pleased to see Premier Zhao again. I'm also eager to make the personal acquaintance of Chairman Deng and General Secretary Hu.
This, our first day, was even more gratifying than expected. Meeting you and having the opportunity for open and constructive dialog was an excellent way to inaugurate this trip.
During our stay, Nancy and I hope to see and learn much about China and its people. The history, the beauty, and the culture of your country is legend throughout the world. I first learned about it as a boy in a small school in the farm country of America. I never dreamed back then that I'd have the opportunity to come and see these things for myself.
Now, as I suggested a moment ago, technology has made us neighbors. Neighbors are not family, but they can be dear and trusted friends. And that is the spirit I sense already. It's something upon which weighty accomplishments can be built. In that spirit, I invite all of you to join me in a toast.
To your health, Mr. President, and that of Mrs. Li, and to the health of Premier Zhao and of China's other distinguished leaders, and to further success in advancing the relations of our two countries.
Note: The President spoke at 7:30 p.m. at Yang Yuan Hall in response to a toast by President Li.
In his opening remarks, the President also referred to Premier Zhao Ziyang.
Ronald Reagan, Toast at a Dinner Hosted by President Li Xiannian of China in Beijing Online by Gerhard Peters and John T. Woolley, The American Presidency Project https://www.presidency.ucsb.edu/node/260681