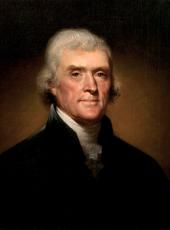 Thomas Jefferson Event Timeline
 

Thomas Jefferson (3) Event Timeline
03/04/1801-03/04/1809

12/03/1800

Presidential electors cast their ballots.  Jefferson-Burr Ticket has majority, defeating Federalists John Adams and Charles Cotesworth Pinckney.

1801

 

01/20/1801

President Adams nominates Federalist John Marshall to be Chief Justice of the Supreme Court.

01/27/1801

02/11/1801

Electoral votes counted in Congress;  Jefferson and Burr tie. In this situation, the election is determined in the House of Representatives, one vote per state.

02/13/1801

Outgoing Federalist Congress passes (and President Adams signs) a Judiciary Act (2 Stat 89) which creates 16 new Circuit Court judgeships.

02/17/1801

Jefferson elected by the House on the 36th ballot.  This victory marks the emergence of the Democrat-Republican party which will dominate until the late 1820s.  Jefferson later calls this the "revolution of 1800."

02/18/1801

Adams begins the nomination of Judges to fill positions created by the Judiciary act.  This is perceived by Jefferson's partisans as an attempt by the outgoing Federalists to control the federal court system despite not winning the election.

02/20/1801

Message in Reply to Notification of election by the President Elect.

03/03/1801

The final group of Federalist Judicial nominees are confirmed on this date.

03/04/1801

Inaugural Address.  Jefferson was first President to take the oath of office in Washington, DC.  Jefferson walks the short distance from his boarding house to the Capitol.  The speech includes a succinct statement of his governing principles.  He observes that "every difference of opinion is not a difference of principle" and the rights of minorities must be protected. "We are all Republicans, we are all Federalists." He speaks of the "right of Americans to think freely and to speak and write what they think."

03/11/1801

Proclamation- Building Regulations for the District of Columbia. Temporarily suspending requirement that houses in Washington City be built of brick or stone in order to attract people who could not afford such structures.

03/12/1801

Pardons David Brown who had been convicted and imprisoned for sedition.

03/16/1801

Pardons James Thomson Callender who had been convicted and fined for sedition.

05/14/1801

Tripoli declares war, Yusuf Karamini, pasha of Tripoli, declares war on the United States by symbolically cutting down the flagpole at the U.S. consulate.

05/20/1801

Sends naval vessels to the Mediterranean in response to Tripoli.

06/02/1801

Jefferson pays condolence visit to Martha Washington at Mount Vernon.

07/04/1801

Held public reception at the White House—first of many for 19th Century presidents.

12/08/1801

Letter to the President of the Senate and to the Speaker of the House of Representatives Regarding the President's Annual Message.

12/08/1801

First State of the Union Message.  First president to provide State of the Union in written form, not spoken.  Precedent continues until Woodrow Wilson.

1802

 

01/08/1802

The United States and Britain conclude a convention regarding the treaty of 1794.

01/26/1802

Signs Act establishing the Library of Congress (2 Stat 128); no map to be taken from the Library by any person, nor any book except by the President and Vice President and members of Congress.

02/06/1802

War with Tripoli  Law authorizes equipping and arming vessels to protect commerce, and authorizes the president to grant commissions to "private armed vessels" to capture Tripolitan ships.

03/08/1802

Signs Repeal of Judiciary Act of 1801 (2 Stat 132).

03/16/1802

Signs "An Act fixing the military peace establishment of the United States" (2 Stat 132); reducing the size of the army, detailing compensation and recruitment of soldiers, authorizing a corps of engineers to be stationed at West Point and constitute a military academy.

04/06/1802

Signs "An Act to repeal the Internal Taxes" (2 Stat 148) ending excise taxes on stills and distilled spirits, and many other things.

04/14/1802

Signs "Act to establish an uniform rule of Naturalization and to repeal the acts heretofore passed on that subject" (2 Stat 153).  Period of residency for citizenship reduced to five years instead of fourteen.  Applies to "any free white person" who takes oath of allegiance to the Constitution; renounces any titles; and has been "a man of good moral character."

04/26/1802

Negotiations concluded concerning separation of Mississippi Territory from Georgia's Western Territory.

04/29/1802

Signs the Judiciary Act of 1802 ("An Act to amend the Judicial System of the United States, 2 Stat 156).  Establishes that Supreme Court meets in Washington D.C.;  defines Circuits, that the Supreme Court decision overrules Circuit Courts; duties and powers of marshals.

04/30/1802

Signs the Enabling Act (2 Stat 173), which establishes procedures for territories organized under the Ordinance of 1787 can become a state.  Signals to Ohio territory how to become a state.

05/03/1802

Signs act incorporating Washington as a city (2 Stat 195).

09/01/1802

William Callender begins publishing articles in the Richmond Recorder alleging that Jefferson had several children with a slave, Sally Hemings.  These reports are denied.

12/15/1802

1803

 

01/11/1803

01/18/1803

Confidential Message to Congress requesting a $2,500 appropriation to support exploration of commerce with Indian tribes.  "An intelligent officer, with ten or twelve chosen men, fit for the enterprise and willing to undertake it, might explore the whole line, even to the Western Ocean. . . "  This becomes the Lewis and Clark expedition.

02/19/1803

Ohio becomes the 17th state; sign act (2 Stat 201) providing for the the application of all US laws within Ohio. 

02/24/1803

Marbury v. Madison decided by the Supreme Court. Advances the principle that the Supreme Court can declare an act of Congress void if it is inconsistent with the Constitution.  But Marshall's decision denied Federalist appointee Marbury his judicial commission.

04/19/1803

Spain opens New Orleans to American Merchants.

04/30/1803

Louisiana Purchase Treaty Signed in Paris.  Napoleon had lost an army in Santo Domingo, and lost interest in trying to maintain a French foothold in North America.  Jefferson recognized that he lacked Constitutional authority for the purchase.

05/23/1803

Jefferson commissions Commodore Edward Preble Commander of a Navy Squadron sent to fight Tripoli.

08/31/1803

Confidential Message to Congress Regarding the Lewis and Clark Expedition.

10/17/1803

Third State of the Union Message Among other topics he explains the circumstance that led to the Louisiana Purchase Treaty.

10/17/1803

Message to the Senate Transmitting the Louisiana Purchase Treaty.

10/31/1803

Signs Act enabling the President to take possession of the territories (2 Stat 245) ceded by France to the US (Louisiana Purchase); provides for the territory to be governed so as to protect the inhabitants in the "free enjoyment of their liberty, property and religion."

11/10/1803

Signs Act authorizing borrowing money (2 Stat 245) necessary to make the Louisiana Purchase.

12/09/1803

The Twelfth Amendment passed by Congress and referred to the States. Modifies the electoral college requiring separate votes for president and vice president.  This eliminates having the candidate of the opposition party end up as vice president; sharply reduces prospects of a tie in the electoral college with the decision made by the House.

1804

 

02/16/1804

Special message to Congress on the Wreck of the USS Philadelphia in Tripoli.

03/26/1804

Signs Louisiana Territory Act.

04/14/1804

Lewis and Clark expedition begins ascent of Missouri River.

05/20/1804

Proclamation- Establishing the Mobile District and Designation of Fort Stoddert as a Port of Entry.

06/15/1804

12th Amendment ratified upon vote of the legislature of New Hampshire.  This Amendment modified the working of the electoral college to prevent tie votes;  requires separate votes for President and Vice-President.

07/11/1804

Hamilton and Burr duel, Alexander Hamilton is wounded and dies the next day.

11/08/1804

11/13/1804

Election Day 1804, The fifth presidential election is held under the auspices of the new Twelfth Amendment.  Jefferson wins with George Clinton as Vice-President; defeats Federalist Charles Pinckney.

12/05/1804

Presidential electors cast ballots.

1805

 

01/11/1805

Michigan is formed as a territory in part of what had previously been the Indiana Territory to take effect 06/30/1805.

02/13/1805

Electoral College votes tabulated by Congress.

03/04/1805

Second Inaugural Address.

04/25/1805

Lewis and Clark reach the Junction of the Missouri and Yellowstone Rivers (near the boundary of what is today North Dakota and Montana).

04/27/1805

U.S. Marines and Arab Mercenaries Capture Derna, the Capitol of Tripoli.

06/04/1805

Treaty of Peace and Amity in Tripoli was signed, effectively ending the Tripolitan War.

07/23/1805

British Seize ships in neutral ports, with the invocation of the British "Rule of toe War of 1756" holding that Britain would not trade with neutrals that were trading with a British enemy.

07/23/1805

Aaron Burr arrives in New Orleans amid rumors he plans to establish a separate country.

08/12/1805

Lewis and Clark reach Continental Divide, headwaters of both Missouri and Columbia Rivers.

11/07/1805

Lewis and Clark can see and hear the Pacific.

12/03/1805

Jefferson provides confidential information to Congress on secret negotiations to buy the territory in Florida from France.

12/03/1805

1806

 

03/29/1806

Congress authorizes a commission to Build a national road from Cumberland, Maryland, to the Ohio River.

03/23/1806

Lewis and Clark begin their return journey.

04/18/1806

"Non-importation Act." Prohibiting British imports passed in protest against the seizure of American ships and the impressment of American sailors by Britain.

07/15/1806

Zebulon Pike (for whom Pikes Peak is named) sets out to explore the Southwest authorized by Jefferson.

08/27/1806

American envoys James Monroe and William Pinckney commence talks with British official Lord Holland on the current naval hostilities.

09/23/1806

Lewis and Clark expedition arrives back in St. Louis.

12/02/1806

11/27/1806

Proclamation in warning Americans not to conspire against Spain.

1807

 

01/22/1807

Message to Congress on the Burr Conspiracy ("information received touching an illegal combination of private individuals against the peace and safety of the Union . . . ").

02/19/1807

02/24/1807

Signs Judiciary Act increasing Supreme Court from 6 to 7 members and modifying federal court structure in Kentucky, Tennessee, and Ohio.

03/02/1807

Importation of slaves prohibited into any place within the jurisdiction of the United States after January 1, 1808.  Also calls for forfeiture of vessels in the slave trade.  But, imported slaved remain subject to state regulations.  Transporting slaves within the United States is permitted.

03/03/1807

Act authorizing use of Navy to suppress insurrection. If the President may "call for the militia," he may either land or naval forces "as shall be judged necessary." Reaction to Burr case.

06/22/1807

The Leopard incident: British ship Leopard fires upon the United States frigate Chesapeake in Chesapeake Bay after the latter's commander, James Barron, refuses to surrender four British deserters on board.

10/15/1807

Proclamation Granting pardon to all deserters who return to duty.

10/27/1807

11/11/1807

Britain issues "Order in Council" forbidding neutral nations and her allies from trading with France except under tribute to England.

12/10/1807

Jefferson responds to petitions from legislatures in several states to say that he will not seek a third term as President.

12/17/1807

Napoleon issues Milan Decree, forbidding trade with England and her colonies and authorizing French ships to capture neutral ships sailing from any port in Britain or any country occupied by British forces.

12/22/1807

Signs Embargo Act, Requiring an embargo on all ships bound for foreign places.  This act was unpopular and figured in the 1808 election.

1808

 

01/01/1808

Slave importation ban official.

01/11/1808

The Second Embargo Act elaborates further on operation of embargo authorized on 12/22/1807.

04/17/1808

Napoleon issues "Bayonne Decree" treating American private ships arriving in Europe as if coming from British ports.

04/19/1808

Proclamation 15—Warning All Persons on Lake Champlain and Adjacent County to Cease Violence and Disperse. Jefferson responds to violations of the Embargo Act.

11/08/1808

11/08/1808

Presidential election;  Madison elected, George Clinton vice president.  Jefferson vice president, George Clinton loses contest for presidency.

12/07/1808

Presidential electors cast ballots.

12/30/1808

 Proclamation- Convening an extra Session of the United States Senate.

1809

 

01/09/1809

Signs Enforcement Act, forbidding any movement of goods with the purpose of exporting them.

02/03/1809

Territory of Illinois established by dividing Indiana along the Wabash River and creating new separate territory effective 03/01/1809.

02/08/1809

03/01/1809

Signs Non-intercourse Act forbidding entry to US ports by "public vessels" of Great Britain and France after 03/01/1809, or for US citizens to provide supplies to such ships; after 05/20/1809 all vessels from Great Britain or France are interdicted;  imports from those countries forbidden.  President is authorized to reverse this law and restore trade if France or Great Britain revoke or modify their edicts.  Non-Importation Act of 04/18/1806 is repealed.

03/04/1809

James Madison inaugurated.

03/04/1809

Jefferson retires to Monticello where he managed his estate with around 130 slaves; none of whom were freed upon his death, but rather were sold at auction.  In his lifetime, seven slaves were freed by Jefferson.
Thomas Jefferson, Thomas Jefferson Event Timeline Online by Gerhard Peters and John T. Woolley, The American Presidency Project https://www.presidency.ucsb.edu/node/347325