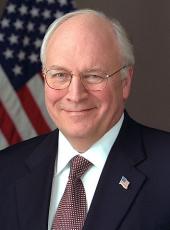 The Vice President's Remarks Welcoming Her Majesty Queen Elizabeth II
Jamestown Settlement

Jamestown, Virginia
10:46 A.M. EDT
THE VICE PRESIDENT: Thank you very much, Senator Norment. I appreciate the introduction and the kind welcome this morning.
This is indeed an historic day for Virginia and for the United States. And it's certainly a privilege for Lynne and me to join all of you in greeting Her Majesty the Queen, and His Royal Highness the Duke of Edinburgh. Your Majesty, 50 years ago, on your first visit to America as a sovereign, you were given a very warm welcome. A half-century has done nothing to diminish the respect and affection which this country holds you. And we receive you again today in that same spirit. You honor us by returning for this anniversary of Jamestown Settlement, and we deeply appreciate your presence this morning.
Four centuries ago, more than a hundred colonists aboard three small ships were just days from reaching this shore. They'd been at sea nearly five months, and great hardships awaited them on the banks of the James River. Yet from the time of their arrival here, the world would never again be as it was. Inside a little three-sided fort in this corner of Virginia, large events were set in motion, and great and noble traditions were introduced in America. So we pay homage to the first English settlement on the North American shore, and we mark the 14th of May, 1607 as a providential moment in the life of this nation.
Jamestown began as a commercial venture, yet within a generation, Virginia was a colony of the Crown. In time, those colonies would be 13 in number, and together they would become the United States of America. The beliefs and ways of life observed here were vital in shaping the character of the nation we know today. And these traditions -- liberty and law; private property; the spirit of enterprise; and commerce among peoples -- all came from the island nation that the colonists of Jamestown had called home.
Here at this first settlement, named in honor of the English King, we are joined today by the sovereign who now occupies that throne. She and Prince Philip are held in the highest regard throughout this nation, and their visit today only affirms the ties of trust and warm friendship between our two countries. Your Majesty and Your Royal Highness: All of us feel very privileged, and we'll certainly remember this day that we shared your company. So, on behalf of President Bush and the people of this land, I'm proud to say thank you for joining us, and welcome to the United States of America. (Applause.)
END 10:49 A.M. EDT
Richard B. Cheney, The Vice President's Remarks Welcoming Her Majesty Queen Elizabeth II Online by Gerhard Peters and John T. Woolley, The American Presidency Project https://www.presidency.ucsb.edu/node/284123