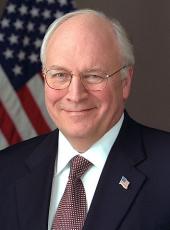 The Vice President's Remarks to the Traveling Press
Aboard Air Force Two

En Route Muscat, Oman
3:19 P.M. (Local)
THE VICE PRESIDENT: Yes, I was -- they provided me quarters there overnight because you all know we got weathered in. It seems to me I think it was about 10:00 a.m. this morning, I heard a loud boom. And shortly after that, the Secret Service came in and told me there had been an attack on the main gate, apparently a suicide bomber.
They moved me for a relatively brief period of time to one of the bomb shelters nearby, near the quarters I was staying in. And as the situation settled down, and they got a better sense in terms of what was going in, then I went back to my room. It was almost time to leave.
Q: What do you think the symbolism is there for the -- for whoever carried this out? They said publicly that this was aimed at you. What does that --
THE VICE PRESIDENT: Who said that?
Q: The Taliban --
THE VICE PRESIDENT: I hadn't heard that.
Q: It was a Taliban spokesman quoted, saying that the attack was trying to get you.
Q: What we're quoting them as saying is that they took responsibility for it, and they said they were aware that you were there.
THE VICE PRESIDENT: I hadn't heard that.
Q: Did you at any time consider changing your itinerary about Kabul after learning this news? Or was that never--
THE VICE PRESIDENT: Never an option.
Q: I guess, the question was, do you suppose in light of the current situation in Afghanistan that if a group does the act that it did and it suggests that they were going after you in some way, it's more a self-serving symbolic statement to their own people, look, we're on the attack against the Vice President, regardless of how ludicrous it is because you were so far from the scene of the actual incident?
THE VICE PRESIDENT: I think they clearly try to find ways to question the authority of the central government. Striking at Bagram with a suicide bomber, I suppose, is one way to do that. But it shouldn't affect our behavior at all.
END 3:22 P.M. (Local)
Richard B. Cheney, The Vice President's Remarks to the Traveling Press Online by Gerhard Peters and John T. Woolley, The American Presidency Project https://www.presidency.ucsb.edu/node/284459