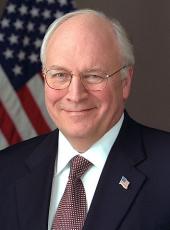 The Vice President's Remarks at the 2006 Malcolm Baldrige National Quality Award Ceremony
Andrew W. Mellon Auditorium

Washington, D.C.
2:40 P.M. EDT
THE VICE PRESIDENT: Thank you very much. Well, it's good to be here today and I want to thank Secretary Gutierrez for the kind introduction, and all of you for the welcome. It's a privilege once again to join in the Malcolm Baldrige Awards.
I want also thank David Spong, NIST Director Bill Jeffrey and everyone associated with the Malcolm Baldrige National Quality Award Program, including Director Harry Hertz, award examiners, judges and overseers, as well as members of the foundation. This is a proud day for everyone associated with the Baldrige Award, but most especially for the hardworking men and women of Premier, Incorporated; Mesa Products, Incorporated; and North Mississippi Medical Center.
Earlier today, I met at the White House with the young men and women who have been named as finalists for the Intel Science Talent Search. This is the pre-college science competition that has been going on now for many, many years and has become known as the junior Nobel Prize. To have that event and then the Baldrige Awards on the same day has put me in the company of some of America's highest achievers, and I count it an honor to share this special moment of recognition with all of you.
The honor of presenting this award is customarily reserved for the President but, as you all know, he is traveling through Latin America this week. But he did ask me to extend his warmest regards to all of you, and his congratulations to our distinguished honorees.
The President sends good wishes as well to the family of Secretary Malcolm Baldrige, the man for whom this award is named. And as Carlos mentioned, the family is represented today by Leticia Baldrige, who served with distinction in the administration of President John F. Kennedy.
Mac Baldrige, as you've been told, was the twenty-sixth Secretary of Commerce and someone I was proud to call a friend. In those days, I was serving in the Congress. It's been almost 20 years now since Mac passed away, yet he is widely and fondly remembered in this city and his reputation has only grown with time. Mac Baldrige belonged to what Thomas Jefferson called the "natural aristocracy among men." He was a person of virtue and talent, who excelled in everything he tried. He was highly intelligent and honest to the core. He won people's confidence on first impression. And that impression held up over time.
Mac was a man of action with an incredible variety of interests. One of the reasons people looked up to him was that he could move easily in any environment, from the world of ideas, to the halls of government, to the boardroom, to the shop floor or to the horse corral. I'm sure he's the only American ever to serve in the Cabinet, belong to the Council on Foreign Relations and also be a member of the Professional Rodeo Cowboys Association. (Laughter.)
Secretary Baldrige was an original member of Ronald Reagan's administration and, like the President he served, Mac had unlimited confidence in this country and in the American system of free enterprise. That system was greatly tested during those years, first by a tough recession and then by the rise of serious economic competition from other countries. The Reagan team responded with an aggressive pro-growth strategy that rewarded enterprise and risk taking, lifted up the economy and generated millions of new jobs. They regarded global competition as a challenge not to be feared but to be mastered, and they built a legacy of opportunity and prosperity that has greatly enhanced the wealth of our country and the wellbeing of all our people.
That vision succeeded because it focused not on the power or perceived wisdom of government planners, but on the creative genius of free men and women. We're not the biggest nation in the world; other countries have more people. And yet we're the largest economy by far, because generations of Americans have lived and worked in freedom, following their dreams, putting their ideas into action and striving every day to achieve something better. It is only fitting that the American economy, which inspires people everywhere, should also be the source of quality measures recognized throughout the world.
It's become a tradition here in the United States and in many other countries to mark progress according to the standards of the Malcolm Baldrige Quality Awards. Almost any organization knows that it's likely to perform better, provide a better product or service, be a better place to work and be a better corporate citizen if it sets Baldrige goals and applies Baldrige principles.
Only a select few, however, receive Baldrige recognition. This year's group is an elite one. Only three organizations have emerged from a high-level nationwide competition. Premier, Incorporated; Mesa Products, Incorporated; and North Mississippi Medical Center are very diverse organizations. Each of them, however, has shown the same basic strengths: A team effort, a problem solving mindset, an atmosphere of trust and consistent habits of excellence.
The award you receive today represents far more than a single moment of recognition. Rather, it represents your own commitment, year in and year out, seeking quality, following a good plan, putting good people in place to get the job done right. By rising to the top of the Baldrige competition, you've reflected great credit on yourselves, on your communities and on this great country of ours. And, on behalf of the President of the United States, I want to proudly congratulate and salute each and every one of you. Thank you. (Applause.)
END 2:47 P.M. EDT
Richard B. Cheney, The Vice President's Remarks at the 2006 Malcolm Baldrige National Quality Award Ceremony Online by Gerhard Peters and John T. Woolley, The American Presidency Project https://www.presidency.ucsb.edu/node/285576