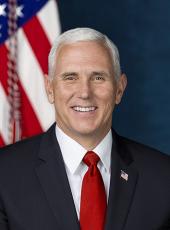 The Vice President's News Conference with President Andrzej Duda of Poland in Warsaw, Poland
PRESIDENT DUDA: [As interpreted.] Your Excellency, most distinguished Mr. Vice President, distinguished Madam, ladies and gentlemen, ministers: Once again, I would like to extend my very warm welcome to Vice President of the United States and his spouse to Poland. And I would like thank them — thank them very warmly for coming to Poland.
Thank you for your presence yesterday and active participation in the commemorations marking the 80th anniversary of the outbreak of World War II. Those commemorations are to us, the Poles, but also in our understanding also to Europe and the world, they marked and commemorated a very sad, a very dramatic, but also a very important experience. And we talked about this at length yesterday. Also, Vice President of the United States mentioned that yesterday.
But I would like, speaking from a purely human perspective and my personal perspective, extend very, very warm words of gratitude to you, Mr. Vice President, to the Second Lady of the United States. All of us know what circumstances were facing over the last couple of days. We all know that Mr. President Trump announced his visit to Poland. However, the nature — things which cannot be predicted, such as the hurricane — changed those plans. This change is obvious from my perspective.
I have no doubts whatsoever that, in such situation, in such circumstances, when there is a threat coming down to the people, to the country, the President should be in place and keep his hand on the pulse. Then, the decision was taken immediately that the President of the United States will be substituted at the commemorations in Poland by his deputy, by the second person in the United States, by the Vice President of the United States. And hence, the Vice President, together with his spouse, made this instant decision to board the plane and fly over to Poland.
Ladies and gentlemen, it's a 10-hour-long journey. Ten-hour-long journey on the plane. And the Second Couple of the United States came here and started the commemorations together with us.
The plane landed at about 10:00 a.m. At 12:00, at noon, Mr. Vice President and his spouse joined us at the square, in front of the Tomb of the Unknown Soldier. And throughout the rest part of the day, they were active. And, Mr. Vice President, and your spouse, you accompanied us in commemorating those who fell, those were fighting, and those who suffered. We are deeply grateful to you for that.
And please accept my deepest gratitude on behalf of the entire Polish society and also my personal words of gratitude. Thank you for the fact that the authorities of the United States of America, both from the institutional side, through the participation of the second person in the state, but also through your personal participation, made so much effort to commemorate this anniversary in such a decent way. That is very important to me. And thank you very much, from the bottom of my heart, for that.
And this day started also very busy today. You came to the Presidential Palace and we held very important talks about the current relations and future plans between Poland and the United States. We discussed cooperation in the sphere of energy. Of course, we discussed cooperation in the sphere of the military. Thank you very much for the presence in Poland.
I would like to thank Secretary Perry for his presence in Poland. Rick Perry, Mr. Secretary, thank you so much. Along with Minister Piotr Naimski, long conversations were held concerning the current and the future energy cooperation, in very important issues, to hope that in the future this is going to mean that there will be more development possibilities created and more possibilities of cooperate with the United States of America.
Already today, as a result of the works that we have been conducting together for more than two years, we have got contracts signed for LNG supplies to Poland. Those supplies are being realized and implemented. Quite a short time ago, we visited both with Secretary Perry, Sabine Pass. And with my own eyes, I was able to see the American installations from which gas is carried by gas tankers, by ships, to the city of Swinoujscie. And there, it is transported and pumped into our LNG gas terminal.
I informed the Vice President of the United States and Mr. Secretary that, right now, we are developing the capabilities of the LNG terminal in Swinoujscie. We want to increase its capacity and, on a yearly basis, we want to be able to transport 7.5 billion cubic meters of gas. Now the capacity is five. And I believe that, in the future, we will have bigger transport possibilities. We are working on that. I have signed the appropriate legislation in this respect. The works have already started.
We also hope that we will be able to implement another investment, such as putting up a floating gas terminal, which will be located in the Polish coastal region of the Tricity.
Ladies and gentlemen, we also discussed about military cooperation. We have got with us here Minister Mariusz B?aszczak. We talked about American participation in the modernization of the Polish armed forces. We discussed the planned increase, in the next years, of our military defense expenditure.
We also discussed our plans. It is not a secret for anyone that, in the upcoming years, we will be buying more helicopters, which will substitute and replace the ones that we have used so far, with the hope that, in the tenders, which are about to open, American companies will participate. We know that, in this respect, the United States produces equipment which, beyond any doubt, is in the top edge, in the leading edge, as far as the global production is concerned. And I hope that American companies will present their offers. This is excellent equipment for sure, and we would be happy if the Polish armed forces could use such best possible equipment.
And already, today, we are implementing joint programs. I'm referring here to the Patriot program. I'm thinking about also the supplies of HIMARS missiles to Poland, HIMARS systems — which means that a lot of happening in this regard.
We also discussed the expansion of American presence in Poland. I hope that, this year, we will be able to sign the final agreements concerning the extending of U.S. presence. I hope that final decisions will be taken concerning the locations. The works are ongoing right now, and we are thinking and discussing those matters, together with representatives of the United States. A lot of proposals have been presented and put on the table, and I hope that this year we will be able to work out all the details.
And along — together with Mr. Vice President, we also discussed the development of the 5G network. We also talked about the Visa Waiver Program — visa-free travel between Poland the United States. So we raised all those important issues today.
And once again, thank you very much to you, Mr. Vice President, for the very fruitful and very good conversations that we had. But especially to you, ladies and gentlemen, to you, Mr. Vice President, and the Second Lady, I would like to thank you for the your presence at the commemorations yesterday.
And just a moment ago, me and Minister Krzysztof Szczerski discussed and said that also thanks to your presence yesterday, Warsaw became this Euro-Atlantic center of diplomacy. A lot of bilateral meetings were held. Also, Mr. Vice President had an opportunity to meet with the President of Ukraine and to raise important matters pertaining to Ukraine's future, everything which is so important also for our security and for the development of economic cooperation.
We are very much pleased that those commemorations had also such an important dimension. Also, thanks to your presence. Once again, I'm grateful.
VICE PRESIDENT PENCE: Well, thank you, President Duda. Thank you for those kind words and especially for the warm hospitality that you and the First Lady have extended to my wife Karen and me during this visit.
It has been a truly inspiring time. And Poland's commemoration of the outbreak of World War II, bringing together 40 nations, including 20 Presidents, was a tribute to the great respect that the Polish people and that you have among the nations all across this region and across the world. And I congratulate you.
Mr. President, while I'm honored to be here, as you well understand, our hearts are home with all the families and communities in the path of Hurricane Dorian. And, Mr. President, I'm truly grateful for your many expressions of concern, support, and prayers, as our nation prepares to confront this advancing storm.
Thank you also for understanding President Trump's need to change his much-desired plans to be here for this important commemoration, and to be home leading our nation's efforts to confront this storm.
I just received a briefing from the National Hurricane Center, and they've informed me that Hurricane Dorian is now a very strong Category 5 hurricane with winds in excess of 165 miles per hour. The President has directed the full resources of the federal government to prepare for response and recovery.
Florida is already starting to feel the effects of this storm because it is literally 200 miles across. The governors of Florida, South Carolina, and Georgia have ordered evacuations. And we urge all of those in the path of Hurricane Dorian to listen to your state and local emergency managers and take all necessary precautions.
God bless you, and stay safe.
And now, Mr. President, allow me to say again what an honor it is to represent the United States of America in Poland for this historic occasion, and to have the opportunity to reflect on the remarkable bond between our two nations.
And I'm here today, on behalf of a friend of the Polish people who came to this country two years ago and has twice welcomed you, Mr. President, to the White House. He is a champion of the relationship between Poland and the United States. So allow me to begin by bringing greetings and congratulations from President Donald Trump.
The United States and Poland have shared a special bond since the earliest days of our republic. As you saw in your visits, not far from the White House are two statues of Polish heroes who helped win us our independence: General Ko?ciuszko and General Pulaski, who gave his life in our revolutionary war.
And today, nearly 10 million Americans traced their heritage to this country. Polish language, customs, and culture can be seen in cities large and small across our nation — from the streets of Chicago to New York, Milwaukee, and other American cities. In fact, I'm proud to say the state of Indiana is home to one of two American cities that celebrate Dyngus Day every year.
Americans from every background, though, have drawn inspiration from the indomitable courage of the Polish people. You stood tall through such hardship, at such great cost, against the two worst totalitarian regimes the world has ever known. And you were never broken.
Our two nations are brought together around our shared values, our shared commitment to freedom and faith and family. But we've also been brought together by the forces of history. Just as our two nations stood shoulder-to-shoulder for freedom in the past, so we stand shoulder-to-shoulder together for freedom now.
And thanks to the leadership of President Trump and your leadership, President Duda, the alliance and the relationship between the United States and Poland has never been stronger.
To that end, I'm pleased to report that Poland is nearing eligibility for our Visa Waiver Program. And as I told you today, as we complete that process, once it is certified, we intend to nominate Poland very soon to the Visa Waiver Program in the United States.
In the last two years, our countries have made unprecedented investments in our common defense as well, and shown the world that our commitment to our NATO Alliance is unwavering. And Poland has become one of our most crucial allies and a major player in world affairs, as evidenced by becoming that diplomatic center that you described this week.
In fact, Poland sent one of the largest contingents of troops to our allied operations in Iraq and was a valued member of our 79-partner-strong coalition to defeat ISIS. And, Mr. President, on behalf of the American people, we extend our gratitude to your soldiers and their families for their sacrifices and their service in both causes.
I'm also proud to say that Poland is one of only seven NATO Allies that currently meets the commitment to spend at least 2 percent of your gross domestic product on defense. And last March, the United States was proud to support Poland's purchase of the Patriot missile defense system, an American-made NATO inoperable system that's used by the United States Army and our closest allies to protect your people and defend sovereignty.
During our previous visit to Poland earlier this year, I was pleased to be present as we announced that Poland purchased 20 High Mobility Artillery Rocket System launchers from the United States. And I can assure you, if President Trump were here, Mr. President, he would tell you that we make the finest military equipment in the world. And Poland would do well to give great consideration to American proposals in the days ahead.
Also, you and President Trump signed a joint declaration of strategic partnership at the White House last September, and our nations have since already improved intelligence sharing, expanded our joint military exercises, strengthened our collaboration in the fight against cyber threats to ensure that we're prepared to face the security challenges of today and tomorrow.
And under the agreement we reached earlier this summer, the United States is increasing our military presence in Poland from 4,500 to 5,500 American soldiers serving here in this citadel of freedom.
By this action, I trust, Mr. President, that the United States is sending a clear message to the wider world that our commitment to the security of this region, of our relationship with Poland and this alliance, is unwavering.
Since the agreement was signed in June, sites for our joint bases also have been finalized. And we're working toward a new defense cooperation agreement as well.
Later today, we'll sign a joint declaration with Poland that will ensure the security of our digital infrastructure. And this declaration, we believe, will set a vital example for the rest of Europe on the broader question of 5G.
But just as important to our national security — as you said, Mr. President — is our economic security and prosperity. And that is growing stronger by the day with investment by the United States in Poland and investment and business enterprise by Poland in the United States.
Our two nations in particular have more joint energy projects than ever before, ensuring that Poland never has to depend on Russia or any other nation to keep the lights on or meet the needs of your growing economy.
And I'm especially grateful to have Secretary Rick Perry, our Secretary of Energy, working so closely with your administration for a vision for Poland's energy future that will benefit both of our nations' economies.
We especially want to commend your leadership in the Three Seas Initiative, President Duda, which promotes economic prosperity, but especially is promoting energy independence all across the affected countries.
And since last October — in fact, Poland has signed three separate agreements with American energy companies, which in four years' time will allow Poland to import more than 7 billion cubic meters of natural gas every year. We look forward to working with you as you develop other energy sources, including nuclear power.
And President Trump and I are truly grateful for the bold stand, Mr. President, that you and Poland have taken in opposition to Nord Stream II.
The United States is also deeply grateful that you rejected proposals for a digital service tax, which would have hampered trade between our two nations.
Now, we know there is still more work to do on many fronts, because despite years of negotiations, Russian forces still illegally occupy large parts of Georgia and Ukraine. The truth is, Moscow seeks to divide our alliance, now with its oil and gas reserves. But Poland has taken a strong stand, as we have, to promote energy independence and security. And with its efforts to meddle in elections across Europe and around the world, now is the time for us to remain vigilant about the intentions and the actions being taken by Russia.
As we stand together and as we see other NATO Allies follow your lead, President Duda, and meet their obligations to our common defense in NATO, we know their efforts will fail. This is the strongest Alliance in the history of the world and President Trump's leadership and your example here in Poland are making it stronger.
Despite these provocations, the truth is that Poland and the United States will never be divided because we're not just allies, we're rodzina— we're family. And that's why I'm so grateful to be here with you today.
We stand together, in the words of that old Polish motto, "In God's name for our freedom and for yours." It's those values that bind us together today. They have bound us together through many dark and challenging times in the past and they will ever bind together the people of American and the people of Poland.
So, Mr. President, thank you for your hospitality. God bless you. God bless Poland. And God bless the United States of America.
Q: Mr. Vice President, (inaudible) possible here in Poland, before the Parliamentary elections that is before mid-October? And also, when will the additional American troops come to Poland? I mean, this 1,000 that you talked about, sir.
VICE PRESIDENT PENCE: Well, let me say, when President Trump phoned President Duda to inform him of his need to change plans, I know that they spoke of President Trump's sincere desire to come to Poland in the near future. And I think those plans and discussions are underway.
But I can assure you the President was truly disappointed that circumstances in our country did not permit him to be here. But I think his hope and expectation is to be able to be here this fall.
And as we remain optimistic that we'll be able to nominate Poland to the Visa Waiver Program, I know he and President Duda have talked about finalizing that arrangement in the context of that meeting. But all of that, as well as the visa waiver process, is still underway.
With regard to the troops, going from 4,500 to 5,500, that I would refer you to the Department of Defense on that. But I know that is in the process as we speak. And it reflects a part of the United States' ongoing commitment to this alliance and our relationship with Poland. Rotating troops through this country, we think, is reflective of the strong commitment to our mutual security. And we look forward to meeting that commitment that we announced today.
Q: Thank you, sir. (As interpreted.) Mr. President, I would like to ask you about the date of the visit of President Trump and also how can the goal of that visit change, because the President was supposed to attend the commemorations of the 80th anniversary of the Second World War. That is behind us. Does that mean that the goal of the visit will change — that the program of the visit of President Trump is going to change?
PRESIDENT DUDA: (As interpreted.) Well, sir, I am not able to answer — I'm not able to give you a binding answer to this question because this matter pertains to the activities undertaken by Mr. Donald Trump, the President of the United States.
What I can say is the following: The President, when he talked to me, informing me that he would not be able to come to Poland to attend the commemorations and that he would soon have to make the announcement to make that public, he told me that he would be willing to come to Poland as soon as possible. It's not that the visit is canceled. He told me that he was forced to reschedule the visit due to the circumstances irrespective of his will. These are just objective reasons — a result from the duties of the head of a state — of the duties of President of the United States.
And yesterday, during one of his interviews for the media, I believe, he also repeated that he wanted to visit Poland soon.
Let me put it in the following way: We hope, when he can, that this visit is going to happen this year. Thank you very much.
AIDE: Thank you. Our next question comes from Bob Costa, Washington Post.
Q: Mr. Vice President, did you challenge President Duda on his record on judicial independence, press freedom, and gay rights during your bilateral meeting?
VICE PRESIDENT PENCE: Let me say, we covered a broad range of issues in our bilateral discussions, both in the time that we spent together and with our delegations. And we talked about the importance of judicial independence and the rule of law.
As I told President Duda, we are grateful for his commitment to strengthening the foundations of the rule of law in Poland. It is right and just, but it also, we believe, is the surest way to encourage getter foreign direct investment. And we're grateful for the President's leadership in that regard and encourage him to pursue even greater steps to advance judicial independence in Poland. We believe it's in the interest of the Polish people and also in the interest of the relationship between the United States and Poland.
But make no mistake about it: This alliance has never been stronger. And that is a credit to the leadership of President Trump and President Duda. They have forged a strong personal relationship, which I believe is reflective of the strong bond that the American people feel — far beyond 10 million Polish Americans — with the people of Poland.
I mean, from the time of our nation's founding, we have cherished the contributions of Polish Americans. And Polish Americans have taken great pride in that heritage. And under President Trump's leadership, we've strengthened the security ties and the relationship between our country. We've strengthened the economic ties. And we have the kind of relationship and alliance and friendship that is — we think is reflected in our common determination to ensure that our NATO Allies live up to their obligations.
Poland is, today, one of only seven NATO Allies that meets the 2 percent GDP commitment that all NATO Allies made to one another. And we commend President Duda for his leadership in that, and also his aspiration to well exceed that in the not-too-distant future.
And I can assure you that when President Trump is next in Poland, two things will happen: He will commend President Duda for his commitment to our common defense, and he'll continue to call out our NATO Allies. It simply makes no sense for the burden of defending Europe when so many countries in our NATO Alliance fail to meet the minimum obligation that every nation in this Alliance made to one another.
Add to that, to see Germany in particular embracing Nord Stream I and Nord Stream II and allowing themselves to become dependent on Russia for their energy needs is another point the President will continue to raise. And again, we're grateful to President Duda for his strong stand not just for Poland's energy independence, but ensuring that Europe does not become dependent on Russia for its energy needs in the future.
And so we talked about a broad range of issues together, including the issue of judicial independence. We'll continue to have a dialogue on a whole range of issues between our two countries. But make no mistake about it: This alliance, this relationship between America and Poland, has never been stronger.
Q: Do you oppose President Trump's consideration of including Russia in the G7?
PRESIDENT DUDA: (As interpreted.) This is a very complex issue because the situation with Russia is very difficult. When we have a closer look at what — by the way, we mentioned, and this was also mentioned by Mr. Vice President just a moment ago — if we look at the behavior of Russia over the last couple of years, we have to be clear in saying that if somebody realizes their imperial ambitions through changing the borders, through military attack — and that is what happened; these are objective facts: in 2008, in Georgia; this happened in 2014 in Ukraine. As a matter of fact, today, Crimea is occupied. Russia is occupying Crimea. And we're seeing Donetsk and Luhansk, which are de facto, also occupied by Russia. There is a military conflict going on there.
Today, Ukraine does not control its territories. This is a situation which should have never happened in Europe. Unfortunately, Russia, over the last years, has been undertaking actions vis-à-vis which nobody who respects international law, nobody who wants to have peace in the world, and nobody who respects the dignity of other nations and states, can turn a blind eye to.
And, in this context, we have to raise the following question: Does that mean that we should treat Russia on the basis of business as usual? In other words, we are doing business with Russia because we have got business in it and we don't care whether Russia infringes the rights of other nations or not.
I believe that we must not proceed according to the business as usual principle. This is my position and I don't hesitate to express it.
Thank you very much.
Q: (As interpreted.) (Inaudible) from the Polish Television. Good afternoon, I've got one question to President Duda and Vice President Pence concerning the Visa Waiver program, which the issue of the visas over the years has turned into a negative symbol, a sort of a scar or mark in the relations between Poland and the United States.
Over the last weeks, we have heard that we are nearing the end of this never-ending story; that we are nearing the end. However, in practical terms, when will the first citizen of Poland fly to the United States without a visa according to you, Mr. President, and to you, Mr. Vice President?
And at the same time, as it turned out into a negative symbol, can it also become sort of a new opening in Polish-American relations and demonstrate how Poland has changed over the last years?
PRESIDENT DUDA: (As interpreted.) I can only say that the United States has got its legal provisions in this respect. And the authorities of the United States stick to those provisions and they will act according to the legal provisions, which are binding in the United States. I'm convinced about that. I've got no doubts whatsoever about it.
VICE PRESIDENT PENCE: Well, as I said, Poland is nearing eligibility for the Visa Waiver Program. And we anticipate, by the end of this month, that we will have assembled all of the information on the — what American law requires, which is that less than 3 percent of visa applications are denied. And we believe we're on track for that, but I don't want to get ahead of that announcement.
And — but assuming that we're able to certify that by the end of this month, that any time thereafter the Secretary of State would be in a position to nominate Poland for the Visa Waiver Program. And as I announced today, it is the intention of this administration to nominate Poland for the Visa Waiver program — but not just for the technical reasons.
It is — it is also, as the President and I discussed, it is — the United States is interested in seizing an opportunity to strengthen the relationship between our two countries. And President Duda has made it very clear to me that having the opportunity for Polish citizens to not have to apply for a visa to come to the United States, in the President's view, is more reflective of the close ties between our two nations. And I'll — I'll carry that message back.
But I'm very proud of the fact that, while the last two administrations in the United States committed to allowing Poland to participate in the Visa Waiver Program, under President Trump's leadership we are literally weeks away from being able to make that a reality.
And again, I think it is reflective of the fact that, because of President Trump's leadership and President Duda's leadership, and the relationship that they have forged, that the ties between our nations have never been stronger.
AIDE: Thank you. The final question today comes from Jill Colvin with the Associated Press.
Q: Thank you very much, Mr. Vice President. I wanted to ask you about your meeting yesterday with the Ukrainian President and for an update on Ukrainian security aid money.
Specifically, number one, did you discuss Joe Biden at all during that meeting yesterday with the Ukrainian President? And number two, can you assure Ukraine that the hold-up of that money has absolutely nothing to do with efforts, including by Rudy Giuliani, to try to dig up dirt on the Biden family?
VICE PRESIDENT PENCE: Well, on the first question, the answer is no. But we — with President Zelensky yesterday, we discussed — we discussed America's support for Ukraine and the upcoming decision the President will make on the latest tranche of financial support in great detail.
The President asked me to meet with President Zelensky and to talk about the progress that he's making on a broad range of areas. And we did that.
We, as I said yesterday, especially since Russian aggression — the illegal occupation of Crimea and Russian aggression in Eastern Ukraine — the United States has stood strong with Ukraine and we will continue to stand strong with Ukraine for its sovereignty and territorial integrity.
But as President Trump had me make clear, we have great concerns about issues of corruption. And, fortunately, President Zelensky was elected decisively on an anti-corruption message. And he and I discussed yesterday that as he's assembled his cabinet, and as his parliament has convened, that even in the early days, he informed me that there have been more than 250 bills filed for — that address the issue of public corruption and really restoring integrity to the public process.
I mean, to invest additional taxpayer in Ukraine, the President wants to be assured that those resources are truly making their way to the kind of investments that will contribute to security and stability in Ukraine. And that's an expectation the American people have and the President has expressed very clearly.
We also talked in some detail about what other European nations are doing for Ukraine. The simple fact is that the United States has carried the load on most of the security investments in Ukraine. And we have been proud to do that, but we believe it's time for our European partners to step forward and make additional investments to stand with the people of Ukraine as they assert their territorial integrity and sovereignty.
President Zelensky and I talked in great detail about ongoing discussions about resolving the ongoing violence and occupation of Ukraine. And those were the issues that we covered.
But I assured him that the people of the United States stand with Ukraine for their sovereignty and territorial integrity. But I called on him to work with us to engage our European partners to participate at a greater level in Ukraine, and also told him that I would carry back to President Trump the progress that he and his administration in Ukraine are making on dealing with corruption in their country.
Q: Thank you very much. And, Mr. President, on the 5G deal that you're about to announce in a little bit, has the U.S. ever given Poland any evidence that China has spied using Huawei technology?
PRESIDENT DUDA: (As interpreted.) Please release me from giving you a detailed answer about the activities which are being conducted by Polish counterintelligence service.
But I want to say one thing. Yes, indeed, Polish counterintelligence have detected certain actions, which might have been of an espionage nature. This issue is being now investigated — there are no more illegal activities — undertaken by the Polish services, by the Polish prosecutor's office. And we are calmly waiting for the results. Because in this particular matter, if the prosecutor decide to file indictment acts, Polish courts will be involved.
So please release me from answering this question. What I can tell you is that, indeed, the activities of the Polish services have been conducted. They are still ongoing. And indeed, such behaviors have been detected which can be qualified as actions of an espionage nature. And the Polish services have undertaken appropriate steps.
Mike Pence, The Vice President's News Conference with President Andrzej Duda of Poland in Warsaw, Poland Online by Gerhard Peters and John T. Woolley, The American Presidency Project https://www.presidency.ucsb.edu/node/334083