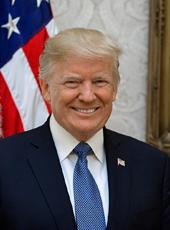 On-the-Record Regional Press Call by Deputy Director of Political Affairs Brian Jack and Deputy Director of Communications Jessica Ditto on President Trump's Visit to Tampa, Florida
Via Teleconference
4:05 P.M. EDT
MS. DITTO: Good afternoon, and thank you for joining this call. I just wanted to lay out the ground rules. This call is on the record and embargoed until the conclusion of the discussion, where we will be discussing the President's visit to Tampa tomorrow, and walking you through the workforce development event that he will be having down there.
And with that, I will turn it over to my colleague, Brian Jack, deputy director of the Office of Political Affairs.
MR. JACK: Thank you, Jessica. So we are excited to go back to Tampa. On a personal note, I was -- during the campaign, that was one of my states. So it's nice to go back to a state the President has visited so frequently during his administration.
As some of you may know, this is the President's second visit during his administration to the Tampa area. Actually, his second trip as the President of the United States was to MacDill Air Force Base to receive military briefings and deliver remarks. That was back in February, 2017. So this is really his first public visit.
And tomorrow there are two events. The first event is an official event at Tampa Bay Tech, which this call is focused on. The second event, which I know many folks are covering, is the rally that will be held just down the road.
But, nonetheless, the purpose of this call is to talk about the event and the remarks on workforce development. So Jessica and I will jointly address kind of the purpose of tomorrow's official event. But, just from the outset, Tampa Bay Tech, as many of you know -- kind of a vocational school, enables folks at younger age to pursue careers in the STEM field, the STEM area. And I think that, tomorrow, the President will highlight a few stories in that.
The format of the event itself is a celebration of the passage and the soon enactment of the Carl D. Perkins Career and Technical Education Act. It's a reauthorization bill. And, actually, we'll let Jessica jump in here, if you just want to talk about this bill in itself. But this -- tomorrow is a celebration about the bill.
MS. DITTO: Yes, certainly. This piece of legislation is something that is widely bipartisan, but has been unable to get passed for nearly 11 years since it had first been authorized. It's widely popular, something that states greatly appreciated and utilized, and benefits 11 million students across the country.
We are thrilled that this swiftly passed once it got through the committee hearing by a voice vote in the House last week, and the administration played a key role in getting folks to an agreement for the modernization and reauthorization of this critical piece of legislation. So advisor to the President Ivanka Trump had numerous meetings working with senators and House members to get the bipartisan support for the reauthorization, and we look forward to signing this -- having the President sign this legislation tomorrow, and celebrating its enactment, and championing what it means for students and for the flexibility among states to offer grants towards technical education.
MR. JACK: And it's conveniently timed because the President has really had a focus on workforce development. In fact, this is the third presidential event he will have hosted on this issue in as many weeks.
As some of you may remember, back on July 19th, in the White House itself, he hosted a ceremony featuring many major American brands that made pledges to America's workers. And those pledges are to, you know, solve many of the challenges that we have and our American workforce has. And he issued an executive order to really explore that issue, and also to encourage companies to make a pledge and a commitment to create more jobs and enhance more vocational training for some of its employees currently; and, of course, the reskilling impact of some of the industries that now shift, given new technology.
So, July 19th, over 20 companies here at the White House -- big, big brands -- pledged to create enhanced career opportunities for over 3.8 million Americans through increased apprenticeships, work-based learning programs, continued education and reskilling. And just a week later, this is last Thursday, we went to Dubuque, Iowa to host an event at a community college. So, again, a student body that's a little bit older than Tampa Bay Tech. But nonetheless, there and in Dubuque, we had the pleasure of welcoming over a dozen Iowa companies that together pledged over 50,000 -- the creation of 50,000 jobs and workplace opportunities. That was just a week later -- July 26th.
So now, five days later, July 31st, we'll be visiting Tampa. And, at this event itself, the President will deliver some brief remarks in celebration of the enactment of this bill. And, in addition, he'll be flanked by a few -- what we call personal impact stories -- individuals who are very committed to workforce development through the impact it's had on their lives.
We also have a few company leaders and corporate leaders who have joined those Iowa companies and those national companies, weeks before, in pledging to create those jobs. And, in this case, it's over 100,000 workplace opportunities and workforce development opportunities, many of whom represent Florida-based companies. So we're excited to show those folks tomorrow, and certainly hope you tune in to see them.
And, in closing, I just want to, again, remind and reiterate, the President has visited Florida nearly two dozen times since his administration, and this is his second -- second event to Tampa, his first public event in Tampa. So we're very excited about that. Of course, Hillsborough County -- a very important county to us all -- and we're looking forward to seeing you all there.
So, with that, we'll gladly answer any questions you may have.
Q: Yes, this is Melissa Rancourt at WTSP-CBS in Tampa. Can you let us know what time pre-set will be for the school tomorrow?
MR. JACK: Well, first off, thank you, Melissa. We'll follow up with you offline to convey those logistics and make sure that you're all set. But, we're looking forward to seeing you.
Q: Hi, yes. Evan Donovan, from WFLA, in Tampa. Do we have any idea about the route before and after the event at the high school?
MR. JACK: Unfortunately, no. It's a security protocol that we don't discuss or disclose the President's route. But, nonetheless, I know you've got to plan for traffic. So I hope that you're able to plan accordingly, but unfortunately we're unable to provide his route of passage upon landing.
MS. DITTO: Thank you everyone for joining the call. And, with that, we'll conclude. But certainly, if you have any questions, don't hesitate to reach out to our office, and we look forward to celebrating the Perkins Act and the Pledge to the American Worker in Tampa tomorrow. So thank you for joining us.
MR. JACK: Thank you.
END 4:14 P.M. EDT
Donald J. Trump, On-the-Record Regional Press Call by Deputy Director of Political Affairs Brian Jack and Deputy Director of Communications Jessica Ditto on President Trump's Visit to Tampa, Florida Online by Gerhard Peters and John T. Woolley, The American Presidency Project https://www.presidency.ucsb.edu/node/336027