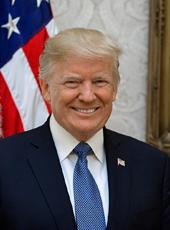 On-the-Record Press Call on the Removal of Former Nazi Labor Camp Guard Jakiw Palij
Via Teleconference
9:38 A.M. EDT
MR. FETALVO: Good morning everyone. Thank you for joining today's call. Today we are joined by Theo Wold, Special Assistant to the President for Domestic Policy; Richard Grenell, U.S. Ambassador to Germany; Eli Rosenbaum, Director of Human Rights Enforcement Strategy and Policy at the Justice Department's Human Rights and Special Prosecution Section of the Criminal Division; Mona Ragheb, Senior Advisor for the Human Rights Law Section of Immigration and Customs Enforcement; and Tom Yazdgerdi, Special Envoy for Holocaust Issues at the State Department.
A question-and-answer portion will follow the opening remarks, but please keep your questions related to this topic. The entire call will be on the record, embargoed until the conclusion of the call.
And with that, I'll turn it over to Theo Wold.
MR. WOLD: Good morning, and thank you. My name is Theo Wold. I'm a Special Assistant to the President for Domestic Policy. The principal purpose of today's call is to provide technical information to members of the media with regard to the U.S. Immigration and Customs Enforcement and Removal operations deportation of Jakiw Palij to Düsseldorf, Germany.
The White House Press Secretary issued a statement this morning that emphasized the administration's interest in seeing this removal successfully completed. In short, President Trump sees Palij's removal as a strong message to the entire world that the United States stand firmly against anti-Semitism, war crimes, and human rights violations.
To get us up to speed, Palij was a former Nazi SS labor camp guard in German-occupied Poland. He unlawfully immigrated to the United States in 1949, and naturalized to United States citizenship in 1957, telling immigration officials at that time that his wartime activities included working on a farm and in a factory.
Following a comprehensive Justice Department investigation and civil prosecution, Palij was ordered denaturalized by a federal judge in 2003, and ordered removed -- or as we say in common parlance, deported -- by an immigration judge in 2004. His appeal on that matter was denied in 2005.
This successful removal embodies the whole-of-government collaborative approach emphasized by the Trump administration, and it stands as a clear embodiment of the President's words that the United States values the dignity of every human life, protects the rights of every person, and shares the hope of every soul to live in freedom.
I'm happy to take questions. We're going to go around the table here and introduce, first, the Ambassador to the Federal Republic of Germany, Ambassador Grenell.
AMBASSADOR GRENELL: Thank you. I will just make this opening very brief. We're very thankful for all our partners in Washington, which really equipped us -- gave us the right information to work with new members of the cabinet here in Germany. They saw this as a moral obligation that they had, not so much a legal obligation. This individual was not -- is not a German citizen, so the moral obligation, because this individual served in the name of the former German government, was something that the new cabinet members accepted.
I want to specifically, in Germany, thank Foreign Minister Heiko Maas. He's relatively new to the job, and he and Secretary Pompeo work very closely. And he brought some new and different energy to this issue. As well as Minister Seehofer, who is the Minister of Interior in Germany. He also brought, really, a creative look at this issue.
We brought it up very regularly, and as loudly as we could, on a regular basis, with every person that we met. Regardless of what the issue was, we brought up this case. And there just seemed to be a new energy with the new government here in Germany, and we're very thankful for their help.
MR. WOLD: If we can turn to Eli Rosenbaum of the Department of Justice.
MR. ROSENBAUM: Good morning. On November 3, 1943, in a daylong killing spree of unfathomable ruthlessness and horror, an estimated 6,000 human beings of Jewish faith or descent -- men and women and children -- were systematically shot to death at the Trawniki forced labor camp in Nazi-occupied Poland by German SS and police personnel. Except for two women who somehow managed to find a hiding place, every single Jewish prisoner at the camp was slaughtered.
The mind rebels against imagining thousands of victims forced to listen, hour after hour, to the gunfire and the screams of terror and pain of those who have gone to the executioners before them, knowing that they too were doomed. Some of those victims faced the ultimate nightmare of realizing that they were powerless to ameliorate the paralyzing fear of their children or to prevent their children's execution.
Almost incredibly, today, nearly 75 years after that ghastly paroxysm of genocidal mass murder occurred, Jakiw Palij, as Theo mentioned, a former SS guard who helped ensure that no Jews could escape from the Trawniki labor camp, and who concealed his Nazi past in order to maintain a coveted U.S. immigrant visa, has been deported back to the country from which he emigrated here in 1949.
Palij's return to Germany today, escorted by U.S. Immigration and Customs Enforcement officers, is a landmark victory in the U.S. government's decades-long quest to achieve a measure of justice and accountability on behalf of the victims of Nazi inhumanity.
Having worked since 1980 on Nazi persecutor cases and other human rights cases in what is now the Human Rights and Special Prosecution Section at the U.S. Department of Justice, I am grateful -- very grateful -- to have had a career working for an agency and for a government that has never forgotten the victims of Trawniki and the countless other sites of Nazi persecution and genocide.
Although the Justice Department's investigative and prosecutorial program has been the most successful of its kind in the world, winning cases against 108 Nazi persecutors since 1979, if anyone had told me in 2002 -- when we commenced the civil prosecution of Jakiw Palij in federal court in Brooklyn, New York to revoke his ill-gotten U.S. citizenship or in 2004, when we won a court-order of removal against him -- that in 2018 he would finally be deported to Germany, I would have found it nearly impossible to believe.
We acknowledge with deep gratitude the prosecutors, historians, and other staff members of my former office -- the Office of Special Investigations at DOJ -- who toiled indefatigably to investigate and litigate this case and, by the way, our 17 other Trawniki cases.
We're grateful to our dedicated partners at the U.S. Attorney's Office for the Eastern District of New York, at the U.S. Immigration and Customs Enforcement, at the U.S. Department of State, and at the United States Holocaust Memorial Museum.
The initiatives taken this year by the White House and by Ambassador Richard Grenell, and the willingness of the current German government to accept Palij, were without doubt the decisive factors in achieving today's long-hoped for -- very long-hoped for -- and certainly historic result.
We're grateful, as well, to the human rights groups, the NGOs, that pressed, year after year, for Germany to accept the repatriation of Palij and other Nazi persecutors. Among those groups, the World Jewish Congress, the Anti-Defamation League, the Simon Wiesenthal Center, and B'nai B'rith International.
Deserving of special mention are the several generations of high school students at the Rambam Mesivta in Lawrence, Long Island, who, under the leadership of their revered teacher Rabbi Zev Friedman -- himself a child of Holocaust survivors -- never stopped crying out publicly for justice in this case.
Most of all, however, this is a time to remember the victims. Palij's removal cannot, of course, undo the devastation and the tragedy he helped make possible. But by serving as a warning to the would-be perpetrators of future human rights crimes that the civilized world will never cease pursuing them, perhaps the deportation will contribute to the creation, one day, of a world in which the post-Holocaust imperative never again becomes a reality, not just an ever-elusive aspiration.
As the Attorney General said this morning, and I quote, "The United States will never be a safe haven for those who have participated in atrocities, war crimes, and human rights abuses."
I would add, today's removal sends yet another message of deterrence to anyone who would dare even contemplate participating in human rights crimes, namely that the passage of time, even many decades, will never weaken our government's resolve to pursue justice on behalf of the victims. Thank you.
MR. FETALVO: We'll now turn it over to Mona Ragheb from ICE.
MS. RAGHEB: Good morning. On behalf of ICE, we would like to extend our sincere thanks and gratitude to all the individuals who worked tirelessly on this case. As with many of our complex cases, the details and planning this removal required a whole-of-government approach. We are grateful for the cooperative spirit of our colleagues, both here and overseas, which allowed us to safely effect Palij's removal from the United States without incident.
This removal reinforces ICE's commitment and continued support to the No Safe Haven Initiative, which ensures that the U.S. will not become a safe haven for Nazis or other human rights violators.
Human rights violators are a threat to the national security of the United States. ICE will continue to support the National Security Strategy, which mandates that the United States will hold perpetrators of genocide and mass atrocities accountable to ensure the safety and security of our country.
Thank you.
MR. FETALVO: And now we'll turn it over to Tom Yazdgerdi from the State Department.
MR. YAZDGERDI: Thanks. Just really quickly, I just wanted to echo the words of my colleagues: This is really a product of the teamwork -- of close teamwork and leadership among the White House, State Department, the Department of Justice, ICE, and our great embassy in Berlin, among others.
I want to give a special word of thanks to our Ambassador in Berlin, Richard Grenell, for his tireless efforts, and our Assistant Secretary of State for European Affairs, Wess Mitchell, for their personal involvement and commitment to having Palij removed.
Also, I want to express deep appreciation to the German government, the new cabinet of Chancellor Merkel (inaudible) new light, which culminated in the long-sought removal of this individual.
For far too long, Palij was able to take advantage of the free, open, and democratic society that the United States represents -- that same society that he denied others when he agreed to work for the Nazis.
Most of my work deals with resolving property restitution issues that directly benefit elderly Holocaust survivors and their families and which gives me a great deal of satisfaction. But an important part of my job also involves Holocaust education, commemoration, and remembrance. And I know the removal of this ex-Nazi guard at the notorious Trawniki slave labor camp will bring some degree of comfort to Holocaust survivors and their families, and many others who suffered at the hands of those like Palij who did the dirty work of the murderous Nazi regime.
And finally, I just want to recognize the decades-long effort of my colleges Eli Rosenbaum, from the Department of Justice, who really is the key individual in our administration that has followed this issue and fought tirelessly to see a happy outcome that we see today.
Thank you.
MR. FETALVO: Operator, we'll now turn it over to the Q&A portion. Just a reminder to everyone on this call, please keep your questions related to this topic.
Q: Thank you. If I could ask the ambassador -- Ambassador Grenell, what do you think lead to this apparent change of heart in the German government? Was that the sticking point here that had prevented his deportation? And what do you think led to the change?
AMBASSADOR GRENELL: You know, Pete, I don't know if I have an answer. I think it was just, really, a combination of a whole bunch of different things. The new members of the cabinet in Germany clearly were willing to look at a case -- to be honest, they hadn't heard of it. The individuals that were new, that I had met with, were not familiar with the case.
So when I brought it to their attention -- and I brought it up my very first meeting with the Foreign Minister after we had a nice talk and niceties. I said, "You know, I want to bring this case immediately to your attention." And he just said, "You know, let me take a look at it. It sounds like something that we can take a look at."
I would encourage you just to look at Foreign Minister Maas. He is, you know, a different style. I think he's looking at issues a little bit differently. So I have to give him credit. But Minister Seehofer too, who is a very important player in German -- in the German Cabinet, he also was very creative and worked with Jewish groups in Germany to make sure that he had their support and their advice on the issue.
And I think, lastly, it was -- you know, the President asked me to do this, so I made it a point to bring it up at every single meeting that we did. No matter what the meeting was about, I brought this up at the end. And so they could tell that we were making it a priority.
Q: Ambassador, can you say -- can you describe your conversations with the President? You said that he asked you to do this. And also, could someone address how many Nazis remain in the U.S. that have to be deported still?
AMBASSADOR GRENELL: The only thing I just want to say about my private conversations with the President is he made it very clear that he wanted this individual out of the U.S.
MR. ROSENBAUM: Eli Rosenbaum here. Jakiw Palij was the last person in the United States who was under a court order of removal on the basis of his participation in Nazi acts -- persecution during World War II. That having been said, our work at the Department of Justice -- our investigative work -- continues in these cases and in other cases of human rights violators, or suspected human rights violators, in partnership with our colleagues, especially at Immigration and Customs Enforcement and the Federal Bureau of Investigations.
Q: Hey, Ambassador, my question is about the letters that came from the New York congressional group in 2017 to Secretary Pompeo. What effect did those letters have? And do you know anything about what the Secretary of State at the time -- the conversation that he had with the President, how much that really affected the President's thinking in all this?
AMBASSADOR GRENELL: Brian, you know, I don't know how much it affected the President. I think you can ask the White House about that.
From my perspective, I had seen those letters -- actually one letter -- I'd seen one letter from the delegation making it very clear that this was priority for them. So we certainly appreciate their attention. It always helps when we have congressional support.
Q: Hi, I was wondering if somebody could explain the -- or describe to the logistics of this. You have a 95-year-old man going back to a country that he says he was in, in the '40s. Sort of, what happens to him next? And also, what happens to other family members? I think he was living with his wife. What sort of logistics are being worked out for them?
MS. RAGHEB: Hi, this is Mona Ragheb from ICE. So Palij was removed by a specially chartered air ambulance, which was appropriately staffed to address his medical needs. His wife had previously passed away, so that should be noted for the record. He left from Teterboro Airport, New Jersey, and arrived in Düsseldorf this morning, about 8:00 a.m. our time. Sorry, 8:00 a.m. local time, 2:00 a.m. Eastern Standard Time. And the removal was effected without incident.
Q: Oh, hi, thank you. I had had two quick questions. One was just to clear -- essentially, the immigration judge ordered him removed in 2004. The issue of him not being deported was that Germany would not accept him? Is that -- am I understanding this correctly?
And then the other question would be to the DOJ official. You met a group on Long Island (inaudible) in this case (inaudible). Can you just tell me a little bit more about their role in this? Thank you.
MR. YAZDGERDI: Yeah, this is Tom Yazdgerdi, the Special Envoy for Holocaust Issues. That's right -- we have been pressing countries, including Germany, Poland, and Ukraine, to accept Palij since the judge ordered his removal. Unfortunately, we weren't successful for many years. But we had raised this many, many times, at many different levels, both here in Washington and abroad, in our embassies in those countries.
MR. ROSENBAUM: Eli Rosenbaum here at DOJ. Rabbi Friedman, who as I mentioned, is himself a child of survivors, has led his students at demonstrations outside Palij's home in Queens, New York for many years. If memory serves, the New York Post is one of the papers that's reported on those demonstrations. And I think those activities helped ensure that the public never forgot this case, that the U.S. government, both the executive branch and the legislative branch, never forgot this case, and helped in the end -- in a whole-of-government, whole-of-nation almost approach -- ensured that justice was finally done.
Q: Thanks very much. I just wanted to drill down on this issue of the German government's acceptance of this. Was there a legal workaround that was, kind of, achieved for the Germans to take him back, (inaudible) he's not German. How did that come about?
AMBASSADOR GRENELL: No, there wasn't. And I would just refer you to the Minister of Interior. I think they can explain what they did.
Q: Yes, hi. I have a question. I think Mr. Rosenbaum mentioned that there were 17 Trawniki cases. I was wondering what happened to the other 16. Were they deported, or were they extradited? Or what was the case?
And secondly, prosecutors here in Germany probed Mr. Palij and they dropped the case in 2016, saying there wasn't clear-cut evidence that he participated in the shootings or even helped, or helped the shootings. So it seems a bit different from the assessment in the U.S. I was wondering how the (inaudible) came about.
And lastly, why wasn't he prosecuted in the U.S.? If you are confident -- more confident about his atrocities, would it maybe be better to prosecute him in the U.S., since he won't be prosecuted in Germany, I think, as far as it looks?
AMBASSADOR GRENELL: This is Rick; I can answer one part of that. I think one of the issues that had been the reason for stalling is because the previous approach had been trying to work through the legal argument. The reality is, we made -- I made -- a moral argument about the fact that this individual was -- the German government had a moral obligation because this individual served in the name of the former German government. And so that was agreed by the Germans and by others that they do have a moral argument.
We did not ask them to commit to any legal process or argument. The fact is, he's not a German citizen, and so that was a difficult road and it was one of the issues for the problems that we had. So in order to get him out of New York, out of the United States -- which was my goal -- it was important to create and argue on the moral grounds.
MR. ROSENBAUM: As to -- Eli Rosenbaum, here. As to the other Trawniki cases, I don't have a full accounting with me at the moment of them. Some were deported, some died during the (inaudible) of legal proceedings.
Most famously, John Demjanjuk trained at Trawniki, then served as a guard at the Sobibór extermination camp; was deported to Germany in 2009 after prosecutors in Munich -- state prosecutors -- charged him with serving as an accessory to the murder of tens of thousands of Jews. He was subsequently convicted on more than 28,000 counts, as I recall; sentenced to a term of imprisonment, and died there while the matter was on appeal.
I can tell you that in four cases of former Trawniki men, Bronislaw Hajda in Chicago; Jack Reimer, just north of New York City -- Carmel, New York; Mikelow Vasilek (ph) in Upstate New York; and Vladas Zajan?kauskas in the Worcester, Massachusetts area. All of those people -- all four of those men -- died here because no European government would agree to admit them.
Just to give you two quick examples: Vladas Zajan?kauskas took part, and was found by our courts to have taken part in the 1943 liquidation of Warsaw's Jewish ghetto, one of the most notorious crimes of the Holocaust. Jack Reimer -- Jakob Reimer -- was questioned by my office way back in 1992, and eventually admitted that he led a platoon of men to take part in a mass shooting of Jews who had been placed in a pit, awaiting their execution. He was denaturalized, and we sought to return him to Germany, but readmission was declined and he died here in 2005.
On the question of the evidence in the case of Palij, he has not been accused by the Department of Justice in the United States of actually participating in the shooting on November 3, 1943. He did take part in the in the persecution of the prisoners at the Trawniki labor camp, most especially by helping to ensure that they could not escape. And because they could not escape, ultimately, later in that year, nearly all of them were shot to death.
The standard under German law is different, and I would say to some extent, still evolving, even at this late date in the Nazi cases. And under U.S. law, participation in persecution -- which under most circumstances is also a crime against humanity under the Nuremberg Charter -- is an adequate legal basis for our civil prosecutions.
Why was he not criminally prosecuted in the United States, but rather civilly prosecuted under virtually the same burden of proof? That's because there was no criminal statute in force in the United States at the time the crimes were committed. That would confer, on U.S. courts, extraterritorial jurisdiction. Crimes weren't, of course, committed in the United States. Had Congress tried after the war to enact legislation criminalizing them, it is widely thought that that would have run afoul of the ex post facto clause of the United States Constitution.
MR. FETALVO: Operator, we'll take one final question.
Q: Hi there, thanks for doing this. I just wanted to drill down a little bit more on the President's interest in this case. Ambassador Grenell, you mentioned he made it very clear he wanted this person out of the country. Do you know whether he took a personal interest here? How it came to his attention?
And to what extent is this case part of the broader effort by the administration, the White House in particular, to make sure that this government goes back on cases where there are orders for removal for immigrants who are here and have been determined that they should not be here to get them out of the country, even if they're old cases?
AMBASSADOR GRENELL: This is Rick. The second part of that question, I would refer you to White House. I have no idea.
The first part, I don't know how he learned of the case, but it was very clear that he knew this individual as a Nazi guard and wanted him out of the United States.
Q: Can someone else address the second part the question? Is this part of the broader effort to remove and deport folks who have been ordered removed but the case hasn't been acted on?
MR. WOLD: Hi, this is Theo Wold from the Domestic Policy Council. I would just say that it's a part of the broader effort on the administration to take our immigration laws seriously and to enforce a comprehensive notion of citizenship. And more than that, I'm not really at liberty to speak on.
But I can say that, again, as others have said here, that the whole-of-government approach involves all the equities that have been on the call today -- the diplomatic equity, the legal equity, and then of course the enforcement operational equity represented by ICE.
And that comprehensive approach is -- you know, it's easily noted in a case like this, that's high profile, but these same actors do the same good work day in and day out.
MR. FETALVO: Thank you, everyone. The embargo has now lifted. If you have any follow-up questions, please reach out to DOJ's Office of Public Affairs and ICE's Office of Public Affairs. Thank you and have a great day.
END 10:10 A.M. EDT
Donald J. Trump, On-the-Record Press Call on the Removal of Former Nazi Labor Camp Guard Jakiw Palij Online by Gerhard Peters and John T. Woolley, The American Presidency Project https://www.presidency.ucsb.edu/node/336201