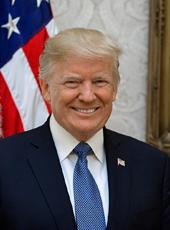 On-the-Record Press Call on Supporting the Transition of Active-Duty Service Members and Veterans into the Merchant Marine
Via Telephone
10:16 A.M. EST
WHITE HOUSE OFFICIAL: Good morning, everyone. Thank you for joining us for today's call on the Executive Order, "Supporting the Transition of Active Duty Service Members and Military Veterans into the Merchant Marine."
Today's call is on the record and attributable to Mr. Peter Navarro. With that, I'm going to turn it over to Mr. Navarro for opening remarks followed by a brief Q&A. Thank you.
MR. NAVARRO: Thank you very much. The two themes that this executive order underscores are this:
First, Mr. Trump will always have the backs of veterans from their days in uniform to their years in the civilian workforce. And we're working on many fronts to make sure that our veterans and their spouses are able to seamlessly transition into the civilian workforce in a way which provides them with good-paying jobs that benefit themselves and this country.
The second broad theme of this effort today goes to the National Security Strategy of 2017, which is that economic security is national security. Economic security is synonymous with national security.
To the point of what this executive order does, let me just read from the policy section to give you an overview, and I'm quoting now: "It's the policy of the United States to support practices and programs that ensure that members of the United States Armed Forces receive appropriate credit for the military training and experience towards credentialing requirements as a Merchant Mariner. And it's further the policy of the United States to establish and maintain an effective Merchant Marine program by providing sufficient support and resources to active-duty and separating service members who pursue or possess Merchant Mariner credentials."
The executive order is called "Supporting the Transition of Active Duty Service Members and Military Veterans into the Merchant Marine." It's a commonsense policy with two clear benefits.
First, it makes it easier for sea service veterans to get high-paying, high-skilled jobs as Mariners by waiving government-issued licensing fees and by crediting military training in the National Maritime Center credentialing system.
In these ways, it incentivizes our nation's most experienced seamen to enter the U.S. Merchant Marine, which is sometimes called the nation's Fourth Arm of Defense. Currently, we face a shortfall of Merchant Mariners that may have serious national security implications.
The Merchant Marine — some of you may not know this or be familiar with this — but the Merchant Marine is a vital part of the U.S. Defense Industrial Base. The civilian men and women of the United States Merchant Marine pilot the sealift vehicles that deliver things like tanks, helicopters, and even troops, often in hostile waters and at great personal risk. And in so doing, they are a mission-critical component of U.S. military readiness.
In World War II alone, nearly 10,000 Merchant Mariners were killed by enemy fire, and died at a rate of 1 in 26. This was a casualty rate higher than any branch of the U.S. military. And their willingness to serve and their sacrifice continue to play a vital role in our national defense.
On the theme of "economic security is national security," the executive order will help our sea veterans more quickly find high-paying jobs worthy of their skillsets. On average, water transportation workers earn $65,720 a year. And this is well above the national occupational average of $50,620. Workers in the Merchant Marine categories routinely earn even more. So this is a great opportunity for sea veterans to seamlessly transition into really good, high-paying jobs that will help our national security front.
As I mentioned, we have a significant Merchant Mariner shortfall according to MARAD at the Department of Transportation. The past several decades, the number of Merchant Mariners with unlimited ocean-going credentials who have sailed in the last 18 months has dropped below 12,000.
According to estimates from the Department of Transportation, if the U.S. entered into a large-scale conflict that required the military's full mobilization, we would fall — or could fall short of the number of Mariners needed to sustain contingency operation.
In other words, after just six months, the most powerful country in the world could find itself challenged to supply its overseas military personnel.
As I said earlier, this effort today — and the President will be signing the order this afternoon with a group of sea veterans and Merchant Mariners surrounding him — this is a broader effort to assist our veterans and their spouses in their transition to the civilian workforce.
As just one example, on May 5, 2017, President Trump signed into law the Honoring Investments in Recruiting and Employing American Military Veterans Act of 2017 that requires the Secretary of Labor to establish a program that both recognizes and thereby incentivizes employer efforts to recruit, employ, and retain veterans.
On May 9th, 2018, the President also signed the Executive Order on "Enhancing Noncompetitive Civil Service Appointment of Military Spouses." This is, by the way, a passion of Ivanka Trump. She's really led the charge helping the spouses of our veterans find gainful employment in a seamless way.
This particular order on May 9th, 2018, directs federal agencies to remove barriers to spouse employment, actively advertise, and promote the military spouse hiring authority, and actively solicit applications from military spouses for posted and other agency positions.
So, in summary, this is a great order in terms of helping our sea veterans. It was coordinated through the Office of Trade and Manufacturing Policy, working closely with folks like Ivanka and the Department of Labor.
And we think, step by step, day by day, the actions this administration takes really reflect both the care that President Trump takes and has for our veterans, and also the big picture concept that economic security is national security and we will always have the backs of veterans.
With that, I'll open it up to very brief questions. I would ask you to limit your questions strictly and solely to the issue at hand. And let's see what you got.
Q: Hi, Peter, this is Andrew Feinberg with Breakfast Media. Thanks for doing this call. I have two quick questions. First, is the shortfall that you talked about, is that within the Military Sealift Command or is that within the total U.S. shipping — U.S.-based shipping industry?
MR. NAVARRO: Total.
Q: Thank you. Jeff Schogol with Task & Purpose. Just so I understand, does this executive order guarantee that transitioning sea veterans will have a place in the Merchant Marine Academy?
MR. NAVARRO: No, not at all. I think the whole point here is to leverage their experience that they gain and education they gain in the military to move directly into the Merchant Marine and do it in a way where the fees and costs are minimized. Thanks for the question.
Q: Hi. Travis Tritten with Bloomberg. I was hoping you could just explain how this executive order is different from the Military to Mariner program that I guess is being used currently by the Department of Defense and the Coast Guard. Thank you.
MR. NAVARRO: We work closely with that initiative, and this is part of the ongoing process. Thank you.
Q: Hey, thanks for doing the call. This is Tom Howell from the Washington Times. I just wanted to know if you could be a little more specific about what the order does. You said something about waiving fees and also counting past training towards their future credentials. Can you just explain that real quickly?
MR. NAVARRO: Just as the government supports veterans who take the SAT or who enroll in college courses, this executive order will now support veterans who want to become Mariners. Among other directives, this EO provides for the waiver, for example, of National Maritime Center and so-called "TWIC" card fees, and for NMC credentialing credit commensurate with military experience. Previously, these costs could rise to as much as $20,000 to $25,000. Thank you.
Q: Yes, hello. This is Mark Faram from Navy Times. I would like to ask, first off: Will this apply to veterans who have already separated and who have military skills and qualifications? And also, will it work for people to do this while they're on active duty, in parallel with their military qualifications?
MR. NAVARRO: Yes and yes.
All right, thank you so much. We love what we're doing here on this, and I hope you'll write a good story worthy of the action taken. Thank you for your time.
WHITE HOUSE OFFICIAL: Thank you. As a reminder, (inaudible) attributable to Peter Navarro, Assistant to the President and Director of the Office of Trade and Manufacturing Policy. Thanks everybody.
END
10:30 A.M. EST
Donald J. Trump, On-the-Record Press Call on Supporting the Transition of Active-Duty Service Members and Veterans into the Merchant Marine Online by Gerhard Peters and John T. Woolley, The American Presidency Project https://www.presidency.ucsb.edu/node/334505