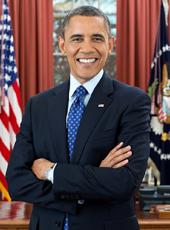 The President's Weekly Address
Hello, everyone. I want to spend a couple minutes talking with you today about our economy. We've just come through the worst recession since the Great Depression, and while our economy as a whole has been growing and adding private sector jobs, too many folks are still struggling to get back on their feet. I wish I could tell you there was a quick fix to our economic problems, but the truth is, we didn't get into this mess overnight, and we won't get out of it overnight. It's going to take time.
The good news is, when it comes to job creation and economic growth, there are certain things we know we can do. Now, government is not and should not be the main engine of job creation in this country. That's the role of the private sector. But one thing government can do is partner with the private sector to make sure that every worker has the necessary skills for the jobs they're applying for.
On Wednesday, I announced commitments by the private sector, colleges, and the National Association of Manufacturers that will make it possible for 500,000 community college students to get a manufacturing credential that has the industry's stamp of approval. If you're a company that's hiring, you'll know that anyone who has this degree has the skills you're looking for. If you're a student considering community college, you'll know that your diploma will give you a leg up in the job market.
On Monday, I'll travel to North Carolina, where I'll meet with my jobs council and talk about additional steps we can take to spur private sector hiring in the short term and ensure our workers have the skills and training they need in this economy.
There are also a few other things we know will help grow our economy and give people good jobs that support a middle class lifestyle. We know that a quality education is a prerequisite for success, so we're challenging States and school districts to improve teaching and learning and making it a national goal to once again have the highest proportion of college graduates in the world by 2020.
We know that more and more jobs are being created in the clean energy sector, so we're investing in wind power, solar power, and biofuels that will make us less dependent on foreign oil and clean up our planet for our children. These are steps we know will make a difference in people's lives, not just 20 years from now or 10 years from now, but now and in the months to come.
In the end, the folks I hear from in letters or meet when I travel across the country, they aren't asking for much. They're just looking for a job that covers their bills. They're looking for a little financial security. They want to know that if they work hard and live within their means, everything will be all right. They'll be able to get ahead and give their kids a better life. That's the dream each of us has for ourselves and our families. And so long as I have the privilege of serving as President, I'll keep fighting to put that dream within the reach of all Americans.
Have a great weekend, everybody.
Note: The address was recorded at approximately 11:30 a.m. on June 10 in the Map Room at the White House for broadcast on June 11. The transcript was made available by the Office of the Press Secretary on June 10, but was embargoed for release until 6 a.m. on June 11.
Barack Obama, The President's Weekly Address Online by Gerhard Peters and John T. Woolley, The American Presidency Project https://www.presidency.ucsb.edu/node/290571