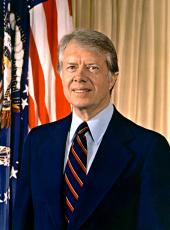 The President's Trip to Japan and the Republic of Korea Remarks on Departure From the White House.
I leave in a few minutes for an economic summit meeting that can affect the daily life of every American citizen. Oil shortages and oil prices threaten the very strength of our own economy and also the fabric of our society. This will be the major economic item on our agenda when I arrive in Japan. Concerted action by all the industrialized nations—there will be seven of us leaders there—is absolutely crucial to solve the energy problems facing the American people today. This is a primary reason for my trip. We must act now to bring these global energy problems under control.
This is not just an American challenge. The long gas lines, the shortages of diesel fuel, the concern about heating homes, the mounting frustration over fuel supplies that we see here in America are symptoms of a global energy shortage. Our planet is simply not producing enough oil to meet rising demands.
We now are consuming about 2 million barrels of oil per day more than is being produced. And as I know many of you realize, since last December the price of OPEC oil has increased more than 35 percent. The challenge to the industrialized democracies is very clear. We must not be set one against another in a desperate competition to buy every barrel of scarce oil regardless of its price. Together, we must import less. Together, we must produce more. Together, we must reduce our dependence on a handful of oil producing and exporting countries.
At Tokyo I will call on our allies to join with the United States to meet our targets for reducing oil imports in 1979 and to reduce our imports even more in 1980. Also, we will work together to stop the unnecessary and unacceptable competitive bidding against one another over the oil prices that we pay. And we will marshal the vast resources, engineering, technological, scientific resources of our industrialized nations to produce more domestic energy, such as coal, solar energy, and synthetic fuels.
To meet these goals, of course, here at home, the Congress must act now to pass the windfall profits tax and to establish the national energy security fund to help us have the means to develop alternatives to foreign oil.
While I work with our allies on these energy problems on a global basis, Vice President Mondale will monitor the situation here at home, will keep me informed about what is happening, and will act, as necessary, to minimize adverse effects of shortages in the United States.
Whatever our successes might be in Japan, there should be no illusions, no false expectations, by the people of our country or other nations. Gas lines and fuel shortages will not disappear any time soon.
This is a difficult time for our Nation. All of us must make some painful adjustments in our daily lives. What we cannot afford is to give in to a mood of panic or desperation or, worse, to the idea that each of us is somehow pitted against our neighbor in a desperate scramble for scarce energy supplies.
Three times in this century we've overcome challenges far more serious than this one, with two long World Wars and with a massive depression that actually rocked the world's economy.
Now, as in the past, we can overcome the challenge of the energy crisis if we in this country are united as a people, if each of us will do our part as a citizen and as a neighbor, and with full confidence in the greatness of the United States. Now, as in the past, after this time of testing and trial, we can emerge an even stronger, an even more prosperous nation for having met this test together. That is the spirit which I will take to Tokyo.
Thank you very much for coming out to see me off.
Note: The President spoke at 12:47 p.m. on the South Lawn of the White House.
On the same day, the White House made available a list of the principal members of the official parties accompanying the President. Mrs. Carter and Amy, Secretary of State and Mrs. Cyrus R. Vance, Secretary of the Treasury W. Michael Blumenthal, Assistant to the President for National Security Affairs Zbigniew Brzezinski, and Senator and Mrs. Spark M. Matsunaga accompanied the President to Japan and the Republic of Korea. Additional members of the party to Japan were .Ambassador and Mrs. Mike Mansfield and Secretary of Energy James R. Schlesinger. Ambassador and Mrs. William Gleysteen and Secretary of Defense and Mrs. Harold Brown accompanied the President to the Republic of Korea.
Jimmy Carter, The President's Trip to Japan and the Republic of Korea Remarks on Departure From the White House. Online by Gerhard Peters and John T. Woolley, The American Presidency Project https://www.presidency.ucsb.edu/node/249086