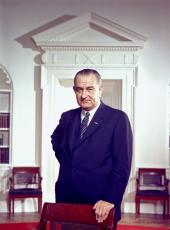 The President's Toast at a Luncheon Honoring Chairman Kosygin of the Soviet Union, Glassboro, New Jersey
Mr. Chairman, distinguished guests, Mr. Foreign Minister, Mr. Ambassador:
We are delighted that you have had a chance to even briefly visit our country and we are especially pleased that you have come here today for a meeting with us.
We both have special responsibilities for the security of our families, and over and beyond all our families is the security of the entire human family inhabiting this earth. We must never forget that there are many peoples in this world, many different nations each with its own history and ambitions.
There is a special place, however, in this world and a special responsibility placed upon our two countries because of our strength and our resources. This demands that the relations between our two countries be as reasonable and as constructive as we know how to make them. It is also our obligation that we make it possible for other countries to live in peace with each other if this can be done. And that is why today we have here discussed with you some questions affecting the peace of the entire human family of 3 billion people.
I want to inform Secretary Rusk, Minister Gromyko, and Secretary McNamara and the other distinguished guests present here that you and I have discussed various aspects and possibilities for strengthening peace in the world such as the nonproliferation agreement, and certain questions arising out of the Middle East situation. We also agreed that both of us, as well as our two nations, made some small contribution to bringing about a cease-fire in the Middle East. We only regret that this contribution between us had not made it possible to prevent the outbreak of hostilities--although we tried.
I want to emphasize that the results of today's meeting will be judged by what we can achieve in the future in order to achieve peace.
I quoted to the Chairman the story about the author, Charles Lamb, who threw down in disgust a book he had been reading. To his sister's question of whether he knew the author, he said, "No, because if I did, I would like him."
And by the same spirit, Mr. Chairman, I hope that today's meeting has contributed to getting us to know each other better, and therefore, to like each other better, just as our Ambassadors in Moscow and Washington have become more acquainted and liked by the people they deal with. And so, Mr. Chairman, I should like to thank you for coming here.
We thank you for coming. We want very much to resolve some of these questions.
We would like to have the opportunity to sit down further and discuss some aspects of the antiballistic missile system, nonproliferation, perhaps some questions arising out of the Middle East situation and at least explore the situation in Southeast Asia as well as questions of mutual interest in Europe and the Western Hemisphere.
And now I would like to ask each of you to stand and raise your glass to the health of the Chairman, the Soviet Union, and to peace in the world.
Note: The President spoke at Hollybush, the home of Dr. Thomas E. Robinson, president of Glassboro State College, Glassboro, N.J. In his opening words he referred to Aleksei N. Kosygin, Chairman of the Council of Ministers of the U.S.S.R., Andrei A. Gromyko, Soviet Foreign Minister, and Anatoly F. Dobrynin, Soviet Ambassador to the United States.
As printed above, this item follows the text released by the White House Press Office.
Lyndon B. Johnson, The President's Toast at a Luncheon Honoring Chairman Kosygin of the Soviet Union, Glassboro, New Jersey Online by Gerhard Peters and John T. Woolley, The American Presidency Project https://www.presidency.ucsb.edu/node/238252