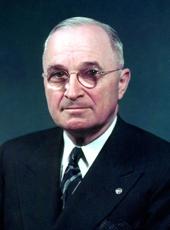 The President's Special Conference With Editors of Business and Trade Papers.
THE PRESIDENT [replying to a question as to what business-paper editors can do to assist the new Citizens Food Committee]. Well, there are a lot of things you can do. I called the board of directors of that food committee together this morning--that is the Citizens Food Committee--and Mr. Luckman, who is the chairman of the organization, was there--and believe it or not, since Thursday he has arranged a system of ads that would knock your eyes off that covers the situation.
Now cooperation with Mr. Luckman in that line of approach--I think you can do more that way than any other way that I know of. And it is astonishing the situation with which we are faced, in connection with that program; and it will also be astonishing as to what you can accomplish if we go at it in the right way.
I have had an opportunity to interview several people who are vitally interested in this program, because it is simply another program to keep people from starving and freezing to death this winter. It is the same proposition almost exactly as we had last winter, only in a different location.
I met the other night the head of the managers of all restaurant associations in the country, and he informed me that they serve about 60 million meals a day, and he also informs me that one slice of bread from those meals would feed all these hungry people every day. And the head of the hotel organization told me that the garbage cans of all the hotels in the United States would leave a decided surplus of the necessities that we find it necessary to send to Europe, if we could save what went into the garbage cans.
What we are trying to do is get a situation of balance between prices and what we have to do to feed these people. Every time the Government makes an approach to purchase food and grains, and things of that sort, it causes a flurry in the market, although actually Government purchases in the market are less than 8 percent of the total crops in any one food grain. In fact, it is less than 8 percent of all of them. On the Chicago Board of Trade, however, 8 billion bushels of wheat have been bought and sold since 3 months ago. Now there is something "screwy" about a situation of that sort. And you can talk about prices and the effect of Government purchases on prices, but I know something about gambling on the Board of Trade, because I was an office boy for a grain firm there at one time, and I know how they do it and what they do. They are not fooling me. [Laughter]
What was the other question?
Paul Wooton (President of the Conference): Mr. President, the other question is, instead of accepting notes of debt, would it not be wise to trade our goods in Europe for their strategic materials for our stockpile for national security ?
THE PRESIDENT. Surely it would. If we could get the material out of the ground. The only way we can trade with them now is to buy it out of the ground. And we have had that under consideration. I am in agreement with the suggestion that has been made there. We have had it under consideration for more than a year, but getting that material to the point of contact where we can get hold of it is the proposition we are up against. And we can't do something until some of these countries are rehabilitated. But there are certain strategic materials of which we are short that can be obtained on the programs such as you suggest. We hope that will work out in the long run.
But you must bear in mind that--I am going to talk to you very frankly now, and this is entirely off the record--I can't afford to be quoted on it, but there is something that you should know.
Mr. Wooton: That applies to everything you have said, Mr. President. They like to use the thoughts behind it, but not for attribution.
THE PRESIDENT. I understand that, but then this is a strategic situation. France and Italy are scraping the bottom of the barrel for food and fuel right now, which is the reason for the calling of the congressional leaders yesterday, and the discussions which we had. The situation in Italy is exceedingly grave. In northern Italy, where there are 46 million people in the Italian peninsula, about 26 million of them are in the Po Valley--northern part of Italy, in the industrial part of Italy; but the other 20 million are south of the Po Valley and down to Sicily, where they do not raise enough food in Italy to feed themselves. They always have exports to overcome that. Italy has made rather a remarkable comeback and is exporting $20 million worth of goods a month. France is only exporting 10. That situation should be reversed.
But the situation in northern Italy is anything but--well, it is dangerous at the present time. Should anything happen that Italy would go and the Jugoslavs should move in, France would go, and we have the Iron Curtain at the Atlantic Ocean. There would be nothing for us to do then but move out completely and prepare for war. That we don't want to do.
I have been, ever since this thing ended on the 14th of August of 1945, trying to arrive at a peace. I went to Potsdam for the purpose of trying to get a peace in the world. I have every kindly feeling in the world for the people who are causing us all the trouble now. And we made certain specific agreements, none of which have been carried out by the other party. And that is the cause of the present situation. They are hoping that we are going to blow up. There is no opportunity for us to blow up, at the present time, in the manner in which they think that is going to take place. But we must have complete and wholehearted cooperation in meeting these situations if we ever expect to get peace in the world.
I think we will eventually get it. General Marshall told me the other day that the situation was improving to a very great extent in the United Nations Assembly, and that there were countries behind the Iron Curtain now trying very--very earnestly to be friendly to us. And I think that is true. And I think you will find that our motives are open and aboveboard. We haven't tried to do anything but to make a peaceful and happy world. And that's all we are interested in. We didn't ask for reparations. We didn't ask for territory. But we are faced with a condition and not a theory, as Mr. Creedon says.
I thought you might be interested in knowing just exactly with what we are faced. You can throw all the bricks at the President you want to, on domestic and local affairs. I am used to that, and there's nothing you can do or say about me that hasn't been done or said. [Laughter]
In this international situation we must be a unit. That is the point I want to drive home to you.
Mr. Wooton: Mr. President, you have been so good to us. I want to thank you so much for giving us the opportunity to get your views. You have been very helpful indeed. Thank you so much.
Note: The President spoke in his office at the White House at 11:35 a.m. The conference is carried in the White House Official Reporter's records as the President's one hundred and twenty-first news conference.
Harry S. Truman, The President's Special Conference With Editors of Business and Trade Papers. Online by Gerhard Peters and John T. Woolley, The American Presidency Project https://www.presidency.ucsb.edu/node/232336