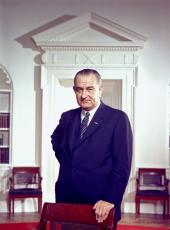 The President's Remarks Upon Accepting an Award for His Efforts in Furthering the Savings Bond Program
Chairman Odlin, Secretary Fowler, Director Johnson:
I am very grateful to all of you for your kind words and for this magnificent gift. We will have a conflict in registration, because we no longer use the branding iron in our country except as ornaments or in our museums. But we now write the numbers on the horns of our cattle instead of placing the brand on their hip.
I have collected some of the irons dating back to my grandfather's day, when he used to drive the cattle up the trail from Johnson City to Abilene. I don't think there was any particular significance to that in those days. But it is interesting that they went from Johnson City to Abilene and I now go out to Walter Reed to see the gentleman from Abilene a good deal.
There is a great deal of iron beneath the gold of your gift--and I find that symbolic of the purpose that we all share. All across this Nation of ours, there are people--good people, prudent people, patriotic people-who know what it means to work and to save and to get ahead.
Those people buy savings bonds and Freedom Shares. They hold on to them, because they know it is good for them and good for their country.
For 27 years now, we have seen the people's prosperity and the savings bonds program grow hand in hand. So as we meet here this morning, we see a remarkable total of more than $52 billion outstanding that is owned by millions of Americans in all walks of life.
Now, I do have a personal problem. I made a commitment to myself to buy a savings bond every month as long as I could, for my grandson. Now I have another grandchild coming up. And I am going to have to make another commitment. That is going to involve some problems, because I am going to be out of a job on January 20.
I will be out of a job, but I will have another commitment. So I may have to go see Secretary Fowler, who handled monetary problems so well for me, to get his help and judgment on how I can keep up my commitments.
But I am going to keep them up, because I believe that you business and labor leaders and 'professional men who have made your own commitments are delivering a great service for this country.
We ask some 4 1/2 million people to serve us in the Defense Establishment of this Nation, to give their all--and a good many of them give their lives. I just saw a story about a young Marine lieutenant, a son of a general, out at Danang, who had lost both legs in a booby mine while he was there protecting your freedom and trying to serve your national interests.
If they can go through the horrors of hell in order to protect freedom in our land, the least we can do is to sacrifice enough to try to make a little investment in a Freedom Share or savings bond.
I wish that not only every one of those 4 1/2 million people in the service--and I believe incidentally they have about the best record of any group for buying savings bonds--but I wish every one of the 200 million Americans could, not only for their country's sake but their own sake, arrange a systematical method of saving and investing to help their Nation with its financial problems.
To each of you individually, I express my personal appreciation and my gratitude. I hope I won't have to sell that iron to keep up my commitment.
But it seems like it would buy several baby bonds itself. I thank you for giving me a very delightful memento before I leave.
Thank you.
Note: The President spoke at 12:55 p.m. in the Cabinet Room at the White House. In his opening words he referred to Reno Odlin, Chairman of the Executive Committee of Volunteer State Chairmen for the United States Savings Bonds Division of the Treasury Department and past president of the American Bankers Association, Henry H. Fowler, Secretary of the Treasury, and Glen R. Johnson, National Director of the United States Savings Bonds Division of the Treasury Department. On behalf of the bankers promoting savings bonds, Mr. Odlin presented the President with a gold-plated branding iron which is registered in Texas and bears the Minuteman symbol of the savings bond program.
During his remarks the President referred to former President Dwight D. Eisenhower, who was convalescing at Walter Reed Hospital in Washington; the President's grandson, Patrick Lyndon Nugent, and the forthcoming birth of his granddaughter, Lucinda Desha Robb, who was born on October 25, 1968- The President also referred to Lt. Lewis B. Puller, Jr., who lost both legs in a mine explosion in Vietnam. He is the son of retired Lt. Gen. Lewis B. Pullet, the most decorated man in Marine Corps history (see also Item 541).
Lyndon B. Johnson, The President's Remarks Upon Accepting an Award for His Efforts in Furthering the Savings Bond Program Online by Gerhard Peters and John T. Woolley, The American Presidency Project https://www.presidency.ucsb.edu/node/237147