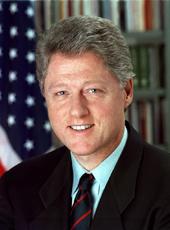 The President's Radio Address
Good morning. Today I want to talk about what we must do to make sure people with disabilities who are ready, willing, and able to work can be part of our Nation's prosperity.
Work is an awfully important part of who we are as Americans. It connects us with our communities and provides dignity for our families. Today, more Americans are working than ever before. Since 1993, in January, when I took office, we've had the largest peacetime expansion in our history and created more than 19 million new jobs. Unemployment is at a 29year low; welfare rates, a 30-year low; poverty, a 20-year low, with the first back-to-back budget surpluses in 42 years.
But in spite of the good economic news, there are people in places still not touched by our prosperity. Among them are almost three out of four Americans with severe disabilities who want to work but aren't working. This is not just a missed opportunity for them; it's a missed opportunity for all the rest of us, too.
If we want to keep our economy growing with continued low inflation and low unemployment, we must draw on the untapped potential of our people. That's why I launched our enterprise zone and enterprise community initiative 6 1/2 years ago, under the leadership of Vice President Gore, to bring investment and jobs to rural and urban areas with high unemployment.
That's why I'm working now to pass our new markets initiative in Congress, to give Americans the same incentive to invest in poor communities in America we now give them to invest in poor communities in Latin America, Asia, Africa, and central Europe, and that's why I established a Presidential task force on the employment of adults with disabilities last year, to help remove the barriers that prevent people with disabilities from going to work.
In December Vice President Gore received the first set of recommendations by the task force, and I'm proud to say we've taken action on every one. The budget I proposed last January would invest more than $2 billion in health care, tax credits, and new technologies for people with disabilities. I also signed an Executive order to eliminate unfair barriers to Federal employment for people with psychiatric disabilities.
Today I announce new steps we're taking to ensure that when it comes to the employment of people with disabilities, the Federal Government leads by example. And today I'm releasing the first-ever Government plan to ensure positive career paths for people with disabilities in our Federal work force. I'm directing every Federal agency and department to take concrete action to expand opportunities for people with disabilities in all levels of the work force, from entry to senior ranks.
And I'm calling on all agencies to recruit and promote people with disabilities, to reach out to students with disabilities, to provide reasonable accommodations for applicants and employees with disabilities. I'm also calling on our Federal human resources agency, the Office of Personnel Management, to ensure that every agency gets the help it needs to fulfill these commitments. We are the Nation's largest employer. I want it to be a model for private industry, and this plan will help to do just that.
But there's more to do. One of the biggest barriers facing people with disabilities is the fear of losing their health insurance when they get a job. Under current law, many people with disabilities cannot keep their Medicaid or Medicare coverage if they work. This creates a tremendous disincentive to work, because they have to have health care, and neither they nor their employer can afford or often even find health insurance.
There's a commonsense, bipartisan bill to change that. It's called the work incentives improvement act. It was sponsored by Republican Senators Jeffords and Roth and Democratic Senators Kennedy and Moynihan. Simply put, it will make sure that people with disabilities don't lose their health care when they gain a job. This bill passed the Senate 99-0. A bipartisan majority in the House has already cosponsored it. So I say to Congress: Don't water the bill down; guarantee its financing; and go ahead and send it to me so we can sign it without delay.
It will make money for America. It will make more taxpayers. And we'll be spending the Medicaid money regardless. Americans with disabilities who want to work shouldn't have to wait one more day.
After years of delay, last week the House of Representatives finally heard the voice of the American people and passed a strong, enforceable Patients' Bill of Rights. By choosing progress over partisanship again, we can also pass the work incentives improvement act and keep America working and growing.
I urge the leadership to seize this opportunity. Make this a season of progress, not a winter of partisan politics. Let's finish the job the American people sent us here to do.
Thanks for listening.
NOTE: The address was recorded at 2:39 p.m. on October 15 in the Oval Office at the White House for broadcast at 10:06 a.m. on October 16. In his address, the President referred to Executive Order 13124 of June 4, 1999, entitled "Amending the Civil Service Rules Relating to Federal Employees With Psychiatric Disabilities" (3 CFR, 1999 Comp., p. 192). The transcript was made available by the Office of the Press Secretary on September 15 but was embargoed for release until the broadcast.
William J. Clinton, The President's Radio Address Online by Gerhard Peters and John T. Woolley, The American Presidency Project https://www.presidency.ucsb.edu/node/229334