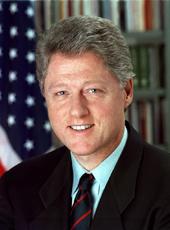 The President's Radio Address
Good morning. Today I want to talk to you about new steps we're taking to make America safer for consumers, particularly for older Americans.
For 7 years now, we've worked hard to build safer streets and stronger communities, and our strategy is working. We have the lowest crime rate in 30 years. Our Nation is safer. But no one really believes America is as safe as it can be. We have to fight all kinds of crime at every level.
To many of our most vulnerable citizens, especially our seniors, the greatest threat may not come from a criminal on the street, but from a scam artist on the phone. Every year, illegal telemarketers bilk the American people of an estimated $40 billion, and more than half the victims are over 50 years of age.
Telemarketing thieves are stealing more than money; they're stealing people's hopes and dreams and their security. In far too many cases, victims have been robbed of savings they've spent a whole lifetime building up. Some have even lost their homes as a result.
Over the years, I've taken a number of steps to crack down on telemarketing fraud. I signed into law the toughest criminal penalties for telemarketing crimes in history. Our enforcement efforts have resulted in more than 300 convictions nationwide. But we have to do more.
Today I am announcing important new tools to help government, organizations, and consumers take action, and I'm directing the Attorney General to send me a plan to crack down on consumer fraud. Specifically, I'm calling on the Justice Department to strengthen prevention and enforcement and improve coordination among the Federal Government, State, and local law enforcement officials and our consumer groups.
Citizens also need new tools to take on telemarketing fraud and to find out where to go for help. According to a recent study, one out of four Americans said they wouldn't know where to turn if they were victimized by a telemarketing scam. This is an even greater concern as we enter the holiday season and the chance of becoming a victim of fraud rises.
That's why today we're launching a new nationwide campaign to help consumers fight telemarketing ripoffs. It's called Project kNOw Fraud, and it's led by the U.S. Postal Service, the American Association of Retired Persons, the Council of Better Business Bureaus, the Department of Justice, the Federal Trade Commission, the National Association of Attorneys General, and the Securities and Exchange Commission.
This campaign will give consumers new resources to slam the phone on telemarketing scams. Beginning November 15th, every household in America will receive an easy-to-read postcard with commonsense tips and practical guidelines to prevent telemarketing fraud. This is the largest consumer protection mailing in our history. It will provide information you can keep by the phone to help you distinguish between fraudulent and legitimate telemarketers. The bottom line is this: You must familiarize yourself with the telltale signs of fraud, and don't give out important personal financial information to an unknown caller.
We're also establishing a new toll free number that will soon be up and running to help people who believe they've been the victims of telemarketing fraud. It will provide links to law enforcement officials who will be able to share information and track down patterns of fraud. As many as 1 1/2 million callers are expected to utilize this new service every year. We've also created a new website for consumers to receive fraud prevention information and even file a complaint on-line. It can be found at www.consumer.gov.
With our actions today we're sending a clear message to fraudulent telemarketers: We've got your number, and we won't let you off the hook.
As we close out the budget season in Washington, I urge Congress to send the same message, to reject arbitrary, across-the-board cuts that will undermine our law enforcement efforts and instead send me a budget that will protect our families and our communities and advance our values.
Let's all answer the call of the American people, put partisanship aside, and finish the work we've been sent here to do.
Thanks for listening.
NOTE: The address was recorded at 7:15 p.m. on November 5 in the Room 137 at Englewood High School in Chicago, IL, for broadcast at 10:06 a.m. on November 6. The transcript was made available by the Office of the Press Secretary on November 5 but was embargoed for release until the broadcast.
William J. Clinton, The President's Radio Address Online by Gerhard Peters and John T. Woolley, The American Presidency Project https://www.presidency.ucsb.edu/node/228710