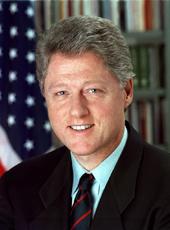 The President's Radio Address
Good morning. One of Government's first responsibilities is to keep our people safe. And one of the most successful Governmental efforts to protect the public is in the area of auto safety. Hundreds of thousands of lives have been saved, thanks to laws requiring safety features such as bumpers, seatbelts, and airbags.
Today I want to talk about our latest efforts to make car travel even safer for our smallest and most vulnerable passengers. Over the past 20 years, child car seats have become a fact of life for millions of parents. Where once small children bounced around freely and dangerously in our cars, today the majority ride in car seats, whether for quick errands to the grocery store or long cross-country journeys. Those car seats have made a difference. Since 1975, they've saved the lives of about 4,000 children in motor vehicle accidents.
But all too often car seats don't protect our children as well as they should. The National Highway Transportation Safety Administration estimates that more than 70 percent of all children riding in car seats are at risk of injury because their seats have not been properly installed. Now, anyone who has ever struggled to get a car seat to fit snugly into a backseat knows exactly what I'm talking about.
Most seatbelts were not designed to hold car seats, and not all 100 models of car seats can fit all 900 types of vehicles on our road today. For Joe Colella's family, the consequences were tragic. Five years ago Joe's 3-year-old niece, Dana Hutchinson, was killed in a head-on collision because her car seat was incompatible with the seatbelts in her family's car. Ever since, so that no other family has to suffer this tragedy, Joe has worked full-time to improve car seat safety and to alert parents to the dangers of poorly fitting car seats.
A few years ago, my administration appointed Joe to a blue-ribbon panel of parents, consumer groups, medical professionals, and auto and seat manufacturers to find ways to make car seats safer and easier to install. Today I'm pleased to announce that their top recommendation, a simple, universal system for attaching car safety seats, will become the standard for every new car and light truck sold in our country.
By the year 2000, the Department of Transportation will require every safety seat to have three standard attachments designed to fit three standard anchors in the backseat of every car. With this new rule, and with these three simple attachments, we can save lives and prevent up to 3,000 injuries a year.
But the challenge of keeping our children safe in our cars and on our roads is never ending. We must continue to encourage all drivers and passengers to buckle up, to use booster seats and seatbelts for their older children. We must work to make airbags safer for children and smaller adults. And we must press forward in our fight to keep more drunk drivers off our roads by lowering the national drunk driving standard to .08.
Together we can work to make sure more Americans traveling on our roads, especially more young Americans, come safely home to their families and loved ones.
Thanks for listening.
NOTE: The address was recorded at 1:36 p.m. on February 26 in the Manager's Office at the Grand Hyatt Hotel in San Francisco, CA, for broadcast at 10:06 a.m. on February 27. The transcript was made available by the Office of the Press Secretary on February 26 but was embargoed for release until the broadcast.
William J. Clinton, The President's Radio Address Online by Gerhard Peters and John T. Woolley, The American Presidency Project https://www.presidency.ucsb.edu/node/229000