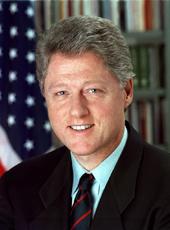 The President's Radio Address
Good morning. Hillary, Chelsea, and I join millions of American families celebrating Christmas today. For Americans of many faiths, this is a season of renewal, of light returned from darkness, and despair transformed to hope. And as the year ends, and this millennium draws to a close, we all have a chance and a responsibility to reflect on our lives and rejoice in our blessings.
On this holiday morning, I know many of us are thankful for the love of family and friends and the richness of the world around us. We're grateful for the advances in science and medicine that are letting us live longer, healthier lives. We enjoy freedom and prosperity at home and peace with our neighbors. And we are privileged to be a leader for peace and liberty around the world, from Bosnia to Kosovo to Northern Ireland and the Middle East. And we're very thankful for the sacrifices of our men and women in uniform, especially those who can't be with their families as they stand on the frontlines of freedom far from home.
Most of all, we're blessed by the millions of Americans who take time out from the holiday season, and all year round, to remember those in need, those who are sick, those who are troubled. In the spirit of the season, Americans are reaching out to victims of disaster, like our neighbors in Venezuela, where floods and landslides have killed thousands and left tens of thousands homeless this Christmas. I'm proud that the United States is leading the international relief effort there and that so many Americans are donating food, clothes, and medicine for the survivors.
Here at home, we're reaching out to the poorest among us, to those who do not yet share in America's growing prosperity. We're making new efforts to reach out to the homeless, to help them find housing, medical care, and jobs. Today I am glad to announce that we will be providing nearly $1 billion in new Federal grants for housing and social services to help the homeless in all 50 States, the District of Columbia, and Puerto Rico. Those grants will fund proven, successful programs that help homeless families, veterans, and children, and people looking for work. They are a Christmas gift all of us can all be proud of.
I want to end my talk today with a Christmas story. A few days ago, I helped prepare holiday meals at the D.C. Central Kitchen, a community kitchen that prepares 3,000 meals a day for the homeless and hungry and trains people to work in food services, to hold down jobs, to turn their lives around.
I worked with a man named Steve Pritchett. As a young man, Steve had a scholarship for college, and his future looked bright. But he made some mistakes, and as a result, he's been homeless for much of his adult life. At Christmastime, he might go see his mother for a day, but if it was cold, you'd most likely find Steve spending Christmas under a bus shelter or beside a steam grate.
But this year, Steve found the D.C. Central Kitchen and discovered it's never too late to change. He's been in their training program for 2 months now, and already he's been offered a job. He's clean and off the streets. Best of all, his mother, who never gave up on her son, is so proud. She told him, "Steve, you don't have to be a doctor or a lawyer. I just want to know that when I close my eyes, you'll be able to stand on your own two feet." They're together today celebrating Christmas.
D.C. Central Kitchen had the help of 5,000 volunteers this year; each one of them deserves a little credit for the success of Steve and so many others like him. That's America at its best, when neighbor helps to lift up neighbor and together we shine a light in the darkness. That is also the true spirit of Christmas.
So let us all resolve to take this spirit with us into the new millennium. We'll be better people and a stronger nation for doing so.
Happy holidays, and thanks for listening.
NOTE: The address was recorded at 5:43 p.m. on December 23 in the Map Room at the White House for broadcast at 10:06 a.m. on December 25. The transcript was made available by the Office of the Press Secretary on December 23 but was embargoed for release until the broadcast.
William J. Clinton, The President's Radio Address Online by Gerhard Peters and John T. Woolley, The American Presidency Project https://www.presidency.ucsb.edu/node/228676