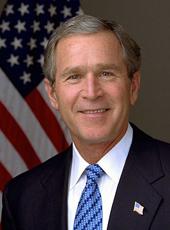 The President's Radio Address
Good morning. The past few weeks have confirmed that America's economy is strong and growing stronger. The Nation's unemployment rate fell to 5.6 percent in January, the fourth consecutive monthly decline, and we added 112,000 new jobs, the largest single month increase since December of 2000. Overall, the Nation has added 366,000 jobs in the past 5 months.
There's more evidence of a strengthening economy. Manufacturers report new orders. GDP rose at a 6.1 percent in the second half of 2003, the fastest pace in nearly 20 years. Inflation remains low, and our Nation's homeownership rate just reached an alltime high. For the first time in our history, more than half of minority households own their own homes.
All of these are signs that our economic recovery is becoming a lasting expansion. Yet many of the new jobs being created require workers to learn new skills, and we can make sure that more Americans are prepared for these new opportunities.
Our efforts begin in our elementary schools, where students learn the basic skills that carry them through life. With the No Child Left Behind Act, we have raised standards, and we're making sure children learn the basics. Now we need to stay the course of reform, because the No Child Left Behind Act is opening the door of opportunity for all of America's children.
We must also help high school students to prepare for the new jobs our economy is creating. I've asked Congress to pass my Jobs for the 21st Century proposal, a plan that would help students who fall behind in reading and math, expand advanced placement programs in low-income schools, and provide larger Pell grants for students who prepare for college with demanding courses in high school.
We also recognize that many workers change jobs in the middle of their careers, and they often get the training they need at community colleges. I have asked Congress to provide $250 million to community colleges to help Americans get the skills they need for high-growth fields. Over the last several weeks, I have met with men and women who are studying at these colleges and are on their way to better careers.
Toledo, Ohio, I met with Mike Potter. After getting laid off in March 2003, Mike enrolled at Owens Community College's integrated systems technology program, which is supported by a Department of Labor grant. Mike got a new job soon and is earning more than he did before. Here is what Mike told me: "People don't want to see a person with just one skill anymore. They want several skills."
My administration is committed to helping more people like Mike learn the skills they need. And we will continue pursuing a progrowth economic agenda so that every person who wants to work can find a job.
We'll help create more jobs in America by making tax relief permanent, by enforcing spending discipline and reducing the deficit, by enacting commonsense reforms to our regulatory and legal systems, by taking steps to make health care more affordable and accessible, by passing a national energy policy, and by opening up more foreign markets for trade. Taking these steps will add momentum to our Nation's economic expansion and extend jobs and prosperity to more Americans.
I'm optimistic about our future, and one reason is because of America's workers and entrepreneurs. They are talented and hardworking, and they carry with them the spirit that has always made America a place of hope and opportunity.
Thank you for listening.
NOTE: The address was recorded at 11 a.m. on February 6 in the Cabinet Room at the White House for broadcast at 10:06 a.m. on February 7. The transcript was made available by the Office of the Press Secretary on February 6 but was embargoed for release until the broadcast. The Office of the Press Secretary also released a Spanish language transcript of this address.
George W. Bush, The President's Radio Address Online by Gerhard Peters and John T. Woolley, The American Presidency Project https://www.presidency.ucsb.edu/node/212436