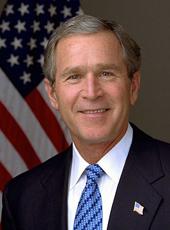 The President's Radio Address
Good morning. Next week, the United States Treasury will begin printing and mailing more than 25 million child tax credit checks, putting over $12 billion back into the hands of American families. These rebates are the result of the Jobs and Growth Act I recently signed into law, which increases the child tax credit from $600 to $1,000 per child. And because this new law reduced income tax rates, businesses earlier this month lowered tax withholding for worker paychecks. Now, those workers and their families have a lighter tax bill and more take-home pay.
With the child tax credit rebates and the lower tax rates taking effect, America's families will have more of their own money to make purchases, pay their bills, save for their children's education, and invest in a new home or business. There are hopeful signs that our actions are contributing to economic growth. Individual investors are showing greater confidence, leading to a significant rise in the stock market. And thanks to our efforts to reduce taxes on stock dividends, dozens of major companies have announced plans to either increase their existing dividend payout or pay dividends for the first time, putting billions of dollars in cash into shareholders' pockets.
Earlier this week, I met with leading private economists who see a faster rate of economic growth in the coming year-and-a-half. The U.S. housing market is robust, strengthened by low mortgage rates and rising after-tax incomes. Inflation is low. Retail sales have been rising, and productivity growth, the most important indicator of economic strength, remains high.
My administration remains focused on faster economic growth that will translate into more jobs. Now that Americans can keep more of what they earn, we can expect to see rising demand for goods and services. And as demand increases, companies will need more workers to meet it.
We will continue to take action on a broad agenda for more growth and jobs. We are pressing the Senate to join the House of Representatives in passing an energy bill to assure stable and affordable energy supplies. And we're pressing the Senate on litigation reform, so small businesses and manufacturers can focus on creating jobs instead of fighting frivolous lawsuits. I'm asking both Houses of Congress to create reemployment accounts for those seeking jobs, so they can pay for job training and child care and other costs of finding work.
Faster economic growth will bring the added benefit of higher revenues for our Government, and those new revenues, combined with spending discipline in Washington, DC, are the surest way to bring down the deficit. My budget for fiscal year 2004 calls for a modest increase in discretionary spending of only 4 percent, or about the same increase as the average American household budget. I urge Congress to make spending discipline a priority, so that we can cut the deficit in half over the next 5 years.
Government does not create prosperity. Government can, however, create the conditions that make prosperity possible. The Jobs and Growth Act of 2003 was based on the fundamental faith in the energy and creativity of the American people. With hard work and daily determination, entrepreneurs and workers are moving this economy forward. The American economy is headed in the right direction, and we can be confident of better days ahead.
Thank you.
NOTE: The address was recorded at 10:50 a.m. on July 17 in the Cabinet Room at the White House for broadcast at 10:06 a.m. on July 19. The transcript was made available by the Office of the Press Secretary on July 18 but was embargoed for release until the broadcast. The Office of the Press Secretary also released a Spanish language transcript of this address.
George W. Bush, The President's Radio Address Online by Gerhard Peters and John T. Woolley, The American Presidency Project https://www.presidency.ucsb.edu/node/216147