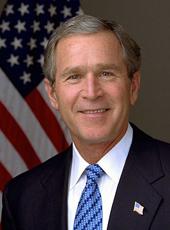 The President's Radio Address
Good morning. Owning a home lies at the heart of the American Dream. A home is a foundation for families and a source of stability for communities. It serves as the foundation of many Americans' financial security. Yet today, while nearly three-quarters of all white Americans own their homes, less than half of all African Americans and Hispanic Americans are homeowners. We must begin to close this home-ownership gap by dismantling the barriers that prevent minorities from owning a piece of the American Dream.
The single greatest hurdle to first-time homeownership is a high downpayment requirement that can put a home out of reach, so my administration is proposing the American Dream Downpayment Fund. When a low-income family is qualified to buy a home but comes up short on the downpayment, the American Dream Down-payment Fund will help provide the needed funds. We estimate that this fund will open the door to homeownership for 40,000 low-income families annually.
A second obstacle to minority home-ownership is a lack of affordable housing. To encourage the production of single-family homes for sale in neighborhoods where affordable housing is scarce, my administration is proposing a single-family affordable housing credit. Over the next 5 years, this will provide developers nearly $2.4 billion in tax credits for building affordable single-family housing in distressed areas. These credits will make 200,000 new homes available over its first 5 years to low-income purchasers.
A third major obstacle to minority home-ownership is the complexity and difficulty of the purchasing process, so we're stepping up our efforts to better educate first-time home buyers. Consumers need to know their rights and responsibilities as home buyers. Education is the best protection for families against abusive and unscrupulous lenders. Financial education and housing counseling can help protect home buyers against abuses, greatly improve the loan terms they are offered, and help families get through tough times with their homes intact.
Through these important initiatives, we can help thousands of American families live the kinds of lives they had once only dreamed about. But Government action isn't enough. We need to energize and engage the private sector as well. That is why I have challenged the real estate industry leaders to join with the Government, with non-profit organizations, and with private-sector financial institutions in a major nationwide effort to increase minority home-ownership.
My approach to broadening homeowner-ship focuses on empowering people to help themselves and to help one another. These important initiatives will accomplish their purpose because Americans, working together and taking responsibility for one another, will make this great country even greater.
The strength of America lies in the honor and the character and good will of its people. When we tap into that strength, we discover there is no problem that cannot be solved in this wonderful land of liberty.
Thank you for listening.
NOTE: The address was recorded at 11:42 a.m. on June 13 in the Cabinet Room at the White House for broadcast at 10:06 a.m. on June 15. The transcript was made available by the Office of the Press Secretary on June 14 but was embargoed for release until the broadcast. The Office of the Press Secretary also released a Spanish language transcript of this address.
George W. Bush, The President's Radio Address Online by Gerhard Peters and John T. Woolley, The American Presidency Project https://www.presidency.ucsb.edu/node/215205