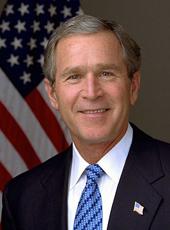 The President's Radio Address
Good morning. This week I marked National Homeownership Week by volunteering with a local Habitat for Humanity work crew in Tampa, Florida. I was privileged to work with local volunteers to help build a home for Johana Rodriguez and her family. Like all Habitat families, Ms. Rodriguez contributed her own hard work to her home's construction. And she takes great pride in the fact that she'll soon fulfill the American Dream of being a homeowner.
More Americans than ever before are experiencing that dream. But it still eludes too many people. For instance, while the rate of homeownership amongst all Americans is nearly 68 percent, the rate among African American and Hispanic families is under 50 percent. These numbers are troubling, because homeownership lies at the heart of the American Dream. It is a key to upward mobility for low- and middleincome Americans. It is an anchor for families and a source of stability for communities. It serves as the foundation of many people's financial security, and it is a source of pride for people who have worked hard to provide for their families. We need to do more to promote homeownership in America. And my administration is proposing a number of ways to do just that.
Our 2002 budget dedicates more than $30 billion to the Department of Housing and Urban Development. This is an increase of almost $2 billion over current funding levels. We are working in a variety of ways to build and sustain neighborhoods in inner cities and rural communities across America.
One particular program, the American Dream Downpayment Fund, will provide $200 million in downpayment assistance to help 130,000 low-income families buy homes. In addition, my administration announced earlier this week a program to allow people who receive low-income rental assistance to bundle a year's worth of payments and use the money for a downpayment or to make monthly payments on a new mortgage.
We're also proposing a $1.7 billion tax credit to support the rehabilitation or new construction of up to 100,000 homes over a 5-year period. And this week I was proud to sign a bipartisan tax relief bill that will let Americans keep more of their hardearned money, money they can use to help purchase a new home or pay the mortgage of an existing home.
Government can play a helpful role, but so must many others. My administration is dedicated to helping the private sector organizations, like Habitat for Humanity, that build homes and lift lives. HUD's Self-Help Ownership Opportunity Program provides seed money to groups like Habitat to purchase land for homes and build streets and utilities in local neighborhoods. Next year's budget will propose tripling the program's funds to expand its reach.
If you have an opportunity to help Habitat for Humanity or other organizations working to make the American Dream a reality for more families, I hope you do so. Government funding can help, but Habitat relies on volunteers to accomplish the bulk of its mission. And I can tell you from personal experience, there's no better way to feel like you're making a difference than to put hammer to nail and help people realize their dreams.
Thank you for listening.
NOTE: The address was recorded at 2:10 p.m. on June 7 in the Cabinet Room at the White House for broadcast at 10:06 a.m. on June 9. The transcript was made available by the Office of the Press Secretary on June 8 but was embargoed for release until the broadcast. The Office of the Press Secretary also released a Spanish language transcript of this address.
George W. Bush, The President's Radio Address Online by Gerhard Peters and John T. Woolley, The American Presidency Project https://www.presidency.ucsb.edu/node/216009