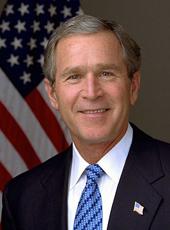 The President's Radio Address
Good morning. As you hear this, I am in Canada for the Summit of the Americas, joined by leaders of 33 other democratic nations. Only one country in the Western Hemisphere is not represented, because that country, Cuba, is the only one that is not yet a democracy.
Democracy's progress in our part of the world is not total, but it is remarkable. We live in a hemisphere defined by the ideas and aspirations of freedom. Some 800 million people live in the Americas; 11 million of them live under dictatorship.
We are pleased that many countries in the Americas joined us in passing a resolution this week at the U.N. Commission on Human Rights. They have called upon Cuba to respect the rights of its citizens. We know that for the people of Cuba, their day of freedom will come.
The future of our country is closely tied to the future of our hemisphere. Many Americans trace their roots to other parts of the Americas, ties that have enriched our culture. Many American businesses are finding new markets and opportunities in the Americas, which creates jobs at home and promotes economic growth abroad. And all Americans benefit when our closest neighbors are peaceful, stable, and enjoy stronger economies.
The forces of democracy in our hemisphere are strong, but they are threatened by poverty and illiteracy and the drug trade. So at this summit we are discussing a very practical agenda to strengthen democracy.
We must tear down the barriers of ignorance and illiteracy that limit the ambitions of so many children in our hemisphere and feed their frustrations. We will work with our neighbors to find ways to give all our children quality schools, because learning and literacy are the foundations for development and democracy.
We must make new efforts to confront the problem of illegal drugs. Our country is committed to reducing the demand for drugs at home, and we must help other countries fight the supply of drugs at their source.
And we must renew our commitment to free trade. The people of Canada, Mexico, and the United States have benefited greatly from the North American Free Trade Agreement. NAFTA has created good jobs in all three nations. Now we must extend those opportunities to all with a free trade agreement for the entire Western Hemisphere. This will be good for American workers, from farmers and ranchers to high-tech entrepreneurs. It will also be good for the poor in other countries, increasing their wages and opportunities. This is an agenda that stretches far beyond our borders.
But when I return to Washington tomorrow, the most pressing business concern: some long overdue reforms here in our own country. Early next week my plan to reform our public schools is expected to come up for debate in the Senate. It is the best chance we have had for meaningful education reform in a generation, and we must not waste it.
Education reform must be a bipartisan effort. I have reached out to Members of Congress in both parties, and we have achieved a broad consensus on major reforms. Yet the goal here is not just to pass legislation; it is to pass meaningful legislation. And some principles cannot be compromised. The final bill must have strong accountability for our schools, accountability developed by States and local jurisdictions. And for parents with children in failing schools, we must offer options. No parent should be left powerless and no child left helpless in a system that is not doing the job it is supposed to do.
There is a lot going on in Washington and the world—a summit, a tax relief debate, major education reform. But few things are as important as giving all our children the tools of learning. I hope you will support my education reform plan. And I hope you encourage your Senators to do the same.
Thank you for listening.
NOTE: The address was recorded at 9:15 a.m. on April 20 in the Cabinet Room at the White House for broadcast at 10:06 a.m. on April 21. The transcript was made available by the Office of the Press Secretary on April 20 but was embargoed for release until the broadcast.
George W. Bush, The President's Radio Address Online by Gerhard Peters and John T. Woolley, The American Presidency Project https://www.presidency.ucsb.edu/node/216818