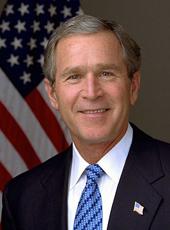 The President's Radio Address
A week ago today I received a great honor and all the great responsibilities that come with it. The first order of business is education reform, and we have started strong.
On Tuesday I sent to Congress a package of reforms to turn last year's pledges into this year's laws. I want to make all of our public schools places of learning and high standards and achievement. Our country must offer every child, no matter what his or her background or accent, a fair start in life with a quality education.
I also met this week with congressional leaders in both parties, and we found a lot of agreement on the basic goals of reform. No one is content with the status quo. Most are open to new ideas. Everyone agrees, at least, that the problems are serious and action is urgently needed.
This city has heard so much talk over the years about education reform. So many different approaches have been tried. So many new programs have been created. But we need more than a few new programs; we need a new way of thinking. We must go back to the fundamentals of early reading and regular testing, local control and accountability for results, clear incentives for excellence and clear consequences for failure. These are the elements of the plan I am proposing.
Real reform starts by giving schools and school districts more authority and flexibility. We cannot expect schools to change unless they have the freedom to change. My plan respects the principle of local control. It does not try to run the schools from a central office in Washington. I view principals, teachers, and parents as allies in reform. They are ready to raise the standards, ready to take responsibility and answer for results.
Those results must be measured by testing every child every year, in tests developed and administered by States and local districts, not the Federal Government. Without yearly testing, we do not know who is falling behind and who needs our help. Without yearly testing, too often we don't find failure until it is too late. Testing allows us to help children early, before frustration turns into apathy.
We need to aim high, but we also need to be realistic. Many schools, particularly those in poor neighborhoods, will need help to meet high standards. And they will have it, including a new $5 billion initiative over 5 years for reading instruction. The goal is to improve our public schools. We want them to succeed, and when they're willing to change, we'll give them the tools to do so.
At the same time, we will not continue to pour taxpayers' money into schools that do not teach and will not change. My plan will give every failing school a fair chance to improve, but there will be a deadline, a moment of truth when parents are given better options and their children are given a way out.
There are some honest differences of opinion in Congress about what form these options should take. I have my own plan which would help children in persistently failing schools to go to another public, private, or charter school. Others suggest different approaches, and I am willing to listen. But all reform must be based on a principle: Children and parents who have had only bad choices need better choices. And it is my duty as President to help them.
In sending my plan to Congress, I ask that we act before this summer, when schools begin planning for the next school year. I hope to have the support of Republicans and Democrats alike, and I hope to have your support, as well.
Thank you for listening.
NOTE: The President spoke at 10:06 a.m. from the Oval Office at the White House.
George W. Bush, The President's Radio Address Online by Gerhard Peters and John T. Woolley, The American Presidency Project https://www.presidency.ucsb.edu/node/216574