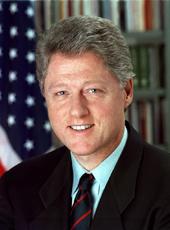 The President's Radio Address
Good morning. Every Saturday for the past 8 years, I've had the privilege of speaking with you by way of this radio address. Most often, I've talked about meeting our common challenges with commonsense solutions, practical, progressive steps to build an America with opportunity for every responsible citizen, a community of all Americans, and a more peaceful, prosperous world.
We've had more than 400 of these Saturday conversations now, so it's fitting that this last one comes on my final day in office. This is, of course, Inaugural Day, an extraordinary day for freedom when the magic, the mystery, the miracle of American democracy is on full display.
The peaceful transfer of power from one administration to the next, from one party to another, may confound others around the globe. But it reflects the underlying strength of our Constitution and rule of law.
As my time in office comes to an end, the most important thing I can say is a simple, heartfelt thank you. Thank you for the opportunity to serve as your President and as Commander in Chief to our fine men and women in uniform. Thank you for the honor of working with you to build our bridge to the 21st century. Thank you for the prayers, love, and support you've extended to Hillary, Chelsea, and me every single day.
I also want to thank all the men and women at the White House who have worked so hard to help me do my job, from the Secret Service to the Residence staff, to those who keep the people's house open for all to enjoy. And I am forever grateful to Vice President Gore for his extraordinary leadership and service, to my Cabinet, and to all others who have served with me.
For 8 years, we've done everything in our power to reach beyond party and beyond Washington to put the American people first, overcoming obstacles, seizing opportunities. That's what these radio addresses have been all about. These Saturday talks have often marked action taken to make our schools stronger, our environment cleaner, our food safer, our health care more secure. Some have been big steps and some smaller. But every step has moved us forward, and taken all together, they have made an enormous difference in the lives of our people. And we're not done yet.
I pledged that I would work until the last hour of the last day. Well, here we are. So, this morning we're building on our commitment to make our streets safer by awarding more than $100 million to fund 1,400 more police officers in communities throughout our land. Back in 1992 I promised that we would fund 100,000 police officers across America. With this announcement, we will have funded 110,000. That's 110 percent of our goal. And I thank our police officers for giving 110 percent to the job. That's a big reason crime is down to a 25-year low.
Now my job as your President draws to a close, and the work of our new President begins. I want to wish President-elect Bush, Vice President-elect Cheney, their families and entire administration the very best. I know you do, too. Thanks to your work, he takes the reins of a nation renewed, ready to move into a new century and a whole new era in human affairs. I join every American in wishing him Godspeed.
In my first radio address, almost exactly 8 years ago now, I spoke about the challenges we faced at that time but also about my abiding faith in the American people. Back then I said, "We're going up or down together, and I'm convinced we're going up." The progress of the last 8 years, the strong values, can-do spirit, and basic goodness of the American people leave me more convinced than ever we're still going up.
If we keep working together to widen the circle of opportunity, deepen the reach of freedom, strengthen the bonds of community, America will always be going up.
Thank you for listening each and every week. Thank you again for the honor of serving as your President these past 8 years.
God bless you, and God bless America.
NOTE: The address was recorded at 5:50 p.m. on January 19 in the Oval Office at the White House for broadcast at 10:06 a.m. on January 20. The transcript was embargoed for release until the broadcast.
William J. Clinton, The President's Radio Address Online by Gerhard Peters and John T. Woolley, The American Presidency Project https://www.presidency.ucsb.edu/node/228008