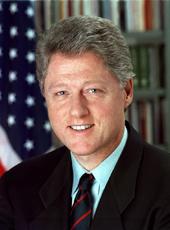 The President's Radio Address
Good morning. All across America, friends and families are still savoring the joys—and the leftovers—of a bountiful Thanksgiving. This weekend also marks the traditional start of the holiday shopping season. But even as many of us head out to buy that perfect gift for those we love, millions of Americans are also extending their generosity to people they've never met.
Last year Americans gave a record $190 billion to charitable causes: to feed the hungry, immunize children, build homes, tutor immigrants, restore parks, and send disaster relief to hard-hit people all around the world. Working with America's extensive network of nonprofit and faith-based organizations, we're making a difference, but we still have more to do.
Today I'm releasing a report from the Council of Economic Advisers that examines this resurgence of charitable giving and outlines proposals to further cultivate public generosity. I'm also announcing the launch of a new $2 million privately funded initiative designed to introduce more young Americans to the rewards of charitable giving.
Both of these efforts emerged from last year's White House Conference on Philanthropy, which Hillary and I organized to showcase America's great tradition of giving. To keep the momentum going, we also formed a task force on nonprofits and governments which will soon issue a roadmap for creating innovative partnerships between nonprofit organizations and Federal agencies. We're tackling America's toughest challenges together and making the most of the American people's enduring spirit of generosity.
Now, according to the Council of Economic Advisers, charitable gifts now exceed 2 percent of our gross domestic product, the highest level of giving in nearly three decades. Sustained by a strong economy and rising incomes, charitable giving has jumped more than 40 percent since 1995. At the same time, both donors and charities have become much more sophisticated, often using the Internet for research, education, and, increasingly, to make contributions.
Overall, 70 percent of America's households made charitable contributions last year, even those who didn't have much extra to spare. In fact, half of all Americans with incomes of less than $10,000 made a charitable contribution. And as a percentage of their net wealth, families with the lowest incomes gave much more than the wealthiest. That's both humbling and inspiring, and suggests a tremendous potential for growth in charitable giving by well-to-do Americans.
This new report also reveals that people over the age of 65 are much more likely to make charitable contributions than younger people, even after accounting for differences in income and wealth. Perhaps, having earned the wisdom of a lifetime, seniors understand that the satisfaction of charitable giving cannot be measured in dollars and cents. And they know that personal generosity is an essential ingredient in the mortar that binds our entire community together.
Given this truth, how can we do a better job of engaging younger Americans in giving? We know already that they care about their communities, because so many are volunteering for local causes. Nearly 150,000 of them have joined AmeriCorps over the past 8 years, dedicating at least a year of their lives to public service.
According to one recent study, this youthful spirit of community can be translated into a lifetime of financial support for worthy causes but only if we engage people early and teach them the importance of philanthropy. With the help and guidance of several major philanthropic organizations, we developed a national blueprint to do just that, the Youth Giving Project.
Building on the success of a program in Michigan, this grassroots initiative will train young people to identify charitable needs in their own communities, teach them how to raise and distribute money to address those needs, and build leadership skills along the way. It will be coordinated by a nonprofit coalition of experts on youth programs that can provide local groups with training materials, access to a comprehensive web site, and expert advice.
This is just a small investment with a potentially great dividend. The baby boom generation stands poised to inherit $12 trillion from the World War II generation. And it's likely their children will inherit even more. With that in mind, we need to help younger people recognize their own capacity to do good and help them discover the rewards of generosity.
In this time of prosperity and season of sharing, let's remember: When we give what we can and give it with joy, we don't just renew the American tradition of giving, we also renew ourselves.
Thanks for listening.
NOTE: The address was recorded at 10:15 a.m. on November 24 in the Laurel Conference Room at Camp David, MD, for broadcast at 10:06 a.m. on November 25. The transcript was made available by the Office of the Press Secretary on November 24 but was embargoed for release until the broadcast.
William J. Clinton, The President's Radio Address Online by Gerhard Peters and John T. Woolley, The American Presidency Project https://www.presidency.ucsb.edu/node/220032