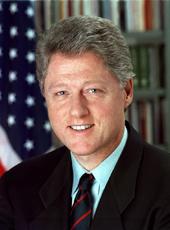 The President's Radio Address
Good morning. This weekend marks the start of the summer recess for Members of Congress. Many are heading home to their districts, and most Republicans are meeting in Philadelphia for their party's convention.
But wherever they go, I hope they will be thinking of the millions of Americans for whom summer vacations are not an option, the millions who work all summer long, all year long, earning no more than the minimum wage.
I want to talk to you today about giving these hard-pressed Americans a much-deserved raise and helping them to live the American dream. The face of the minimum wage is the face of America. Every one of us knows at least one person who works for minimum wage. It might be a member of your family. It might be the person who cares for your children during the day or serves you lunch at the shop on the corner or cleans your office every night.
Seventy percent of the workers on the minimum wage are adults; 60 percent are women; and almost 50 percent work full-time. Many are their families' sole breadwinners, struggling to bring up their children on $10,700 a year. These hard-working Americans need a raise. They deserve it. They've earned it.
I've always believed that if you work hard and play by the rules, you ought to have a decent chance for yourself and for a better life for your children. That's the promise I made when I first ran for President, and that's the basic bargain behind so much of what we've done in the years since, from expanding the earned-income tax credit for lower income working people to passing the Family and Medical Leave Act, from increased child care assistance to health care for children to helping millions and millions of Americans move from welfare to work.
That's also why, in 1996, we raised the minimum wage to $5.15 an hour over 2 years. It's high time we did it again. In fact, it's long overdue.
More than a year ago now, I proposed to raise the minimum wage by $1 over 2 years, a modest increase that merely restores the minimum wage to what it was back in 1982 in real dollar terms. Still, it's no small change. For a full-time worker, it would mean another $2,000 a year—$2,000 more to pay for a child's college education, to cover critical health care, to pay the rent. And for a year now, the Republican leadership has sat on that proposal.
Back in 1996, the last time we raised the minimum wage, some of these same Republicans called it, and I quote, "a job killer cloaked in kindness." They said it would cause—again, a quote—"a juvenile crime wave of epic proportions." Well, time has not been kind to their predictions, and neither have the numbers. Our economy has created more than 11 million new jobs since we last raised the minimum wage. And study after study shows that a raise in the minimum wage is good not only for working families; it's good for our entire economy, especially at a time of labor shortages when we want to increase incentives for all Americans who can, to find work.
So this time, unlike the last time, the congressional majority knows better than to speak against raising the minimum wage. This time, instead of arguing the facts, the leadership is playing legislative games, stalling action, and stifling debate. Already, these delays have cost the minimum wage worker more than $900 in hardearned pay. To paraphrase Shakespeare, they've come to bury the minimum wage, not to raise it.
For working Americans, the wait grows longer. As recently as this week, the majority in Congress was still talking about raising the minimum wage, but they couldn't bring themselves to actually do it. In the last hours before their recess, they were still working overtime to give tax breaks to the tiniest, wealthiest fraction of America's families and still doing nothing for the 10 million people who would benefit from a boost in the minimum wage.
This weekend Republican leaders gather in Philadelphia. From their seats inside the convention hall, I hope they'll stop a moment to think of Americans outside that hall—Americans working in the restaurants, the shops, the hotels of Philadelphia, working hard for the minimum wage.
If Republican leaders really want to make their compassion count, they ought to join me in getting back to business and raising the minimum wage. I hope the majority will join the Democrats to seize this moment, to stop the delays, to work with me to help our working families.
Thanks for listening.
NOTE: The address was recorded at 1:03 p.m. on July 28 in Room 606 at Barrington High School, Barrington, RI, for broadcast at 10:06 a.m. on July 29. The transcript was made available by the Office of the Press Secretary on July 28 but was embargoed for release until the broadcast.
William J. Clinton, The President's Radio Address Online by Gerhard Peters and John T. Woolley, The American Presidency Project https://www.presidency.ucsb.edu/node/217583