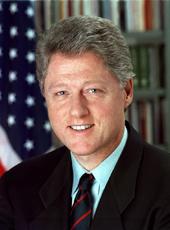 The President's Radio Address
Good morning. Millions of Americans will hit the highway this weekend to join their families in celebrating the birth of our Nation and the independence we enjoy. While our Nation has never been stronger or more prosperous, we must do more to free working families from the grip of rising energy costs, especially the price we pay at the pump.
We're all feeling the effects of higher gas prices. That's why our administration is taking action to meet America's energy needs in both the short and long term. Right now the Federal Trade Commission is conducting an investigation to determine if oil companies are engaging in illegal gasoline pricing practices.
In the 2 weeks since the investigation began, prices have fallen 8 cents a gallon at the pump in the Midwest and more than 12 cents a gallon at the pump in the Chicago region. We're also continuing to work with foreign countries to close the gap between oil production and consumption. While that's good news, we still have more to do to strengthen our security over the long term. That's the most important thing.
Over the last 7 years, with the Vice President's leadership, our administration has pursued a forward-looking and balanced strategy that increases both our energy supply and our energy efficiency, saving consumers money and preparing for unexpected energy shortages in the future. For example, we've invested in new technologies to more efficiently develop our domestic oil reserves and to promote wind, solar, and other alternative sources of energy. My budget this year includes several other measures to further enhance our energy security.
Unfortunately, the Republican Congress has failed to act on key elements of our strategy to meet America's energy needs in the 21st century. They want to revert to an old 19th century approach that endangers our environment instead of one that invests in the future.
Since 1993, the Congress has approved only 12 percent of the increases I've proposed to develop clean, efficient sources of energy. Now the Republican leadership wants to gut the programs they've already approved, like our partnership with Detroit to develop ultra-efficient cars of the future, and they want to turn back the progress we've made to protect our treasured lands by expanding drilling in our most precious natural areas, from the Arctic National Wildlife Refuge in Alaska to Federal lands in the Rockies and along the California coast. That's a shortsighted approach to a long-term problem.
Instead of drilling holes in our progress, I ask Congress again to approve the steps we have proposed to increase our energy supply, to protect the environment, to increase energy conservation, and keep our economy strong.
First, I propose tax incentives to support domestic oil production and the development of alternative energy sources. I've also proposed commonsense tax credits to help families and businesses buy fuel-saving cars, energy-efficient homes, buildings, and appliances. These measures won't just save energy; they'll also reduce pollution and put money back in the pockets of consumers. Only by developing new technologies can we ensure a cleaner future where we're not as reliant on fossil fuels and foreign oil.
Second, in my budget this year I've asked for more than $1 billion to accelerate the research and development of cleaner, more efficient energy technology. These investments will help to develop the technologies that will allow us to convert corn and other crops into the fuels of tomorrow.
Third, I've proposed comprehensive legislation to foster a new era of competition in the electricity industry. By allowing consumers all across our country to choose their own electric supplier, we can enhance the reliability of electric power and save consumers nearly $20 billion a year on energy costs.
Fourth, I've asked Congress to reauthorize the Strategic Petroleum Reserve, a critical part of our Nation's insurance policy against national emergencies caused by interruptions in the supply of oil.
Once again, I ask Congress also to establish a home heating oil reserve in the Northeast to reduce the likelihood that future heating oil shortages will harm consumers as they did this past winter. I've also asked Secretary Richardson to take the steps necessary to create a reserve through administrative authority if Congress does fail to act, so that a heating oil reserve will be in place by next winter.
At the beginning of the 20th century, Teddy Roosevelt reminded us, "Neither man nor nation can prosper unless, in dealing with the present, thought is steadily taken for the future." That's the vision that guided our Founding Fathers. It's especially true today when it comes to our energy security. If we take the right steps now, we can secure our independence, protect our environment, and continue to grow our economy for generations to come.
Have a happy and healthy Fourth of July, and thanks for listening.
NOTE: The address was recorded at 10:21 a.m. on June 30 in the Pennsylvania Convention Center in Philadelphia, PA, for broadcast at 10:06 a.m. on July 1. The transcript was made available by the Office of the Press Secretary on June 30 but was embargoed for release until the broadcast.
William J. Clinton, The President's Radio Address Online by Gerhard Peters and John T. Woolley, The American Presidency Project https://www.presidency.ucsb.edu/node/220205