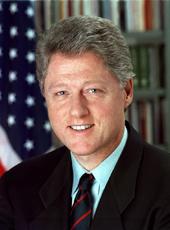 The President's Radio Address
Good morning, and a happy Thanksgiving weekend to all of you. To the millions of Americans who have traveled to be with loved ones during this special time of year, I wish you a safe and peaceful journey home. We Americans have a lot to be thankful for this Thanksgiving.
On behalf of all of our citizens, I want to begin by thanking our brave service men and women who are so many miles from home this Thanksgiving, serving our country with honor overseas, in every corner of the world and especially those who are working at restoring democracy in Haiti and keeping the peace in the Persian Gulf.
This is the first Thanksgiving since the dawn of the nuclear age when parents can tuck their children into bed at night knowing that no Russian missiles are pointed at the children of the United States. The third largest nuclear power, Ukraine, has just agreed to eliminate all of its nuclear weapons, and they're being dismantled with our assistance. Just this week, the United States removed a major nuclear stockpile, enough for 20 nuclear devices from the former Soviet republic of Kazakhstan. And finally, we have concluded an agreement with North Korea to freeze and dismantle that country's ability to build nuclear weapons.
Over the past year, we've also been privileged to see the American dreams of freedom, democracy, and peace advanced with our support in the Middle East, in Northern Ireland, in South Africa, in Haiti, and Eastern and Central Europe, full of people who are making courageous efforts to escape the shackles of the past and realize their own dreams for tomorrow.
For America to remain strong, however, around the world, we know we have to be strong at home. Therefore, we must keep striving to keep our Government working again for ordinary Americans, to improve our economy, to give our people the chance to build a more prosperous and secure future in the 21st century.
We're in the process of great changes, but we have more to do. We have 5 million more jobs than we had 22 months ago, but still too many people who never get a pay raise and who are losing their health benefits. We have more loans for middle class college students. But still there are too many who need more education all throughout their lives, including working people. We have a tough new crime bill, but there's a lot to do to make our streets safer.
We've done things for working families like the family leave law and tax cuts for 15 million families who live on modest incomes. But there's still too much family breakup. There are too many children born where there were never families in the first place. There's a lot to be done here.
We're making great changes in our Government. It's smaller, it's more effective, but there is still more to be done before we liberate our National Government from the stranglehold of special interests.
We must be thankful, with all of our challenges, for what's right with America. And we have to remember that the real strength of our country is still in the work of our citizens. They're the ones who keep our country strong, who keep us together, who keep us moving forward. They're what America is all about, people who take responsibility to improve their own lives and to make a difference in the lives of others.
I'm committed to make your Government work for ordinary Americans again. Nobody wants Government on our backs, but we do need a strong, if limited, Government by our side. Everything we do in Washington should be as relevant and responsive to your lives as the work of those just around you.
Consider the Americans who are fighting crime. Just last month, several strangers in New York City came to the rescue of a man who was being mugged and stabbed as he tried to use a bank teller machine. These brave heroes helped the victim to safety and then held the assailant down until police could come to make an arrest. Our new crime bill puts 100,000 more police on the streets and takes military assault weapons off the streets, but we still need citizens like this to make our streets safe.
Remember the Americans who are doing so much to help others. Every day thousands of members of our new domestic Peace Corps, AmeriCorps, are working to make our people smarter, safer, and healthier. Out in rural Kansas, Nanci Ridge has been trained by AmeriCorps to give emergency medical assistance. Now every day she helps police or fire departments or teaches school kids safety. But she spent Thanksgiving fielding emergencies at the local county hospital, giving some of the regular staff the holiday off and keeping the country protected. That's what AmeriCorps is about; that's what America's about.
And finally, let's think about the Americans who are doing so much to help our children live up to their God-given potential. Five years ago in Buffalo, New York, Lloyd Hargrave helped start a parent resource center to get parents more involved in the education of their children. Today, the center offers nightly tutoring programs to help parents do a better job at helping their children learn. And the center lends computers to families that otherwise wouldn't have them in their homes.
Working with children in that way is one of the most important things any of us can do to keep our country strong. Our Government can help, and we are. We're expanding Head Start, promoting programs in our schools like character education. But in the end, children need to know that adults care about them, that they're part of a loving family, a caring community. They need to be told by someone that they're the most important person in the world.
So this holiday season as we count our blessings and face our challenges, let us commit ourselves to giving our children a future they can be thankful for every Thanksgiving for a long, long time.
I hope you enjoy this holiday weekend, and thank you for listening.
NOTE: The address was recorded at 10:29 a.m. on November 25 in the Laurel Lodge at Camp David, MD, for broadcast at 10:06 a.m. on November 26.
William J. Clinton, The President's Radio Address Online by Gerhard Peters and John T. Woolley, The American Presidency Project https://www.presidency.ucsb.edu/node/218692