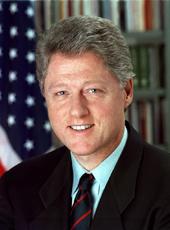 The President's Radio Address
Good morning. This week I'm in Chicago, where my radio address is carried live each week by radio station WMAQ.
One week ago, America stood ready to use force if necessary to help restore the democratically elected government in Haiti. American power marshaled in pursuit of our national interest enabled American diplomacy to succeed. Haiti's military leaders agreed to leave power no later than October 15th. And our troops entered Haiti peacefully and without bloodshed, leading an international coalition of 28 nations that will work to bring greater security to the people and restore to power Haiti's democratically elected government.
Today I am pleased to report on the progress of our mission. The U.S. contribution to the international coalition will soon be at full strength, some 14,000 American service men and women. Our troops include nearly 1,000 military police, who are working to help ensure that the Haitian police act with restraint toward the Haitian people. Police monitors from our coalition partners, Argentina, Jordan, and Bolivia, are expected to arrive next week. And the United Nations human rights observers expelled from Haiti 2 months ago will soon return. We've also have begun programs to confiscate heavy weapons controlled by the Haitian military and to buy back light weapons from the militia and civilians.
Our presence, in short, is helping to restore civil order in a country wracked by violence and instability. Perhaps the best evidence of our success is that 200 to 300 Haitian refugees who we sheltered at our base in Guantanamo will go home on Monday. And we expect more to follow soon.
This remains a difficult undertaking, as with all military operations, and as I speak to you, Secretary of Defense Perry and General Shalikashvili, Chairman of the Joint Chiefs of Staff, are traveling to Haiti to review our progress on the ground. I am proud of our troops and their commanders there. They deserve our thanks, our prayers, and our praise.
Our success in Haiti to date shows what the international community and American leadership can achieve in helping countries in their struggle to build democracy. Our mission, however, is limited. We must remember, as I plan to tell the United Nations General Assembly on Monday, that it is up to the people in those countries ultimately to ensure their own freedom. This is the great challenge and opportunity of democracy.
That's also one of the lessons I hope Americans will learn as Russian President Boris Yeltsin and South African President Nelson Mandela visit our country in the next 2 weeks. Their visits will be occasions to reflect on the remarkable democratic transformations of Russia and South Africa, which the United States has done a great deal to promote.
America should be proud of our leadership in helping to build open societies around the world. By supporting democracy and promoting economic growth, we are actively helping others, but we're helping ourselves at the same time.
Despite this, some people in our country question the importance of American engagement in the post-cold-war world. They say we should hide behind the walls of protectionism and isolationism. But they're wrong.
That's why early next week I'll submit to Congress legislation to implement the GATT world trade agreement, the largest trade agreement in history. By cutting tariffs around the world, GATT will mean a $36-billion tax cut for Americans over the coming 10 years. It will also generate between 300,000 and 700,000 permanent new jobs in those years and in time many, many more for our children. And most of all, it will mean that we are facing this moment of decision with the confidence we need to meet the challenges of the post-cold-war world, tearing down walls that separate nations instead of hiding behind them.
As we've learned again this week, when we approach our responsibilities around the world with the same sense of purpose, we can indeed accomplish great goals.
Thanks for listening.
NOTE: The President spoke at 9:06 a.m. from the Ritz Carlton Hotel in Chicago, IL.
William J. Clinton, The President's Radio Address Online by Gerhard Peters and John T. Woolley, The American Presidency Project https://www.presidency.ucsb.edu/node/217790