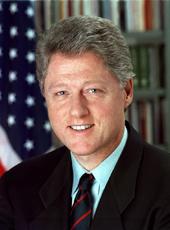 The President's Radio Address
Good morning. This has been an historic week for the American people. After 6 years of talking about crime, Members of Congress in both Houses from both parties overcame their partisan divisions and the false choices of the past to pass the toughest attack on crime in history. With a little good faith and an awful lot of hard work, both Democrats and Republicans took a stand against crime as the American people had demanded they do for years.
For all those Americans who want Washington to work for them, passing the crime bill shows we can break the stranglehold of politics-asusual and solve the problems you sent us all here to solve.
Crime and violence have been increasing for a long time. Too many law-abiding citizens have been killed on their streets and in their homes. Too many of our children have been terrified on their streets and in their schools. Too many police officers have been killed in the line of duty, too many families torn apart. But for 6 years, Washington just talked about the crime problem and failed to act. But this week, Congress acted. The special interests lost. The public interest won. Democrats and Republicans came together without regard to party to make America safer, and every American can take heart.
This is how Washington should work. It's how I wanted a Washington to work when I came here as President, and how I hope it will work in the future. All the elements of an anticrime program I talked about in my campaign for President are present in this bill and a lot more good things as well.
This crime bill will put 100,000 more police on our streets in community policing, walking the beat, preventing crime, as well as catching criminals. That's a 20 percent increase in the number of police officers in America. It will provide more prisons and longer sentences for violent criminals. It will lock up the most dangerous criminals for good by making "three strikes and you're out" the law of the land. It will provide greater protection to women and children by imposing tougher penalties on those who prey on them. It will say to anyone who kills a police officer, "You, too, can pay with your life."
The crime bill answers the call of police officers everywhere to do more to prevent crime from happening in the first place. It will help to steer young people away from gangs and drugs by helping them learn right from wrong and giving them something to say yes to as well as something to say no to.
This bill does make it clear that some things are very wrong and young people must say no to them. That's why it prohibits juveniles from owning handguns and prohibits them from using them except under the supervision of a qualified adult. And this bill does something else that police officers have wanted us to do for a very long time. It bans assault weapons that were designed for soldiers to use in war but that have been used instead by gang members and gangsters to make war on police and innocent citizens.
And in another dramatic departure from politics as usual, this entire crime bill will be paid for not with new taxes, not by increasing the deficit but by reducing the Federal work force by over a quarter of a million people to its lowest level in 30 years and taking all that money to empower people to make their lives safer. More police on the street, less Government in Washington, that's a good deal for the American people.
Let's remember why this bill finally passed. It passed because half a million police officers who risk their lives every day stood up and made their voices heard. It passed because the families of innocent victims like Polly Klaas stood up and made their voices heard. It passed because parents and teachers and senior citizens who want their streets back stood up and made their voices heard, the ordinary voices of ordinary Americans that Washington so often ignored. This week, they weren't ignored. This week they were heard, and they made all the difference.
We know many challenges remain. We waited 6 years for a crime bill. Now we have to implement that bill and make it work in the lives of the American people. But the American people have waited 60 years for Washington to do something comprehensive about health care. It's a difficult challenge; there are even more interest groups irate against making real change. But we have to meet it because it affects our children, our families, and our future, our human quality of life and our ability to pay for the basic things in life as well as to run the Federal Government without increasing the deficit.
Already we've made more progress on health care than ever before. Members of both parties are trying hard to work out their differences. And health care will be the first order of business when Congress returns. We have to continue this fight; we have to win it.
The crime bill shows we can. It shows that when we put aside the rhetoric and the partisanship, we can solve any issue and meet any challenge. Its narrow victory also shows the damage, the danger that partisanship can bring to our deliberation. But we can get past the partisan static that drowns out the voices of ordinary Americans. We can put cooperation over confrontation. We can move America forward. We can put the American people first, and we proved it this week.
Thanks for listening.
NOTE: The address was recorded at 5:35 p.m. on August 26 in the Roosevelt Room at the White House for broadcast at 10:06 a.m. on August 27.
William J. Clinton, The President's Radio Address Online by Gerhard Peters and John T. Woolley, The American Presidency Project https://www.presidency.ucsb.edu/node/218415