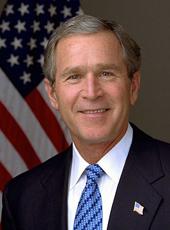 The President's Radio Address
Good morning. This week, the thoughts and prayers of millions of Americans are with the victims of the Virginia Tech attacks. We mourn promising lives cut short, we pray for the wounded, and we send our love to those who are hurting.
The day after the attack, Laura and I attended a memorial service on the campus in Blacksburg. We met with faculty members who lost students and colleagues and shared hugs with grieving moms and dads, including parents who had lost their only child. We offered what words of comfort we could, and we were moved by the solidarity and strength of spirit we found. We wanted everyone at the university to know that this tragedy saddened our entire Nation and that the American people stand with them in an hour of darkness.
We can never fully understand what would cause a student to take the lives of 32 innocent people. What we do know is that this was a deeply troubled young man, and there were many warning signs. Our society continues to wrestle with the question of how to handle individuals whose mental health problems can make them a danger to themselves and to others.
Colleges and State and local officials are now confronting these issues, and the Federal Government will help. I've asked top officials at the Departments of Education, Justice, and Health and Human Services to provide the Virginia Tech community with whatever assistance we can and to participate in a review of the broader questions raised by this tragedy.
I have directed these officials to travel to communities across our Nation to meet with educators, mental health experts, and State and local officials. I have asked the Secretary of Health and Human Services, Mike Leavitt, to summarize what they learn and report back to me with recommendations about how we can help to avoid such tragedies.
This week at Virginia Tech, we saw a glimpse of humanity at its worst, and we also saw humanity at its best. We learned of students who risked their own safety to tend to wounded classmates. We heard of a teacher who used his body to barricade a classroom door and gave his life so his students could escape through windows. And we saw the good people of Blacksburg embrace victims of this tragedy and help their neighbors endure and heal and hope.
That hope was expressed in a letter written by a Virginia Tech graduate shortly after the attack. He wrote: "Today there is pain everywhere in our community and our hearts are troubled. Yet I am certain our university will persevere." He continued, "Evil can never succeed, not while there are men and women like the people of Virginia Tech, who reach every day for success and endeavor for the improvement of the human condition across the planet."
This week, we reflect on what has been lost and comfort those enduring a profound grief. And somehow we know that a brighter morning will come. We know this because together Americans have overcome many evils and found strength through many storms. And we know there will be a day, as promised in Scripture, when evil will meet its reckoning and when every tear shall be wiped away.
May God bless those who mourn, and may God bless our wonderful country. Thank you for listening.
NOTE: The address was recorded at 7 a.m. on April 20 in the Cabinet Room at the White House for broadcast at 10:06 a.m. on April 21. The transcript was made available by the Office of the Press Secretary on April 20. The Office of the Press Secretary also released a Spanish language transcript of this address. The proclamation of April 17, honoring the victims of the shootings at Virginia Tech, is listed in Appendix D at the end of this volume.
George W. Bush, The President's Radio Address Online by Gerhard Peters and John T. Woolley, The American Presidency Project https://www.presidency.ucsb.edu/node/274576