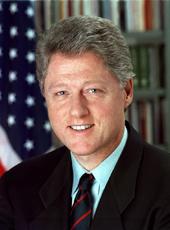 The President's Radio Address
Good morning. There's much wisdom in these words from the Scriptures, "Come, let us reason together." This week we've seen a good example of what happens when people talk to each other instead of shout at each other. And unfortunately, we've also seen what happens when some people go to unreasonable lengths to prevent reasonable discussion and decisionmaking.
I'm speaking to you from the Pacific Northwest where we've just concluded the Forest Conference. For years, the good people of the Northwest have been divided by a difficult argument over important values: how best to preserve jobs and protect the forests in this beautiful and productive region of our great Nation.
Yesterday in Portland, Oregon, timber workers, business people, environmentalists, and community leaders sat down together in a conference room, not a courtroom. We discussed how to achieve a healthy economy and a healthy environment. And I directed my Cabinet to come back within 60 days with a plan for a balanced policy.
Grass roots Americans want to end the gridlock and get the economy moving. They want to follow the same practice that we followed in Oregon yesterday. Unfortunately, some people in Washington, DC, haven't gotten the message that the people want fundamental change. Yesterday the minority party in the Senate used procedural tactics to prevent the entire Senate from voting on our jobs and economic recovery package, which has already been passed overwhelmingly by the House of Representatives.
Yesterday we also learned why our jobs package is even more urgent than ever. After 3 years, when America lost one million jobs in the private sector, the unemployment rate remained unchanged in March, and the total number of jobs in our economy actually declined. Now, some folks in Washington may think everything is fine, but all across America the people understand there won't be a real recovery until our working men and women can look forward to a secure, high-wage future for themselves and their children. The people know that America needs our plan to put 500,000 Americans back to work by beginning the investments we need in a stronger, smarter economy.
It's time to move beyond the old politics of partisanship, posturing, and procedural delays and start working together to solve problems. Good things can be accomplished when we reason together. And just as this works in our own country, so too can it work between ourselves and other nations.
That's why I'm taking my first trip out of the country today to meet with Russia's democratically elected President, Boris Yeltsin. Nowhere is progress toward democracy and free markets more important to us than in Russia and the new independent states of the former Soviet Union. Their progress presents a great security challenge and offers great economic opportunities. Russia's rebirth is in the economic interests of American taxpayers, workers, and businesses and the security interests of all of us.
We spent over $4 trillion to wage the cold war. Now we can reduce that spending because the arms and armies of the former Soviet Union pose a greatly reduced threat to us and to our allies. If Russia were to revert to its old ways or plunge into chaos, we would need to reassess our plans for defense savings. That could mean less money for creating new businesses and new jobs, less for preparing our children for the future, less for education. Our economic program at home, more jobs and greater incomes for Americans, could be jeopardized if the reforms in Russia fail.
My discussions with President Yeltsin involve measures intended to help the Russian people make the difficult transition to a market economy by helping themselves. I want America to act, but America cannot and should not act alone. Just as we mobilized the world on behalf of war in the Gulf, we must now mobilize the world on behalf of peace and reform in Russia. Most of this effort will have to come from the Russian people themselves. They will chart the path to their own future. These efforts to offer an historic chance to improve our own security, however, require some action by ourselves, too.
Russia still holds over 20,000 strategic and tactical nuclear warheads. We are implementing historic arms control agreements that for the first time will actually reduce the level of strategic nuclear weapons. By supporting Russia's reforms we can help turn the promise of those agreements into reality for ourselves and for our children and for the Russian people and their children as well. And we can make life in America more safe and prosperous.
For too long, work in Washington on issues like economics, the environment, and foreign policy took place in isolation. The interests of the American people weren't amply protected because their voices weren't adequately heard. The change we want is this: to bring men and women of good will together so that we can put people, the American people, first. We need you to stay active and informed and involved.
Now, I ask you to call or write your Senators. Ask them to take action on our jobs and economic recovery package. I ask for your best wishes as I go into this meeting with President Yeltsin and your understanding that here there is no clear line between our interests at home and our interests abroad. We cannot withdraw from the world even as we work to make America stronger. Together we can change America and change the world.
Thank you for listening.
NOTE: The address was recorded at 8 p.m. on April 2 at the Benson Hotel in Portland, OR, for broadcast at 10:06 a.m. on April 3.
William J. Clinton, The President's Radio Address Online by Gerhard Peters and John T. Woolley, The American Presidency Project https://www.presidency.ucsb.edu/node/219526