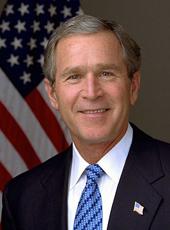 The President's Radio Address
Good morning. One important commitment of the Federal Government is to help America's poorest children get access to health care. Most of these children are covered by Medicaid, which will spend more than $35 billion to help them this fiscal year. For children who do not qualify for Medicaid but whose families are struggling, we have the State Children's Health Insurance Program, or SCHIP.
Washington is now in the midst of an important debate over the future of this vital program. I strongly support SCHIP. My administration has added more than 2 million children to SCHIP since 2001. And our 2008 budget increases SCHIP funding by 20 percent over 5 years.
Unfortunately, more than 500,000 poor children who are eligible for SCHIP coverage are not enrolled in the program. At the same time, many States are spending SCHIP funds on adults. In fact, based on their own projections for this fiscal year, Minnesota, Illinois, New Jersey, Michigan, Rhode Island, and New Mexico will spend more SCHIP money on adults than they do on children. And that is not the purpose of the program.
This week, congressional leaders sent me a deeply flawed bill that would move SCHIP even further from its original purpose. Here are some of the problems with Congress's plan. Under their plan, one outof every three children who moves onto Government coverage would drop private insurance. In other words, millions of children would move out of private health insurance and onto a Government program. Congress's plan would also transform a program for poor children into one that covers children in some households with incomes up to $83,000. Congress's plan would raise taxes on working people. And Congress's plan does not even fully fund all the new spending. If their plan becomes law, 5 years from now Congress would have to choose between throwing people off SCHIP or raising taxes a second time.
Congress's SCHIP plan is an incremental step toward their goal of Government-run health care for every American. Government-run health care would deprive Americans of the choice and competition that comes from the private market. It would cause huge increases in Government spending. It would result in rationing, inefficiency, and long waiting lines. It would replace the doctor-patient relationship with dependency on bureaucrats in Washington, DC. And it is the wrong direction for our country.
Congress knew that I would veto this bill, yet they sent it anyway. So on Wednesday, I vetoed the SCHIP bill. And I asked Members of Congress to come together and work with me on a responsible bill that I can sign, so we can keep this important program serving America's poor children.
When it comes to SCHIP, we should be guided by a clear principle: Put poor children first. I urge Republicans and Democrats in Congress to support a bill that moves adults off this children's program and covers children who do not qualify for Medicaid, but whose families are struggling. If putting poor children first takes a little more than the 20-percent increase I have proposed in my budget for SCHIP, I am willing to work with leaders in Congress to find the additional money.
Ultimately, our Nation's goal should be to move children who have no health insurance to private coverage, not to move children who already have private health insurance to Government coverage. By working together, Republicans and Democrats can strengthen SCHIP, ensure that it reaches the children who need it, and find ways to help more American families get the private health coverage they need.
Thank you for listening.
NOTE: The address was recorded at 7:50 a.m. on October 5 in the Cabinet Room at the White House for broadcast at 10:06 a.m. on October 6. The transcript was made available by the Office of the Press Secretary on October 5, but was embargoed for release until the broadcast. In his address, the President referred to H.R. 976, the "Children's Health Insurance Program Reauthorization Act of 2007." The Office of the Press Secretary also released a Spanish language transcript of this address.
George W. Bush, The President's Radio Address Online by Gerhard Peters and John T. Woolley, The American Presidency Project https://www.presidency.ucsb.edu/node/276224